Transportation Asset Management Case Studies
LCCA: The Colorado Experience
Introduction
What is LCCA?
Life-Cycle Cost Analysis (LCCA) is an evaluation technique that supports informed investment decisions. While it builds on principles of economic analysis that have been used to evaluate highway and other public works investments for years, LCCA considers both near— and long term activities required to maintain highway assets above some minimum performance level. Specifically, when it has been decided that a project will be implemented, LCCA will assist in determining the lowest-cost way to accomplish the project. The LCCA approach enables a cost comparison of competing design (or preservation) alternatives or system investment strategies. Differential costs that occur throughout the life of an alternative are included. LCCA does this by incorporating discounted long-term agency and user costs that occur over the life of highway, bridge, and other roadway assets to identify the best value for investment expenditures (e.g., the lowest cost that satisfies the performance objective being sought).
Figure 1: Transportation reconstruction and expansion project on I-25 in Denver.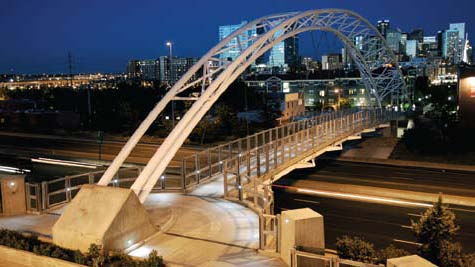 Note From the Director
The Federal Highway Administration's Office of Asset Management is aggressively promoting a different way for transportation agencies to distribute their resources among alternative investment options. This new way of doing business, referred to as "Asset Management," is a strategic approach to maximizing the benefits resulting from the expenditure of agency resources.
For any transportation agency, the progression toward Asset Management will involve a myriad of activities. These endeavors will differ from State to State. For example, some agencies will pursue a data integration strategy in order to ensure comparable data for the evaluation of investment alternatives across asset classes. Others will move to deploy economic analysis tools to generate fact-based information for decision makers. Still others will want to integrate new inventory assessment methods into their decision-making processes.
Much can be learned from those who are integrating into their organizations the tools of Asset Management. To spark the exchange of information, we have prepared a series of case studies focused on agencies that are leading the way. Four tracks of Asset Management case histories are available covering data integration, economics in Asset Management, the Highway Economic Requirements System (HERS)—State Version, and Life-Cycle Cost Analysis (LCCA). As the series progresses, we will add new State reports to each of the tracks and create new tracks addressing additional facets of Asset Management, such as change management and performance measurement.
On behalf of the Office of Asset Management, I am pleased to provide this series. We believe the case studies will help agencies meet the challenges of implementing Asset Management programs, providing vital insights into approaches for which demand grows in our economic times.
Butch Wlaschin
Director, Office of Asset Management
Note to the Reader
The Transportation Asset Management Case Study Series is the result of a partnership between State departments of transportation and the Federal Highway Administration's (FHWA's) Office of Asset Management. FHWA provides the forum from which to share information, and the individual States provide the details of their experiences. For each case study report, State transportation agency personnel were interviewed by FHWA, and the resulting material was approved by the State. As such, the case study reports rely on the agencies' own assessments of their experience. Readers should note that the reported results may or may not be reproducible in other organizations.
Figure 2: Aerial view of I-70 near Vail.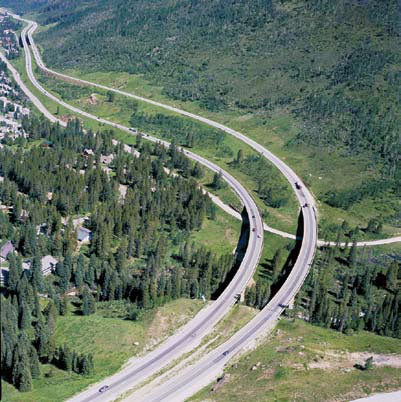 Executive Summary
A diverse landscape, central geographical location, and growing population are among the constant factors influencing the Colorado Department of Transportation's (CDOT's) decisions and activities. But in the last few years, economic conditions have added complexity to the State's highway program. Not only is transportation funding at an all-time low, but inflation and the rising cost of materials have reduced CDOT's buying power. In addition, the agency faces intense public scrutiny about the use of taxpayer funds.
To demonstrate its concern over the effective use of funding for Colorado's transportation system, CDOT has adopted an innovative and rational approach to investing in its roadways — Life-Cycle Cost Analysis (LCCA).
After more than 25 years of evaluating its transportation asset investment decisions, CDOT can be considered a leader in the application of LCCA to support those decisions. Since the early 1970s, the agency's pavement office has meticulously developed an LCCA process that incorporates results from statistical research, as well as knowledge from actual pavement projects, into its policies and procedures to produce a sound, long-term approach to managing assets.
CDOT's pavement engineers have continuously evolved the LCCA process by adapting innovative technologies and approaches to meet the needs of the State's transportation assets:
In the late 1990s, CDOT began to shift away from the deterministic method toward the probabilistic method for LCCA in order to address variability in the LCCA input values.
At the same time, the State began using an upgraded version of the Federal Highway Administration RealCost LCCA software to establish costs under both types of analyses.
A Pavement Type Selection Committee made up of transportation authorities helps mediate pavement options if the results of the deterministic and probabilistic analyses are statistically close.
Industry stakeholders also have the opportunity to provide input to the Committee, an element of openness that has earned respect for CDOT's process.
The State has embraced the support of FHWA and actively participates in the federal agency's LCCA, pavement management, and other training classes.
As a result of these innovations, the pavement office receives frequent requests from other asset managers within the agency, such as the Bridge Design and Management Branch, for assistance with evaluating long-term decisions about additional highway assets.
Through the years it has deployed LCCA, CDOT has learned valuable lessons that serve Colorado, but are also applicable to other States' transportation systems. CDOT is confident that its success with Life-Cycle Cost Analysis as an investment strategy will continue to serve the State — and the transportation community— in the years ahead.
1. Agency Facts
What began 100 years ago as a three-member Highway Commission with a budget of $56,000 has grown into the Colorado Department of Transportation, which now manages a multi-modal transportation system with an annual budget of $1.3 billion. Six individual transportation Regions manage 9,134 miles of State highways, 3,406 State-owned bridges, and 20 State-owned tunnels.
In FY 2008, CDOT served its broad customer base by:
Repairing and maintaining more than 8.7 million square yards of roadway surface, using 248,018 tons of asphalt and 178,841 gallons of liquid asphalt,
Snowplowing, sanding, and/or deicing 7.2 million miles of highway,
Replacing and repairing 67,830 signs and sign posts,
Triggering with explosives more than 500 avalanches to reduce risk of snow slides affecting 160 Colorado highways,
Implementing a pavement design training program, including extensive instruction about LCCA,
Improving Homeland Security provisions to ensure a multidisciplinary approach to emergency planning and preparedness, and
Increasing the scope of Intelligent Transportation Systems to improve and enhance mobility and traffic safety throughout Colorado.(1)
Although Interstate highways in Colorado account for only about 10 percent of the total miles in the State system, they carry 40 percent of the State's travel.
Even with these advances, CDOT faces a diversity of challenges shared by many of its sister agencies. Among them:
Colorado highways handle more than 28 billion vehicle miles of travel annually.
The State's population grew 44 percent (twice the national average) between 1990 and 2006 and now numbers nearly five million residents located in both urban hubs and remote rural communities.
CDOT moves passengers, freight, and information on a regional, Interstate, and international level.
The State has harsh winters and large variations in terrain, climate, and demographics.
Fifty-nine percent of Colorado's roadways are rated in "fair" or "good" condition, based on the years of remaining service life.
With a 20-year design life, the Interstate system—75 percent of which was built before 1970—now requires extensive repairs.
Motor fuel taxes that the State currently collects are inadequate to meet mobility needs. As a result, CDOT is facing a severe funding shortfall and is considering options to increase revenue, such as raising certain truck fees and tolling existing roads.(2)
All of these factors contribute to the constant—and increasing—need to more effectively evaluate and implement new projects and maintenance programs.
Figure 3: Snow plowing on I-25 at Colorado Boulevard in Denver.

1. Colorado Department of Transportation 2008-2009 Fact Book, pp. 32-33.
2. Colorado Department of Transportation 2008 Annual Report, pp. 24-29.