U.S. Department of Transportation
Federal Highway Administration
Federal Highway
Administration
Office of Infrastructure
Office of Bridge Technology
Heat-Straightening Repair for Damaged Steel Bridges
Demonstration Project
The objective of the Federal Highway Administrations' (FHWA's) Demonstration Project on Heat-Straightening Repair of Damaged Steel Bridges is to introduce the principles and practice of heat straightening to the bridge engineering community, specifically State Department of Transportation (DOT) bridge engineers, bridge maintenance engineers and technicians, bridge inspectors, steel bridge fabricators and erectors, consultants, FHWA representatives, and others.
Damage caused by overload, vehicle impact, mishandling, earthquake, or fire is a perennial problem associated with steel bridges. For almost half a century, heat-straightening techniques have been applied to bends and distortions in order to restore the original shape of steel elements. A few craftsmen who have years of experience with heat straightening, perform the technique in the field with varying degrees of success. However, the principles and practice of heat straightening have not been well understood or documented. Recent research has provided a sound scientific basis for the process, established its range of applicability, and defined standards of practice.
The primary goal of the said demonstration is to transfer this information to state DOT's, bridge fabricators and consultants so that heat straightening repairs can be confidently designed, supervised and conducted. The project is intended to accomplish the following tasks: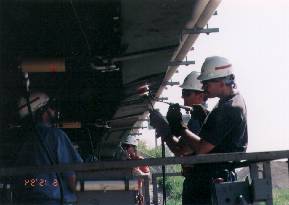 Heat Straightening in Progress.