FHWA Demonstration Project
Heat Straightening Repair for Damaged Steel Bridges
Ontario, Canada
Workshop Schedule (Tentative)
Day 1: Tuesday, November 16, 2004
9:30 a.m.
Registration
10:00 a.m.
Welcome Introduction and Opening Remarks
10:15 a.m.
Historical perspective, types of damage, and basic concepts of heat straightening
11:15 a.m.
Coffee break
11:30 a.m.
Video on the fundamentals of heat straightening
12:00 p.m.
Lunch
1:00 p.m.
Heat straightening basics
2:30 p.m.
Coffee Break
2:45 p.m.
Techniques, design and management of heat straightening repairs
4:15 p.m.
Behaviour of steel before and after heat straightening
5:45 p.m.
Adjourn
Day 2: Wednesday, November 17, 2004
8:30 a.m.
Ultrasonic impact treatment (discussion and slide presentation)
9:15 a.m.
Coffee Break
9:30 a.m.
Laboratory demonstration of ultrasonic impact treatment
10:30 a.m.
Laboratory demonstration of heat-straightening repair techniques
12:00 p.m.
Question & answer period
12:30 p.m.
Lunch
1:30 p.m.
Case Study (I-10 bridge, Lake Charles, LA)
3:00 p.m.
Coffee Break
3:15 p.m.
Additional case studies
4:30 p.m.
Adjourn
Map and Hotel Information
A detailed map of Toronto and vicinity can be found online at http://www.mto.gov.on.ca/english/traveller/map/images/pdf/southont/enlargements/Toronto.pdf (.pdf, 0.5 mb) and additional maps of southern Ontario are available at http://www.mto.gov.on.ca/english/traveller/map/southindexpdf.htm.
The classroom session of the workshop will be held at the following address:
Travelodge Hotel
2737 Keele Street
Toronto, ON M3M 2E9
CANADA
While there are a number of hotels in the vicinity, the Travelodge Hotel, in which the classroom session is being held, will be setting aside a block of single non-smoking rooms, for the evenings of 15th and 16th November 2004 with checkout on 17th, at a rate of $84.00 per night, which is G.S.T. exempt. To obtain the Ministry of Transportation, Ontario Group Rate, please quote the confirmation code G425. To qualify for the special rate, you must book two weeks in advance. For conditions and details, contact the hotel directly at the above address, by telephone at 416 631-5768 or by fax at 416 631-5764.
The laboratory portion of the workshop will be held nearby at the Ministry's reservoir building located on the NE corner of the Downsview Complex. The Ministry's address of the complex is:
Ministry of Transportation, Ontario
1201 Wilson Avenue
Downsview, ON M3M 1J8
CANADA
A map to the hotel and reservoir building is attached and can also be found on the FHWA web site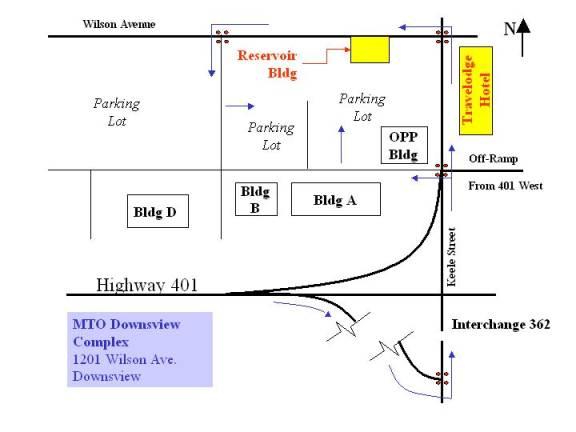 Registration Form
Consultants listed in the Ministry's Registry, Appraisal and Qualification System (RAQS), under Bridge Engineering, for the design and evaluation of complex structures, are invited to register by completing the following form and forwarding to the workshop coordinator.The Ministry will invite other prospective attendees individually.Only one registrant per company will be accepted. Note that the number of participants is limited and successful registrants will by notified by the workshop coordinator.
Registration Form for FHWA Heat Straightening Workshop - Ontario 16th and 17th November 2004

| | |
| --- | --- |
| Name: | |
| Job Title: | |
| Organization: | |
| Address: | |
| Telephone: | |
| Fax: | |
| E-mail: | |
Workshop Coordinator
Ranko Mihaljevic
Head Quality Assurance Engineer
Bridge Office
Ministry of Transportation, Ontario
301 St. Paul Street
St. Catharines, ON L7S 2H7

Phone: (905) 704-2351
Fax: (905) 704-2060
Email: Ranko.Mihaljevic@mto.gov.on.ca
(To view PDF files, you need the Acrobat® Reader®)