Technical Manual for Design and Construction of Road Tunnels - Civil Elements
Chapter 2 - Geometrical Configuration
Chapter 2 provides general geometrical requirements for planning and design of road tunnels. The topics consist of the following: horizontal and vertical alignments; clearance envelopes; and cross section elements. Geometrical requirements for the tunnel approaches and portals are also provided. In addition to the requirements addressed herein, the geometrical configurations of a road tunnel are also governed by its functionality and locality (see Chapter 1 - Planning), as well as the subsurface conditions (see Chapter 3 - Geotechnical Investigations) and its construction method (i.e. cut-and-cover (Chapter 5), mined and bored (Chapters 6-10), immersed (Chapter 11), etc.). It often takes several iterative processes from planning, environmental study, configuration, and preliminary investigation and design to eventually finalize the optimum alignment and cross section layout.
2.1 Introduction
As defined by the American Association of State Highway and Transportation Officials (AASHTO) Technical Committee for Tunnels (T-20), road tunnels are defined as enclosed roadways with vehicle access that is restricted to portals regardless of type of structure or method of construction. Road tunnels following this definition exclude enclosed roadway created by air-rights structures such as highway bridges, railroad bridges or other bridges. Figure 2-1 illustrates Tetsuo Harano Tunnels through the hillside in Hawaii as a part of the H3 highway system. The tunnels are restricted by portal access and connected to major approach freeway bridges.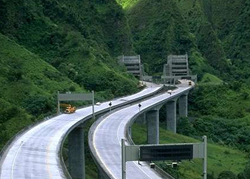 Figure 2-1 H3 Tetsuo Harano Tunnels in Hawaii
In addition to the general roadway requirements, road tunnels also require special considerations including lighting, ventilation, fire protection systems, and emergency egress capacity. These considerations often impose additional geometrical requirement as discussed in the following sections.
2.1.1 Design Standards
Road tunnels discussed in this Manual cover all roadways including freeways, arterials, collectors, and local roads and streets in urban and rural locations following the functional classifications from FHWA publication "Highway Functional Classification: Concepts, Criteria, and Procedures." AASHTO's "Green Book" - A Policy on Geometric Design of Highways and Streets, which is adopted by Federal agencies, States, and most local highway agencies, provides the general design considerations used for road tunnels from the standpoint of service level, and suggests the requirements for road tunnels which should not differ materially from those used for grade separation structures. The Green Book (AASHTO, 2004) also provides general information and recommendations about cross section elements and other requirements specifically for road tunnels.
In addition to the Green Book (AASHTO, 2004), standards to be used for the design of geometrical configurations of road tunnels should generally comply with the following documents supplemented by recommendations given in this Manual. Additional criteria may include:
AASHTO A Policy on Design Standards - Interstate System
Standards issued by the state or states in which the tunnel is situated
Local authority standards, where these are applicable
National and local standards of the country where the international crossing tunnel is located
Although the geometrical requirements for roadway alignment, profile and for vertical and horizontal clearances in the above design standards generally apply to road tunnels, amid the high costs of tunneling and restricted right-of-way, minimum requirements are typically applied to planning and design of road tunnels to minimize the overall size of the tunnel yet maintain a safe operation through the tunnel. To ensure roadway safety, the geometrical design must evaluate design speed, lane and shoulder width, tunnel width, horizontal and vertical alignments, grade, stopping sight distance, cross slope, superelevation, and horizontal and vertical clearances, on a case by case basis.
In addition to the above highway design standards, geometrical design for road tunnels must consider tunnel systems such as fire life safety elements, ventilation, lighting, traffic control, fire detection and protection, communication, etc… Therefore, planning and design of the alignment and cross section of a road tunnel must also comply with National Fire Protection Association (NFPA) 502 - Standard for Road Tunnels, Bridges, and Other Limited Access Highways.
The recommendations in this Manual are provided as a guide for the engineer to exercise sound judgment in applying standards to the geometrical design of tunnels and generally base on 5th Edition (2004) of the Green Book and 2008 Edition of NFPA 502. The design standards used for a road tunnel project should equal or exceed the minimum given below in this Manual to the maximum extent feasible, taking into account costs, traffic volumes, safety requirements, right of way, socioeconomic and environmental impacts, without compromising safety considerations. The readers should always check with the latest requirements from the above references.
2.2 Horizontal and Vertical Alignments
Planning and design of road tunnel alignments must consider the geological, geotechnical and groundwater conditions at the site as well as environmental constraints as discussed in Chapter 1 - Planning. Maximum grade, horizontal and vertical curves, and other requirement/constraints for road tunnel horizontal and vertical alignments are discussed in this Section.
2.2.1 Maximum Grades
Road tunnel grades should be evaluated on the basis of driver comfort while striving to reach a point of economic balance between construction costs and operating and maintenance expenses.
Maximum effective grades in main roadway tunnels preferably should not exceed 4%; although grades up to 6% have been used where necessary. Long or steep uphill grades may result in a need for climbing lanes for heavy vehicles. However, for economic and ventilation reasons, climbing lanes should be avoided within tunnels; the addition of a climbing lane part-way through a tunnel may also complicate construction considerably, particularly in a bored tunnel.
2.2.2 Horizontal and Vertical Curves
Horizontal and vertical curves shall satisfy Green Book's geometrical requirements. The horizontal alignment for a road tunnel should be as short as practical and maintain as much of the tunnel length on tangent as possible, which will limit the numbers of curves, minimize the length and improve operating efficiency. However, slight curves may be required to accommodate ventilation/access shafts location, portal locations, construction staging areas, and other ancillary facilities as discussed in Chapter 1 - Planning. A slight horizontal curve at the exit of the tunnel may be required to allow drivers to adjust gradually to the brightness outside the tunnel.
When horizontal curves are needed, the minimum acceptable horizontal radii should consider traffic speed, sight distances, and the super-elevation provided. In general, for planning purpose, the curve radii should be as large as possible and no less than 850 to 1000-ft radius. A tighter curve may be considered at the detailed design stage based on the selected tunneling method.
Super elevation rate, which is the rise in the roadway surface elevation from the inside to the outside edge of the road, should preferably lie in the range 1% to 6%.
When chorded construction is used for walls where alignments are curved, chord lengths should not exceed 25 feet (7.6 m) for radii below 2,500 feet (762 m), and 50 feet (15 m) elsewhere.
2.2.3 Sight and Braking Distance Requirements
Sight and braking distance requirements cannot be relaxed in tunnels. On horizontal and vertical curves, it may be necessary to widen the tunnel locally to meet these requirements by providing a "sight shelf." When designing a tunnel with extreme curvature, sight distance should be carefully examined, otherwise it may result in limited stopping sight distance.
2.2.4 Other Considerations
Road tunnels with more than one traffic tube should be designed so that in the event that one tube is shut down, traffic can be carried in the other. For reasons of safety, it is not recommended that tunnels be constructed for bi-directional traffic; however, they should be designed to be capable of handling bi-directional traffic during maintenance work, which should be carried out at times of low traffic volume such as at night or weekends. When operating in a bi-directional mode, appropriate signage must be provided. In addition, suitable cross-over areas are required, usually provided outside the tunnel entrances, and the ventilation system and signage must be designed to handle bi-directional traffic.
For bored and mined tunnels, it is probable that separate tunnels are constructed for traffic in each direction. For cut-and-cover, jacked and immersed tunnels, it is preferable for the traffic tubes for the two directions to be constructed within a single structure so that emergency egress by vehicle occupants into a neighboring traffic tube can be provided easily. Note that NFPA 502-2008 requires that the two tubes be divided by a minimum of 2-hour fire rated construction in order to consider cross-passageways between the tunnels to be utilized in lieu of emergency egress.
In addition to structural requirements, inundation of the tunnel by floods, surges, tides and waves, or combinations thereof resulting from storms must be prevented. The height and shape of walls surrounding tunnel entrances, the elevation of access road surfaces and any entrances, accesses and holes must be designed such that entry of water is prevented. It is recommended that water level with the probability of being exceeded no more than 0.005 times in any one year (the 500-year flood level) be used as the design water level.
2.3 TRAVEL CLEARANCE
Clearance diagram of all potential vehicles traversing the tunnel shall be established using dynamic vehicle envelopes which consider not just the maximum allowable static envelope, but also other dynamic factors such as bouncing, suspension failure, overhang on curves, lateral motion, resurfacing, etc.
The clearance diagram should take into consideration potential future vehicle heights, vehicle mounting on curbs, construction tolerances, and any potential ground and structure settlement. Ventilation equipment, lighting, guide signs, and other equipment should not encroach within the clearance diagram.
Vertical clearance should be selected as economical as possible consistent with the vehicle size (see Chapter 1). The 5th Edition of AASHTO Green Book (2004) recommends that the minimum vertical clearance to be 16 feet (4.9 m) for highways and 14 feet (4.3 m) for other roads and streets. Note that the minimum clear height should not be less than the maximum height of load that is legal in a particular state.
Figure 2-2 illustrates the minimum and desirable clearance diagrams for two lane tunnels as recommended by the 5th Edition of the Green Book (AASHTO, 2004).
Figure 2-2(a) illustrates the minimum clearance diagram for a two-lane tunnel which indicates the minimum horizontal curb-to-curb and wall-to-wall clearances to be no less than 24 ft (7.2-m) and 30 ft (9-m), respectively. The curb-to-curb (including shoulders) clearance is also required to be 2 ft (0.6m) greater than the lane widths of the approach traveled way. Therefore, for an approach structure with two standard 12-ft lane widths, the minimum horizontal curb-to-curb clearance for the connecting two-lane tunnel should be no less than 26 ft (7.8 m).
Figure 2-2 (b) illustrates the desirable curb-to-curb and wall-to-wall clearances for a two-lane tunnel to be 39 ft (11.7m) and 44 ft (13.2m), respectively.
The vertical clearance shall also take into consideration for future resurfacing of the roadway. Although it is recommended to resurface roadways in tunnels only after the previous surface has been removed, it is prudent to provide limited allowances for resurfacing once without removal of the old pavement. Consideration should also be given for potential truck mounting on the barrier in the tunnel or on low sidewalk and measures shall be used to prevent such mounting from damaging the tunnel ceiling or tunnel system components mounted on the ceiling or the walls. The designer must follow the latest edition of the Green Book.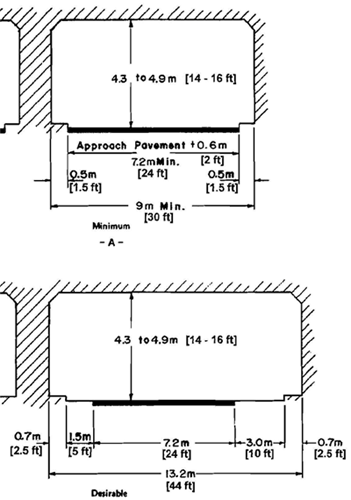 Figure 2-2 Typical Two-Lane Tunnel Clearance Requirements - Minimum (a) and Desirable (b) (After AASHTO, 2004)
Tunnel ventilation ducts, if required, can be provided above or below the traffic lanes, or to the sides of them. Where clearances to the outside of the tunnel at a particular location are such that by moving ventilation from overhead to the sides can reduce the tunnel gradients or reduce its length, such an option should be considered.
Over-height warning signals and diverging routes should be provided before traffic can reach the tunnel entrances. The designated traffic clearance should be provided throughout the approaches to the tunnel.