7.4 How Do You Use CMMI for Internal Process Improvement?
Improving an organizatio's processes is easier said than done. Success requires management commitment, a plan, and a sustained cooperative effort. The comprehensive, detailed highway design procedures that are in place in every state are the result of years of collaborative effort. Augmenting these processes to incorporate systems engineering processes for ITS is really a project in itself, and should be managed as such.
The following process improvement steps are adapted from the SEI recommendations and augmented to identify resources and provide discussion specific to ITS.
1. Obtain Management Support. The process improvement effort must be supported by senior management since it will require staff time and resources to implement and will impact the way people do their jobs. In ITS, Title 23 CFR 940 ("FHWA Rule 940") provides motivation for management since it requires use of systems engineering processes for ITS projects. An FHWA SE for ITS Workshop is also available that can include an executive presentation on the merits of improved systems engineering processes. Executive presentations including return on investment information are also available on the SEI web site.
2. Prepare Organization for Process Improvement. Building on the materials used to secure management support, establish a compelling case for the effort including rationale, expected benefits, and costs. Build an initial plan for the effort. Take training, for example, an Introduction to CMMI course and/or the Systems Engineering for ITS Workshop offered by FHWA. With respect to CMMI, the CMMI constellation and representation (staged or continuous) are initially selected.
3. Form a Process Group. This group will coordinate the process improvement activity across the organization and provide input from each division/group impacted by the process improvement. Initially, this group will assist in establishing process improvement priorities based on organizational objectives, selecting priority process areas and initial capability objectives. In public agencies, this group must include ITS project management and staff and "the owners" of existing process documentation that will be impacted by the process improvements.
4. Assess Where You Are. Assess your organizatio's processes and do an informal gap analysis to identify where process improvement is necessary. A Process Improvement Review is provided by FHWA as part of the Systems Engineering for ITS Workshop. Alternatively, a self-assessment can be performed internally by gathering existing process data and project documentation and interviewing project managers and technical staff that are involved with ITS project development.
5. Define Where you are Going. Prioritize the process areas to address and complete your process improvement plan. A "Capability Profile" is a cornerstone of a CMMI-based process improvement plan. The capability profile identifies: 1) the process areas to be addressed, 2) the current capability level for each selected process area, and 3) the target capability level for each process area. A capability profile is easily communicated using a bar chart like the one presented in Figure 7‑9.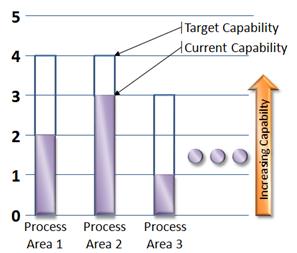 Figure 7‑9 CMMI Capability Profile
It is important to note that the target should not be to achieve level 5 in all process areas. An organization may elect to stay at level 2 or 3 in process areas that are less critical and focus on improving capability in only the highest priority areas that most directly impact project cost, schedule, and performance.
6. Communicate and Coordinate. Share the plan with all affected parties and listen to their comments. Continue to keep everyone informed as the process improvements are implemented.
7. Track Your Progress. Create a periodic report that demonstrates progress in reaching the process improvement targets established in the plan. You can also elect to perform a more formal process appraisal for an objective evaluation of your organizatio's processes at this point. If a process improvement goal is to achieve a specific maturity rating, then a CMMI Class A appraisal can be performed; otherwise, periodic internal assessments can continue to be used to support process improvement. Refine the plan over time so that it continues to represent the organizatio's process improvement objectives.
The following table identifies the suggested minimum capabilities profile for system owners, systems engineering consultants, and the development team. The table uses the Acquisition constellation for the System Owner and the Development constellation for the SETA consultant and Development Team.
Table 7‑1 Suggested Minimum Capabilities Table for ITS
CMMI
Process Areas

Systems Owner

[Project Sponsor]

Systems Engineering Technical Assistance:

[In-house, Consultant, System Manager]

Development Team

[In-house, Systems Integrator]

Acquisition

Acquisition Requirements Development

2

Agreement Management

2

Solicitation and Supplier Agreement Management

2

Acquisition Technical Management

2

Acquisition Verification

2

Acquisition Validation

2

Engineering

Requirements Management

2

2

2

2

2

Technical Solution

2

2

Product Integration

2

2

2

2

Validation

2

2

Project Management

2

2

2

Project Monitoring and Control

2

1

2

Supplier Agreement Management

1

2

Integrated Project Management

1

1

2

3

2

3

Quantitative Project Management

Support

3

1

3

Process and Product Quality Assurance

2

1

2

Measurement and Analysis

1

2

2

Decision Analysis and Resolution

1

2

2

Causal Analysis and Resolution

1

2

2

Process Management

Organizational Process Definition

2

1

3

Organizational Process Focus

2

1

2

Organizational Training

2

1

2

Organizational Process Performance

Organizational Innovation and Deployment
Legend for Table
| | | |
| --- | --- | --- |
| Level 1 Performed | Level 2 Managed | Level 3 Defined |