RealCost User Manual
The Basics
RealCost Switchboard Functions
The Switchboard, shown in Figure 9, has five sections:
Project-Level Inputs: Data that will be used for all alternatives. These data document the project characteristics, define the common benefits that all alternatives will provide, and specify the common values (e.g., discount rate) that will be applied with each alternative.
Alternative-Level Inputs: Data that will be used for a specific design alternative. These data differentiate alternatives from each other.
Input Warnings: List of missing or potentially erroneous data. The software identifies and displays a list of potential problems before the analysis is run.
Simulation and Output: Forms used to view deterministic results, run Monte Carlo simulation of probabilistic inputs, view probabilistic results, and print reports.
Administrative Functions: Forms used to save, clear, and retrieve data and to close the Switchboard or RealCost.
Figure 9. The five sections of the RealCost Switchboard.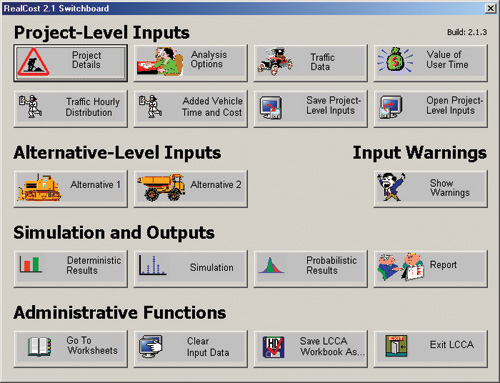 The 19 Switchboard buttons and their functions are listed in Table 1. Inputting data and using RealCost features in the LCCA process are discussed in the following section.
Table 1. RealCost forms and command buttons and their functions.

| Switchboard Button/Form | Functionality |
| --- | --- |
| Project-Level Inputs | Data that will be used for all project alternatives. These data define the characteristics, values, and benefits that are common to the project alternatives being compared. |
| Project Details | Stores descriptive data that identify the project. |
| Analysis Options | Project-level data that apply to all alternatives being considered (e.g., analysis period, discount rate, costing options). |
| Traffic Data | Existing normal operations traffic data: amount, vehicle types, capacity. |
| Value of User Time | Hourly value of user time for three vehicle types. |
| Traffic Hourly Distribution | Distribution of annual average daily traffic throughout the day, with separate data fields for rural and urban traffic patterns. |
| Added Vehicle Time and Cost | Cost and time to slow or stop by vehicle type. Provides a cost escalation mechanism. |
| Save Project-Level Inputs | Saves the project-level data to an *.LCC file. |
| Open Project-Level Inputs | Retrieves project-level data from an *.LCC file. |
| Alternative-Level Inputs | Data that will be used for a specific design alternative. These data differentiate alternatives from each other. |
| Alternative 1 or 2 | All alternative-level data: alternative-level agency activity cost, service life, duration, and work zone data. Each alternative includes commands to save and recall individual alternative data sets. |
| Input Warnings | Identifies missing or potentially erroneous data. |
| Show Warnings | Identifies suspect data values and errors due to missing or out-of-bounds data. Warnings are displayed on the Simulation Warnings worksheet. |
| Simulation and Outputs | Forms used to view deterministic results, run Monte Carlo simulation of probabilistic inputs, and view probabilistic results. |
| Deterministic Results | Calculates and displays deterministic results based upon either deterministic or most likely values of probabilistic inputs. |
| Simulation | Performs simulation with probabilistic inputs. |
| Probabilistic Results | Displays probabilistic results. Allows access to probabilistic results worksheets. |
| Report | Produces a printable report that shows inputs and results |
| Administrative Functions | Forms used to save data, retrieve data, and close the Switchboard or RealCost. |
| Go to Worksheets | Provides direct access to Excel 2000 worksheets. |
| Clear Input Data | Clears project-level inputs, alternative-level inputs, and results from the software. Creates a "clean slate." |
| Save LCCA Workbook As | Saves the entire Excel 2000 workbook under a user-specified name. |
| Exit LCCA | Closes RealCost. |