RealCost User Manual
Using RealCost in Life-Cycle Cost Analysis
Saving and Loading Project-Level Data
The last two buttons in the project-level inputs section of the Switchboard (see Figure 17) are used to save and to retrieve (load) project-level inputs. NOTE: Alternative-level inputs are saved separately from project-level inputs. The mechanism to save and open alternative-level inputs is found on the Alternative 1 and Alternative 2 forms.
Project-level inputs are saved in a small, comma-delimited file. This file may be named via ordinary Windows conventions and is automatically saved with the *.LCC extension. Changing the file extension will prevent RealCost from recognizing the file. Warning: Opening an *.LCC file will overwrite data in the Project-Level Inputs section.
Figure 17. Switchboard buttons to save and open project-level inputs.


Alternative-Level Data Input Forms
Data that define the differences between alternatives-the agency costs and work zone specifics for component activities of each project alternative-are alternative-level inputs. Each project alternative is composed of up to seven activities. The activities are performed in sequence. For example, Initial Construction precedes Rehabilitation 1 and Rehabilitation 3 precedes Rehabilitation 4. Data describing these activities are entered for each of the two project alternatives being compared.
Alternative 1 <or> Alternative 2 Form
The forms for Alternative 1 and Alternative 2 are identical. At the top of the form a series of tabs access project alternative activities. Each tab accesses a different activity (see Figure 18). Data in this form are used to calculate agency and user costs. The construction and maintenance data are agency cost inputs. The service life data affect both agency and user costs (by determining when work zones will be in place). The work-zone-specific data affect user costs. Each of the data inputs on this form is discussed in Table 6.
Figure 18. Alternative 1 form (identical to Alternative 2 form).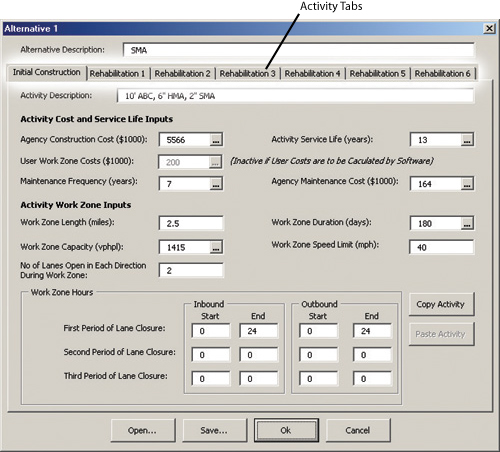 Table 6. Analysis Options form inputs.
Input
Description
Notes
Alternative Description
Name of this alternative.
Activity Description
Name of this activity.
Agency Construction Cost
Agency costs that will be included in the life-cycle cost analysis for this activity of this alternative.
Thousands of dollars
Service Life
Service life of the activity. This field defines how many years after this activity the next activity will take place.
Years
User Costs
This field allows direct entry of user costs. The field is accessible only when the User Cost Computation Method field on the Analysis Options form is set to Specified. When this field is set to Calculated it will be presented in gray font and will not be accessible.
1) Thousands of dollars

2) Inaccessible if User Cost is set to Calculated
Maintenance Cost
Cost of minor, scheduled maintenance that is performed between major activities. These minor activities incur no user costs. Their purpose is to allow for the inclusion of the agency costs of minor activities such as preventive maintenance. In order to remove minor routine maintenance from the analysis, set the value of this field to zero (0).
1) Thousands of dollars

2) Enter zero (0) if not being used.
Maintenance Frequency
Cyclical frequency of minor maintenance. This frequency only applies during the service life of the specific major activity that it is described for and expires as soon as the next major activity begins.
Enter zero (0) if not being used.
Work Zone Length
How long the actual work zone is. This is measured from the beginning to the end of the reduced speed area (where the work zone speed limit is in effect).
Miles
Work Zone Duration
Number of days that the work zone will be affecting traffic. For example, if the work zone is in effect 5 days a week for 3 weeks, this value would be 15.
Days
Work Zone Capacity
Vehicular capacity of one lane of the work zone for 1 hour.
Vehicles per hour per lane
Work Zone Speed Limit
Posted speed limit within the work zone.
Miles per hour
Lanes Open in Each Direction During Work Zone
Number of lanes open in the work zone area when the work zone is in effect. The number of lanes open applies to each direction.
Work Zone Hours
Hours each day of the Work Zone Duration during which the work zone is in effect. During these hours, capacity is limited to Work Zone Capacity. Work zone timing may be modeled separately for inbound and outbound traffic. Up to three separate periods of work zone can be modeled for each day. For example, to model a work zone that is in effect from 9:00 a.m. to 3:00 p.m. and from 8:00 p.m. to 5:00 a.m., enter these numbers:

00 05

09 15

20 24
Use a 24-hour clock.
Saving and Loading Alternative-Level Data
The Open... and Save... buttons at the bottom of the Alternative form are used to open and save alternative-level data. These data files may be named via ordinary Windows conventions and are automatically saved with the *.LCA extension. A name that is descriptive of the alternative should be used. Data for the alternative name and its seven major activities are saved in the LCA file. Saving alternatives individually allows different alternatives to be loaded, analyzed, and stored for use in future analyses. Warning: Opening an *.LCA file overwrites all existing data for the alternative active in memory. To avoid losing data, save new data to an *.LCA file before loading another alternative.
TIP:
Opening an *.LCA file overwrites all existing data for the alternative active in memory. To avoid losing data, save new data to an *.LCA file before loading another alternative.
The Copy Activity and Paste Activity buttons allow data to be copied from one activity to another within the same alternative. Begin at the activity which has the data to be copied, press the Copy button, move to the activity that is to receive the data, and press the Paste button. All existing data in the receiving activity will be overwritten.
Probabilistic Input
RealCost encourages the consideration of variability (i.e., uncertainty) in analysis inputs. Input variability can be addressed by using probabilistically defined inputs.
Probability Functions
Several inputs on the Alternative 1 and 2 forms can be described either by deterministic values (single or point values) or by probabilistic values (value ranges and likelihoods of occurrence). The default value for all data is a deterministic value. The probabilistic inputs are identified by the small ellipsis button to the right of the data input field. For example, in Figure 19 the ellipsis button for the value of user time for passenger cars is circled.
Figure 19. The Ellipsis button, which accesses probabilistic inputs.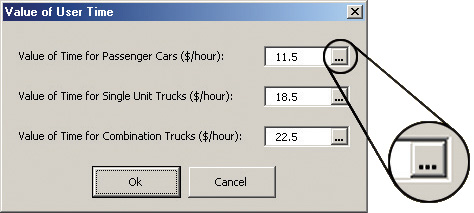 Clicking an ellipsis button opens a probability function form where the analyst may assign any one of a number of probability functions to describe data. Those input fields with an ellipsis will already have the variable name included (see Figure 20).
Table 7. Examples of input probability distributions typically used in RealCost.

| Distribution Type | Spreadsheet Formula | Illustration |
| --- | --- | --- |
| Normal | lccanormal (mean, std dev) | |
| Truncated Normal | lccatnormal (mean, std dev, lower bound, upper bound) | |
| Triangular | lccatriang (minimum, most likely, maximum) | |
| Uniform | lccauniform (minimum, maximum) | |
Figure 20. Creating a probabilistic input.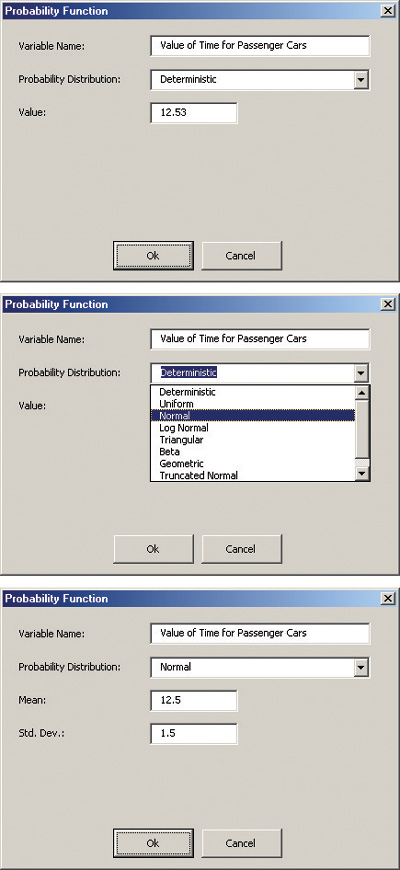 Seven types of probability distributions are available in RealCost:
Normal
Truncated normal
Triangular
Uniform
Beta
Geometric
Log normal
The most commonly used distributions are displayed in Table 7.
The example in Figure 20 shows the process of changing the value of user time for passenger car vehicles from a deterministic value to a normal distribution. More information on the use of probability distributions is provided in the FHWA technical bulletin Life-Cycle Cost Analysis in Pavement Design.