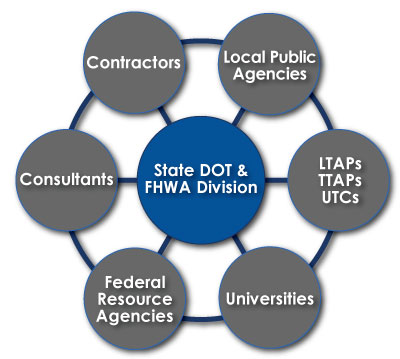 America's highway system faces a significant challenge: an aging infrastructure, growing traffic volumes and limited staffing and funding resources. The need for widespread use of innovation to meet customer needs is essential.
Programs like the Every Day Counts (EDC) initiative, and the Second Strategic Highway Research Program (SHRP2), as well as others are designed to bring a focus on new ideas and better ways to more quickly deliver transportation to America. They focus on using proven marketing approaches and dedicated teams to deploy innovations faster and more effectively. Additionally, many provide highway agencies incentives to try innovations to build highways and bridges, or to demonstrate the use of new highway tools, techniques, processes and training to create culture change within our own organizations.
A key component of implementing new technology is nurturing a state-based network for the deployment of innovation. Each State is encouraged to convene an innovation deployment council, task force, committee or similar group (the name is not as important as the purpose) consisting of representatives from all levels of the highway transportation community to effectively evaluate which innovations are most appropriate for the State. The council is charged with considering all sources of innovation deployment comprehensively and strategically including but not limited to EDC, SHRP2, and TIG technologies and develop their own implementation plans and performance goals. A diverse and well-rounded council working together, building off of each other's insights to learn about new technologies, is in the best position to determine applicability of innovations in their respective States. The council decides the number of innovations to adopt and sets the pace for implementation by establishing a baseline and setting a target goal.
Each State operates its innovation deployment council, task force, committee or group based on its unique business needs and approaches to meeting those needs. For example, a state may have an established highway research board to provide guidance on using funds to research topics related to secondary roads. The board could be enhanced to include a broad range of representatives from the DOT as well as city and county agencies, industry association representatives, and FHWA thus making it a suitable organization to serve as the innovation deployment council or similar group.
With EDC, SHRP2 and other innovation deployment programs as the driving force nationally, the need for every State to have an innovation deployment council or similar group is essential to ensure that the innovation deployment remains a State-based initiative. A formalized council or similar group affirms a State's commitment to identify, select and institutionalize innovations that work best to meet their unique needs and ensures that innovation deployment as a business practice will continue beyond a change in executive leaders.
FHWA's State Transportation Innovation Council (STIC) Incentive Program and the Demonstration Project Program will help States institutionalize innovations and meet their innovation deployment goals.