Concrete Pavement Technology Update
August 2004 FHWA-IF-04-025
PDF Version (1.7 mb)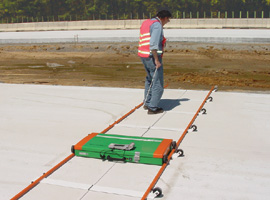 In This Update:
Magnetic Tomography for Dowel Bar Scanning
Software to Evaluate Design Feature Tradeoffs
Long-Term Plan for Research & Development
CPTP Focus Areas and Projects
Software to Calculate Pavement Opening Times
CPTP Implementation Plan
CPTP Expert Task Groups
CPTP Training Opportunities
About the Concrete Pavement Technology Program
CPTP is an integrated, national effort to improve the long-term performance and cost-effectiveness of concrete pavements by implementing improved methods of design, construction, and rehabilitation and the use of new technology. Mandated by Congress, this Federal Highway Administration program aims to foster innovation for the construction of safer, smoother, quieter, and longer lasting pavements. More than 30 CPTP projects are evaluating concrete pavement design features, materials, and best construction practices. Visit www.fhwa.dot.gov/pavement/concrete/index.cfm for more information.
About CPTP Concrete Pavement Technology Updates
The CPTP Update is one facet of CPTP's technology transfer and implementation effort. Updates present new products and research findings that emerge from CPTP studies. To place your name on the mailing list, call (202-347-6944), fax ( 202-347-6938), or e-mail (dblumenthal@woodwardcom.com).
Streamlining Dowel Bar Inspection
MIT Scan-2—a new magnetic tomography device based on principles of pulse induction—may improve evaluation of dowel bar placement in concrete pavements. The device rides on tracks as it is pulled across fresh or hardened concrete (photo, above) and determines the position and orientation (vertical and horizontal alignment) of all dowels in a joint in a single pass. Preliminary results are displayed almost immediately, and the scanner's automated data analysis produces visual and printed reports. Developed in Germany, the scanner's algorithms and user interface have been adapted for U.S. conditions.
Recently evaluated in a Concrete Pavement Technology Program (CPTP) project (Task 7F), MIT Scan-2 was found to be reliable, efficient, and accurate to within +/- 2 mm (0.08 in) when position errors are minimal. Accuracy depends on the degree of placement error. Within typical placement tolerances—.095 cm (0.38 in) for vertical and horizontal misalignment and 5.08 cm (2 in) for side shift—the range of error is +/- 4 mm (0.16 in). With gross misplacements, the error can be greater. The project tested the device in new concrete pavement construction and in retrofitted dowel bar installations. In new construction, testing showed that accurate scans can be obtained for both basket and insertion methods, but the dowel bars must be insulated (epoxy-coated or painted) and transport ties cut when evaluating basket installations.
"Magnetic tomography, as demonstrated through FHWA's evaluation of the MIT Scan-2 device, has the potential to support the development and application of realistic dowel alignment criteria and, as a consequence, longer life pavements.
"This may well be a technology that can be used at the start of a paving operation to identify and correct typical problems with dowel alignment that otherwise would lead to dysfunctional joints and early distress."
Sam Tyson, Office of Pavement Technology, Federal Highway Administration
State Field Trials
The California, Nevada, South Carolina, and Washington departments of transportation (DOTs) participated in CPTP field trials that evaluated the performance of MIT Scan-2. At each agency, the staff was favorably impressed with its capabilities and practicality.
Trials in South Carolina, the first State to use MIT Scan-2 for quality control on a concrete paving project, found that testing a sample of 10 to 20 joints from each day's production was adequate to monitor performance; testing every joint can slow production.
Washington DOT checked 50 joints on a section of I-5 that had been retrofitted with dowel bars in 1996. Jim Weston reported that engineers found the scanner quick and easy to use—after setup, the 50 joints were checked in just 1 hour. He pointed out, however, that minimal training would be needed to interpret the positional data.
Tests were conducted at two sites in Nevada. Sohila Bemanian, Nevada DOT, commented that the trials were promising. "While not a panacea," she said, "overall this is a very powerful tool. It allows you to inspect 100 percent of your work on the first day of production, correct the installation procedure, and minimize misalignments in the finished pavement. The challenge now is to determine what specifications will ensure good pavement performance under various conditions in the field." Nevada DOT used the scanner to establish an acceptable rate of minor misalignments, and found that 3 to 5 percent was acceptable.
Investigators in California used MIT Scan-2 extensively in six new paving projects. Caltrans is developing draft test methods and will soon conduct independent tests, with a view to fully implementing the scanner in new paving and retrofits over the next 2 to 3 years if its accuracy and reliability are confirmed.
According to Tom Pyle, Caltrans, the volume of data produced by the scanner (nine points for each dowel bar) can make interpretation difficult. Currently, a specially trained crew performs the scan and prepares a report for the inspector at the job site. In addition, Caltrans engineers have developed spreadsheet applications to process the field data. Pyle expects the data collected by MIT Scan-2 to be immensely useful down the road in understanding the relationships between specific dowel misalignments and the timing and types of pavement deterioration.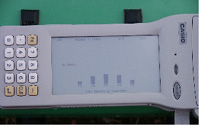 Immediate results on the display screen (above top) and analysis printouts for documentation (above bottom).
MIT Scan-2 Versus GPR
The CPTP study compared the performance of MIT Scan-2 and ground-penetrating radar (GPR) and found that both technologies can produce accurate results and both have limitations. With GPR, variations in material properties, which can be substantial along a project, can create random errors that significantly affect analysis results. Water on the pavement surface or in the pavement structure can also drastically affect results. Although MIT Scan-2 is not affected by these factors, its operators must choose a scanning location carefully since magnetic fields and metal objects close to the joint being scanned—such as power lines, tie bars over the dowel, vehicles, marker nails in the concrete for sawcutting, even steel-toed boots—can throw off the scanner's results.
Effects of Misalignment
An important finding of the CPTP study was that relative misalignment of bars is much more problematic in joint lockups than uniform misalignment (where all out-of-alignment bars are parallel), as shown in the chart below. The study also found that occasional locked joints might not cause problems when neighboring joints are working. In a dowel bar retrofit project in Washington, severe vertical misalignments of 2.5–5 cm (1–2 in) were found in many dowel bars. However, from a visual standpoint, the pavement is performing well.
Effects of dowel bar misalignment.
Alignment Specifications
Existing specifications for dowel bar placement are largely untested because there has been no practical means of measuring alignment in hardened concrete until now. The CPTP study calls for further investigation to improve and validate specifications by identifying conditions that cause joint locking, determining the allowable number of locked joints, and ultimately developing specifications that are consistent with performance in the field. Although there is no ongoing work in developing dowel bar placement tolerances, MIT Scan-2 is being used to determine typical dowel bar alignments in in-service pavements in a project sponsored by the American Concrete Pavement Association.
In summary, expectations are high that the MIT Scan-2 will prove useful not only as an effective quality control tool for highway engineers but also as a research tool to investigate how the geometrics of dowel bar misalignments impact concrete pavement performance over time.
For More Information
ERES Consultants performed the CPTP project; the principal investigator was Tom Yu. For further details, contact Sam Tyson, FHWA Office of Pavement Technology: sam.tyson@fhwa.dot.gov.