Concrete Pavement Technology Update
August 2004
Weighing Benefit-Cost Tradeoffs in Pavement Design
Until recently, there has been no means to evaluate the tradeoffs between performance benefits of design enhancements in portland cement concrete (PCC) pavements and the costs of these added features. Consequently, a Concrete Pavement Technology Program (CPTP) project (Task 6) set out to establish the performance benefits and construction costs of design features and to develop a simple method to evaluate the relative tradeoffs. The project produced new software that can help design engineers evaluate alternative concrete pavement designs.
"The PCC Design Feature Comparison software is a good educational tool for people who want to better understand concrete pavement design and its impact on construction costs and performance."
Peter Kopac, Office of Infrastructure Research and Development, Federal Highway Administration
The CPTP Study
The researchers reviewed the literature and identified 10 design feature categories for evaluation in the study: subgrade, base/subbase, drainage, thickness/slab size, shoulders, pavement cross-section, joints/load transfer, joint sealing, concrete strength/materials, and initial smoothness. They then surveyed State highway agencies and paving contractors to obtain information on relative performance benefits and costs associated with these categories. The highway agency survey suggested that slab thickness, base type, drainage, and dowels have a major effect on pavement performance; the contractor survey indicated that drainage, concrete shoulders, and high-early strength concrete mixes result in substantial pavement cost increases.
A simple, analytical approach was developed to assess tradeoffs between costs and performance. The approach was programmed into an analytical software program—PCC Design Feature Comparison Tool—to facilitate the analysis of different design scenarios.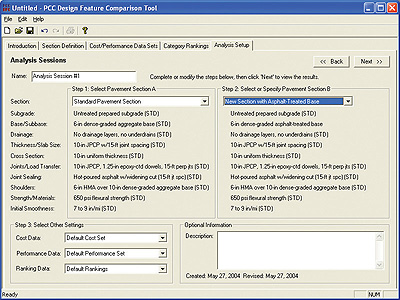 The Analysis Setup dialog box for a Direct Comparison.
Design Feature Comparison Tool
The PCC Design Feature Comparison Tool is not a design tool; it simply provides broad estimates of cost and performance for various design features, and it should therefore be used with caution. Agencies using the Comparison Tool are encouraged to develop their own data sets to reflect local conditions and costs. As Peter Kopac, Office of Infrastructure Research and Development, Federal Highway Administration, advised: "Although default values are provided, the user should input his or her own estimates of relative costs and performance. Preferably, the inputs should be based on available performance models or information from databases. If the input estimates are not close, the answer will not be either."
The software provides two types of analysis: Direct Comparison, which compares two defined pavement sections with different design features to assess expected differences in cost and performance (see Analysis Setup dialog box); and Sensitivity Analysis, which permits more complex, sensitivity-type analyses such as comparing one pavement section to multiple sections or assessing the sensitivity of a chosen design to changes in other inputs.
For More Information
Applied Pavement Technology performed the study; the principal investigator was Kurt Smith. For more information or to obtain the comparison software, contact Peter Kopac: peter.kopac@fhwa.dot.gov.
See www.fhwa.dot.gov/pavement/pub_details.cfm?id=20 for the project TechBrief: Incremental Cost and Performance Benefits of Concrete Pavement Design Features.
Major Technology Tracks for Future Research
Advanced Equipment
Advanced Materials
Business Systems
Concrete Pavement Accelerated and Long-Term Data Collection
High-Speed Nondestructive Testing and Intelligent Construction Systems
High-Speed Rehabilitation and Construction
Innovative Joint Design, Materials, and Construction
Long-Life Concrete Pavements
Pavement Performance
Performance-based Design Guide for New and Rehabilitated Concrete Pavements
Performance-based Mix Design System
Surface Characteristics
CPTP Long-Term Plan for R&D
One of the most significant products of the Concrete Pavement Technology Program (CPTP) is the "Concrete Pavement Long-Range Research and Technology Plan—A Strategic Road Map." The Road Map is intended to guide portland cement concrete pavement research, development, and technology activities over the next 10 years in a rational and nationally coordinated way.
In 2003, the first phase of the project gathered extensive input from stakeholder representatives in Federal, State, and local agencies; contractors, suppliers, and consultants; professional associations; and academics, particularly those conducting applied research. The stakeholders identified desirable characteristics of future concrete pavements and helped define future research and technology needs. At a final outreach session in October 2004, senior stakeholder representatives will review the final draft Plan, comment, and kick off formal implementation.
"This Road Map, along with the creative Implementation Plan, presents a clear picture of the concrete pavement industry's future," says Dale Harrington, contract administrator. "The Strategic Road Map identifies nearly 200 projects under 12 major research tracks and describes how agencies all across America can participate."
For More Information
Details of the Plan are available at www.pccpavement.com. Iowa State University is administering the project; the team also includes TDC Partners, Ltd, The Transtec Group, and ARA–ERES Division, with Ted Ferragut as principal investigator. For more information, contact Ted (tferragut@tdcpartners.com) or Federal Highway Administration representatives Peter Kopac (peter.kopac@fhwa.dot.gov) and Tom Harman (tom.harman@fhwa.dot.gov).
CPTP Focus Areas and Projects
More than 30 CPTP projects are underway in six focus areas: design, materials, construction, repair and rehabilitation, workforce training, and user satisfaction.
Advanced Pavement Design

Contributions to M-E Pavement Design/2002 Pavement Design Guide (ISLAB 2000 and coefficient of thermal expansion test)
Cost-effective design features
High-performance pavements
Improved joint systems
Ultrathin whitetopping design process

Improved Concrete Materials

Compatible combinations of concrete materials
Concrete mixture optimization
Improved concrete characteristics

Improved Construction Processes

Concrete curing
Construction traffic management
Dowel bar placement control
Impact of smoothness specification
Improved construction management— HIPERPAVE II & TEMP
Mobile concrete laboratory
Performance-related specifications

Rapid Repair and Rehabilitation

Field trials of promising methods
Improved rehabilitation guidelines
and strategies
Nondestructive testing
Precast panels for full-depth repair
Precast panels for rapid rehabilitation
Repair of ultrathin whitetopping
Weekend intersection reconstruction

Enhanced User Satisfaction

Congestion reduction
Optimal surface texturing for noise and accident reduction
Smoothness criteria
Smoothness data analysis

Workforce Training

Communications (web site, newsletter, product alerts)
Field demonstration projects
Guides and training materials
Other technology transfer activities
Workshops for State transportation departments and academia