Concrete Pavement Technology Update
August 2004
Assessing Concrete Strength With TEMP
Maturity methods of testing are being used by more and more agencies to monitor temperatures in newly placed pavements to determine appropriate times to open the pavement to traffic. Recently, the Total Environmental Management for Paving (TEMP) system, a maturity data acquisition system that enhances maturity monitoring technology, was demonstrated in Concrete Pavement Technology Program (CPTP) Task 7E. The TEMP software combines temperature, maturity, and strength predictions into a single measurement system that can be accessed onsite or remotely with a handheld or laptop computer. It gives accurate and instantaneous feedback on temperature and concrete strength development.
Benefits of the TEMP System
Improved accuracy of strength estimations
Expedited repair and construction activities
Reduced labor costs and errors associated with data management and analysis
Improved knowledge of the early-age properties of in-place concrete pavement
TEMP's basic components are concrete temperature sensors and a computing device loaded with the TEMP software (see illustration, below). A variety of temperature sensors can be used, including the iButton, a commercially available, self-powered, and self-contained device that can record temperature measurements at user-defined intervals between 1 and 255 minutes. The temperature sensors can be interfaced with a computer via a direct (serial) connection or a wireless radio transceiver. The illustration also shows an optional portable weather station that can be added to further enhance the software's predictive ability.
The primary use of the TEMP system is to identify the appropriate time for joint sawing or opening a concrete pavement facility to traffic, based on achieving a specified strength. Prediction of opening times is based on the past (known) and future (predicted) concrete temperatures, using models from the HIPERPAV program. The system eliminates the need to reference a chart or look-up table to convert the maturity value to a strength value. The minimum strength criterion to open to traffic is used to convert from strength to time, and this predicted time to open to traffic can be interpreted from the software.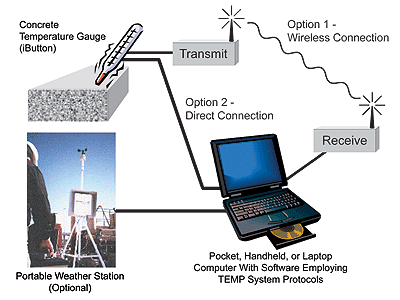 The CPTP TEMP project implemented and evaluated the system in three concrete paving projects: 320th Street, Washington County, and US 151, Jones County, Iowa (both new construction); and I-64, Williamsburg, Virginia (pavement patching). In these installations, TEMP was used to produce real-time maturity-based estimates of strength and to predict future (maturity-based) strength. Differences between maturity-estimated strength and predicted strength were monitored and found to be no more than 5 percent. In some cases, TEMP system estimates were within 1 percent of the strength estimated from the maturity sensors.
Overall, the study further confirmed that maturity methods and the TEMP system can be used to assess the strength of concrete pavement in real time.
For More Information
The Transtec Group conducted the demonstrations; the principal investigator was Robert Rasmussen. For details and the final project report, contact Sam Tyson, Office of Pavement Technology, Federal Highway Administration: sam.tyson@fhwa.dot.gov.
CPTP Begins Implementation Effort
The Concrete Pavement Technology Program (CPTP) recently initiated a project (Task 65) to bring the program's products to market. The project team will produce information and tools to promote implementation of tested technologies.
The Implementation Team will provide product-specific marketing, deployment, and delivery activities as well as engineering support to agencies and contractors.
CPTP is an important undertaking of the Federal Highway Administration (FHWA) in partnership with State departments of transportation (DOTs), industry, and academia. The program is producing innovations and findings that pavement engineers and managers can apply to design and construct more cost-effective and longer lasting pavements and to improve the quality and speed of rehabilitation. Task 65 provides a framework for monitoring and implementing these innovative products and for maintaining a coordinated followup of implementation.
Mission and Objectives
The Implementation Team will champion promising innovative concrete pavement research products and technologies through partnering, training, effective communications, and marketing. To achieve that mission, five goals have been identified:
Develop implementation strategies for promising CPTP products.
Identify and enlist partners and champions for implementation.
Identify and overcome barriers to implementation.
Market the products.
Follow up implementation to identify any improvements needed for the products.
CPTP Marketing and Implementation Products
Detailed Status Report of CPTP projects and products (available now)
Refined and implementable CPTP products (under development)
Marketing Plan for CPTP products (future development)
Marketing and Implementation Activities
Four specific tasks are to be performed in support of the implementation project's mission and objectives:
Prepare a Detailed CPTP Status Report—summarize CPTP and related research and development activities. The report will be informed by the work of expert task groups that represent major stakeholders (State DOTs, industry, research organizations, academia, and FHWA). The draft Status Report, posted at www.fhwa.dot.gov/pavement/concrete/index.cfm, will be updated periodically.
Prepare a CPTP Marketing Plan—recommend to FHWA the technology transfer, deployment, and delivery activities that are needed to achieve CPTP goals and identify successful pavement product marketing strategies.
Refine and Package CPTP Products—evaluate products and findings from CPTP projects, select and refine products for deployment, and package the refined products for deployment.
Implement the Approved Marketing Plan—provide the engineering and marketing support services that are needed for timely and cost-effective technology transfer. Make an early assessment of the Plan's implementation.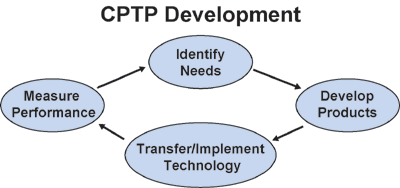 To maintain momentum, the marketing effort will be ongoing. It will build on successes by publicizing innovative products, training materials, and successful implementation activities.
For More Information
The implementation project contractor is Construction Technology Laboratories; the principal investigator is Shiraz Tayabji. The contract team includes Applied Pavement Technology, Soils and Materials Engineers, and Woodward Communications.
Additional information is available from Sam Tyson, FHWA Office of Pavement Technology: sam.tyson@fhwa.dot.gov.