Concrete Pavement Technology Update
July 2005
Using Precast Panels for Concrete Pavement Rapid Repair and Rehabilitation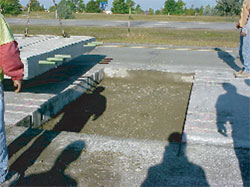 Single-panel replacements were installed in lieu of full-depth patches on Michigan's I-94.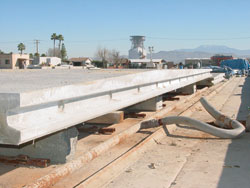 In the California I-10 demonstration, the panels used a crown shape that tapers from 330 mm (13 in.) at the high point to 250 mm (10 in.) at the ends.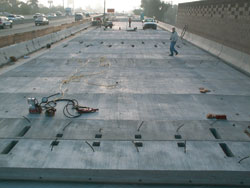 A 38-m (124-ft) section of post-tensioned, precast pavement in place on the Caltrans I-10 installation.
The use of precast slabs is a promising concrete rehabilitation technique. In many trial applications, the technique has been successfully used for rapid, full-depth repair of localized failures in concrete pavements, and it is now ready for more widespread use. Because the panels are cast offsite in advance, the technology yields more durable repairs, shortens lane closure times, and increases user satisfaction. Precast paving is most applicable when lane closure times, rather than costs, are the primary consideration.
Intermittent Repairs
Under CPTP Task 7E, the use of precast slabs for full-depth repairs of jointed concrete pavements has been demonstrated in Michigan and Colorado. On a business loop of Michigan's I-94, 21 factory-cast panels 3.7 m by 1.8 m by 254 mm (12 ft by 6 ft by 10 in.) were installed to repair deteriorated joints. Deteriorated concrete was removed, base support prepared, fast-setting bedding material placed, precast panels installed, and retrofitted dowel bars installed at the transverse joints. Using this process, repairs can be opened to traffic within 6 to 8 hours of lane closure. The panels were installed in 2001 and 2002. According to Professor Neeraj Buch, Michigan State University, the initial (short-term) performance of the full-depth precast panels has been acceptable. Long-term performance will be monitored by Michigan DOT and assessed for ride quality, concrete durability, and precast repair structural integrity.
Continuous Repairs
CPTP Task 58 is examining the feasibility and cost-effectiveness of using precast panels to rapidly rehabilitate or reconstruct existing concrete or asphalt pavements. In an initial study, researchers developed a concept for using precast, prestressed concrete slabs and recommended pilot projects. Prestressing reduces tensile stresses and required slab thicknesses while allowing panels to span small voids in uneven base layers.
In spring 2002, the Texas DOT successfully installed a pilot precast pavement section near Georgetown that was 701.0 m (2,300 ft) long. Longitudinal post-tensioning was used to tie together a series of precast panels, each 3.0 m (10 ft) long, to provide a jointless slab 76.2 m (250 ft) long. Panels were also pretensioned transversely and placed directly over an asphalt concrete leveling course. Each group of 25 panels was installed in 6 hours and post-tensioned in a few additional hours. The pilot successfully demonstrated the method's constructability.
The first precast demonstration project was constructed in California on I-10 in El Monte. The project consisted of 76.2 m (250 ft) of two-lane, precast, prestressed pavement placed over a lean concrete base and post-tensioned longitudinally in 37.8-m (124-ft) sections. Thickness varied from 254 to 330 mm (10 to 13 in.) due to a cross-slope variation built into the panels. The 31 panels were placed in approximately 8 hours over 2 nights with post-tensioning completed in just a few additional hours. The installation is expected to last more than 50 years under extremely high traffic volumes. Demonstration projects of the "Texas method" are also scheduled in Missouri, Iowa, and Indiana.
In Missouri, a 366-m (1,200-ft) section of precast, post-tensioned concrete pavement will be constructed in August 2005 on I-57 near Sikeston. The pavement will replace a jointed reinforced concrete pavement that has developed significant faulting over 45 years of service. The Iowa project, also scheduled for 2005, will use precast, post-tensioned pavement construction for bridge-approach slabs to avoid development of the "bump" experienced where the pavement and bridge-deck surfaces meet. The Indiana project, in 2006, will take advantage of the reduced slab thickness made possible by prestressed design versus the thickness of a typical jointed plain concrete pavement.
For CPTP precast project details, contact Sam Tyson, FHWA Office of Pavement Technology: sam.tyson@fhwa.dot.gov.
Other Precast Paving Applications
Caltrans is also evaluating a commercially available precast system. A 7-km (4.3-mi) test section near Devore is being subjected to 4 months of continuous heavy vehicle simulation. This system has been installed in high-traffic projects in New Jersey and New York, and is being demonstrated in Minnesota.