Concrete Pavement Technology Update
July 2005
Highlights of CPTP Expert Task Group Meetings
Executive ETG
CPTP's Executive Expert Task Group (ETG) held its first meeting in Washington, DC, on August 26, 2004. The membership, including a full spectrum of stakeholder representatives, provides guidance concerning CPTP-related needs of transportation agencies and industry and on product implementation strategies.
FHWA representatives King Gee, Paul Teng, Tommy Beatty, and Sam Tyson welcomed the group with brief overviews of the ETG's anticipated role in CPTP implementation. Some emphasis areas are the new mechanistic-empirical pavement design guide, guidelines for portland cement concrete pavement repair and rehabilitation, and new equipment for characterizing concrete quality. Implementation plans will target customer needs. The group recommended using a "tailored technology transfer" approach to meeting customer needs, including these methods:
E-mail and Web-casting to convey research findings and enhance training.

Pooled and State Planning and Research program funds for equipment, product implementation, and training.

Lead State, "champion," demonstration project, workshop, and user group approaches to implementation.

Industry organizations and professional agencies as conduits for information transfer.
The Executive ETG's second meeting, on June 1, 2005, in Atlanta, included discussions of CPTP products, their benefits to agencies, plans for marketing and demonstrations, and review of the CPTP long-term research and development plan for concrete pavements (see "Concrete Pavement R&D Road Map Moves Toward Implementation").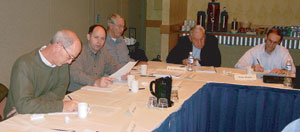 Left to right, Ron Guntert, Jeff Uhlmeyer, Ken McGhee, Ernie Barenberg, and Peter Kopac at the Engineering ETG meeting in Chicago, IL, November 2004.
Engineering Expert Task Group Members (April 2005)
State and Provincial Transportation Agencies
Ahmad Ardani, Colorado
Michael Brinkman, New York
Tom Burnham, Minnesota
Mohamed Elfino, Virginia
Todd Hanson, Iowa
David Huft, South Dakota
Tom Kazmierowski, Ontario
David Lippert, Illinois
Michele Maher, Nevada
Jeff Uhlmeyer, Washington
Industry
Mike Ayers, American Concrete Pavement Association (ACPA)
Jim Duit, Duit Construction Co., Inc.
Ron Guntert, Guntert & Zimmermann, Inc.
David Howard, Koss Construction Company
Colin Lobo, National Ready Mixed Concrete Association
Charles Nmai, Master Builders, Inc.
Mike Plei, Pavement Consultant
Randy Riley, Illinois Chapter, ACPA
Oscar Tavares, Lafarge North America
Academia
Paul Tikalski, Penn State University
Moon Won, University of Texas
Federal Highway Administration
Division Offices
Iyad Alattar, Nevada
Jason Dietz, California
Jim Phillips, North Carolina
Jim Travis, Texas
Office of Infrastructure Research and Development
Tom Harman
Peter Kopac
Office of Pavement Technology
Sam Tyson
Resource Center at Atlanta
Angel Correa
Engineering ETG
The Engineering ETG focuses on CPTP technology transfer, marketing, and communications. The group has met twice since the August 2004 Update was published. In Chicago, on November 18, 2004, an ambitious agenda included a report on the evaluation of whitetopping design software and a complete update of CPTP activities. In addition, Executive ETG Chairman Joseph Deneault gave an overview of that group's August meeting. The Engineering ETG reached consensus on continuing the technical review of the whitetopping design software and concrete curing guidelines, and proposed expanding the Update mailing list.
The group met in Denver on April 12, 2005. The agenda addressed CPTP presentations and workshops as well as completed and ongoing projects. Member-moderated discussions were held on agency and industry needs and CPTP's role in meeting those needs (moderated by David Huft and David Howard) and on CPTP products and implementation issues (moderated by Ahmad Ardani).
The group encouraged early publication of reports on the dowel bar scanning technology, the TEMP (Total Environmental Management for Paving), and concrete curing guidelines; the development of concise summaries on completed CPTP products; and early interaction of the CPTP with AASHTO pavement and materials groups.
International Conference on Best Practices for Ultrathin and Thin Whitetoppings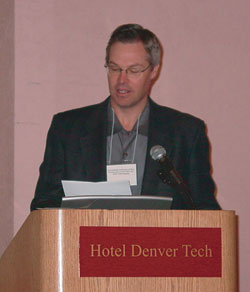 Held April 15-16, 2005, in Denver, Colorado, the white-topping forum was sponsored by FHWA, ACPA, Colorado DOT, and the International Society for Concrete Pavements.
Above: Master of ceremonies Tim Aschenbrener, Colorado DOT, moderating the plenary session.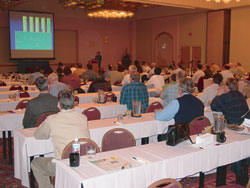 One of 32 conference presentations on a wide range of whitetopping applications and techniques, including rural, urban, highway, and airport applications and research.
The April 2005 UTW/TW best practices conference attracted participants from six countries—Canada, France, Guatemala, Japan, Korea, and 26 States across the U.S.A. Attendees included Federal and State DOT officials, contractors, materials suppliers, consultants, equipment manufacturers, and other industry professionals.
The program consisted of presentations and discussions on new developments related to UTW and TWT technologies and lessons learned over the last decade in the use of these technologies. Implementable design and construction techniques that result in long-lasting UTW and TWT were the focus. Ahmad Ardani, Colorado DOT, commented that the conference was a "one-stop shop for everything you wanted to know about whitetopping. The speakers brought practical information that can be put to work." Topics included fatigue analysis, pavement evaluation, reflective cracking, joint spacing, high-performance concrete, and heavy loading. The conference proceedings should be of special interest to city, county, and State DOT engineers and related professionals who are using or contemplating the use of UTW and TWT.
According to Colin Franco, who presented the Rhode Island DOT's experience with intersection overlays, the conference confirmed that whitetopping is a good solution in places where asphalt under heavy loading and environmental considerations are concerns. "Those of us from State highway agencies are pretty much all in the same boat," said Franco, "convinced that white-topping is a good technique and ready for the next steps."
CPTP Task 65 has developed a best practices workshop on whitetopping that incorporates the findings from this conference (see "Long-Lasting Pavements: Best Practices Workshops and Presentations for Highway Agencies"). Related information is available in NCHRP Synthesis 338, Thin and Ultra-Thin Whitetopping—A Synthesis of Highway Practice.
For details on the new whitetopping workshop or the conference proceedings, contact Shiraz Tayabji (stayabji@ctlgroup.com).
Innovations for Concrete Pavement: Technology Transfer for the Next Generation
The 8th International Conference on Concrete Pavements August 14-18, 2005 — Colorado Springs, Colorado Reduced-Fee Registration for Government Engineers
New, implementable technologies related to concrete pavement design, construction, and rehabilitation will be the focus of this conference, which is organized by the International Society for Concrete Pavements (ISCP) and co-sponsored by FHWA, ACPA, and nine other organizations.
Conference presentations and panels will address aspects of design, materials, and construction technologies that are essential for achieving long-lasting, high-performance, concrete pavements.
Maintenance, performance, evaluation, and structural rehabilitation will also be covered in the conference's 16 sessions, four workshops, and plenary session, with emphasis on implementable approaches.
FHWA and ISCP have partnered to provide 25 complimentary registrations for State DOT pavement and materials engineers (one per State) on a first-come, first-serve basis.
To encourage strong government agency participation, reduced-fee registrations are also available to State DOT, FHWA, and local agency engineers. Travel and accommodation costs are not included in complimentary or reduced-fee registrations.
State engineers should contact their FHWA division office or Sam Tyson (sam.tyson@fhwa.dot.gov).
For more information about the conference, visit www.concretepavements.org.