Concrete Pavement Technology Update
PDF Version (148 kb)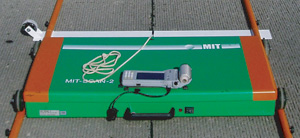 CPTP provides new technology for loan to State highway agencies. Shown above, MIT Scan-2, a nondestructive testing device for evaluating dowel or tie bar placement, is available through the loan program. Maturity testing systems and impact-echo devices are also available for loan or demonstration (see CPTP Equipment Loan Program).
In This Update:
Paving Concrete
Mix Optimization Workshop
HIPERPAV II Wins ACPA Recognition
Smoother Pavements
CPTP Equipment Loan Program
Precast Pavement Project Update
2006 International Conference on Long-Life Concrete Pavements
The Concrete Pavement Technology Program
CPTP is an integrated, national effort to improve the long-term performance and cost-effectiveness of concrete pavements by implementing improved methods of design, construction, and rehabilitation and new technology. Visit www.fhwa.dot.gov/pavement/conhome.cfm for more information.
About CPTP Updates
The CPTP Update is one facet of CPTP's technology transfer and implementation effort. Updates present new products and research findings that emerge from CPTP studies. To place your name on the mailing list, call (202-347-6944), fax (202-347-6938), or e-mail (dblumenthal@woodwardcom.com).
Paving Concrete: Yesterday, Today, and Tomorrow
Concrete technology is continually changing and growing with numerous researchers and practitioners seeking ways to make pavements that are more cost effective, longer lasting, and safer, smoother, and quieter. Some of the developments related to concrete that are being researched and implemented include:
Use of increasingly complex mixtures containing a number of cementitious materials and chemical admixtures.

Optimization of paving mixtures (e.g., dense grading).

Improved test methods to track concrete properties with time (e.g., maturity and compatibility).

Increased understanding of factors that affect noise and how to control them.

Application of specifications addressing materials variability.

Education of personnel in the field, so they can troubleshoot problems early in the process.
Many of these research initiatives have been funded or supported through CPTP.
Not Your Father's Concrete
The concrete used in pavements today is similar in many ways to the product used in the first pavements built in the early 1900s (it still contains portland cement, sand, gravel or crushed stone, and water), but in other ways it is significantly different:
Chemical admixtures are included in almost all paving mixtures to modify the water content or workability of a mixture. These admixtures greatly facilitate construction and normally lead to improved performance and reduced costs.

Air is deliberately entrained in all cold-climate pavements to improve freeze-thaw resistance.

Supplementary cementitious materials (SCMs) are now used in most concrete pavements to enhance concrete performance and durability while reducing costs and helping to reduce disposal issues.

More recently, ternary combinations of SCMs have been employed to gain the benefits of more than one material.

Cement chemistry has changed, mainly leading to higher early strengths.

Combined aggregate grading is being optimized, leading to a reduction in required cement content and improved mixture properties.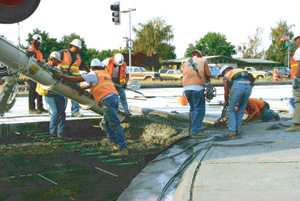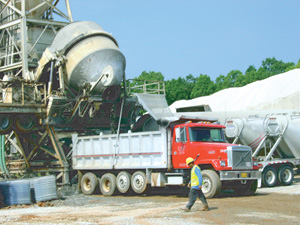 Accelerated schedules, extended construction seasons, and more stringent cost controls have led to the use of more complex and less forgiving mixtures.

To address the need to understand and control the variabilities inherent in increasingly complex mixtures, new processes and procedures are being evaluated in CPTP projects.
At the same time, practitioners have been demanding tighter and tighter requirements on the concrete in order to accelerate construction rates and extend the construction season while still reducing costs. Specifically, tighter limits on the fresh properties (workability), setting times, early strengths, crack prevention, and durability of our pavement mixtures are being demanded.
The increasing complexity of mixtures, combined with greater demands, has led to the use of systems that are less forgiving. Consequently, there is a strong need for better understanding of the material, more information about how each mixture will perform, and tighter controls on variability.
Some new processes and procedures that have been developed to address these needs include the following:
A protocol to assess the risk of incompatibility for a given set of mixtures. Incompatibility is when a combination of normally acceptable materials interact in a given environment to cause unexpected and unacceptable mixture performance, and it has become a greater risk as increasingly complex mixtures are used. Incompatibility is typically exhibited as problems with stiffening and setting rates of the fresh concrete and with a change in the air-void system.

Models that will help optimize the proportions for a given mixture based on the materials available while achieving the required performance, both in the fresh and hardened concrete.

Specifications that are centered on the performance of the concrete rather than setting out a recipe. These specifications depend upon appropriate tests being available to measure the performance required.

Methods that allow field monitoring of the hydration of the cementitious system (e.g., maturity). These tools allow contractors to optimize the timing of their finishing and saw-cutting activities. Models (e.g., HIPERPAV™) are also available that assist in assessing the risk of cracking in the environment, and provide guidelines on actions to take to minimize these risks.

Improved guidance on pavement curing. The need for curing to achieve adequate durability is well known, and work continues on developing tools to assess when curing should commence, and if necessary, when it can stop. If curing compounds are applied to a concrete surface before bleeding has stopped, rising water can disrupt the membrane, leading to a weak surface layer. On the other hand, if bleeding is slower than the rate of evaporation, the risk of plastic shrinkage cracking is significantly increased. Approaches to address these concerns have been developed and disseminated.
Mix Optimization Workshop
CPTP offers a workshop focused on the compatibility of concrete mix materials and related variables. The workshop covers new procedures and technologies used to optimize mixes, monitor and control concrete variability during construction, and predict long-term strength and durability.
The workshop will be presented in Kansas City, MO, on March 1 at an ACPA Missouri-Kansas Chapter conference and in Oklahoma City, OK, on March 15, sponsored by the ACPA Oklahoma Chapter and the Oklahoma Department of Transportation. For more information on attending or scheduling a Mix Optimization workshop, contact Shiraz Tayabji (STayabji@CTLGroup.com).
Test Methods
In order to track the performance of a concrete mixture, several innovative approaches have been developed and are being implemented:
The air void analyzer is an instrument that reportedly can assess the quality of the air void system in fresh concrete. A sample of mortar can be extracted, after compaction of the mixture in the paver, and placed in the instrument. After 30 minutes, a spacing factor is reported, based on the rate at which bubbles are released from the mortar as it is agitated. Reports of the correlation between the results from this approach and using a hardened air determination are mixed, but the instrument may well provide useful information on the uniformity of concrete delivered, and on the effects of vibration on the air void system of the finished product.

A number of devices and systems are available that track and report the development of heat in concrete over time. These data are used to calculate the maturity of the hydrating system, which provides useful information about strength development. The temperature data can also be used as inputs to the models that estimate cracking risk and to confirm that the cementitious system is indeed hydrating as it should.

Work is continuing on using various methods to determine the rheology of the mixture and how it changes with time. A device that is currently used to monitor asphalt products (and is therefore in many State DOT laboratories) can be modified to provide useful information about the risk of early (or late) stiffening and setting in a mixture.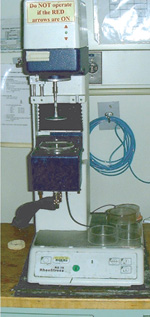 Rheometers provide useful information about the risk of early or late stiffening and setting.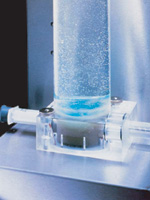 The air void analyzer is under investigation as an approach to evaluating the uniformity of delivered concrete and the effects of vibration on the air void system of the finished product.
Methods are also being developed to assess the condition of the hardened concrete:
The smoothness of a pavement is the parameter that is most obvious to the user, in terms of the noise generated (fine scale) and in the feeling of motion sickness (coarse scale). Devices and methods of measuring these parameters have been developed and evaluated and are being implemented.

Tools are becoming available that are able to locate the position of dowel bars with increasing accuracy. This is important to ensure that adequate load transfer is provided across joints, thus increasing the life of the pavement.

Some authorities are starting to use parameters other than strength as pay factors in order to encourage the use of mixtures with improved durability. One such parameter is the spacing factor of the air void system, measured in the hardened concrete using microscopical methods. Another parameter being considered is the uniformity of the grading of the combined aggregates based on sieve analyses.
High Early Strength
In addition to work focused on everyday paving, considerable attention has been focused on high early strength concrete for overnight repair applications. Such mixtures are often based on proprietary systems using specialized cements or on carefully proportioned mixtures using conventional cementitious materials with chemical admixtures and possibly accelerated curing. These efforts have meant that repairs can be conducted in pavements overnight, thus minimizing disruptions to the users and significantly improving safety to the construction team.
Implementation and Education
An integral part of any new approach, protocol, or test method is its implementation. The CPTP is providing implementation support through a number of different methods:
Publications to educate users on the tools available to them, and on the best practices they should be following. Target audiences for these documents range from designers and specifiers through senior technicians and engineers at the construction site.

Training courses ranging from 1-hour sessions to multi-day seminars. These courses have been developed and presented to State, local authority, and trade association gatherings. The CPTP implementation project is providing resources for the training to be made available to those involved in pavement construction.

Software programs that address some of the models discussed above.

Field demonstrations and equipment loans (see CPTP Equipment Loan Program).