Concrete Pavement Technology Update
January 2006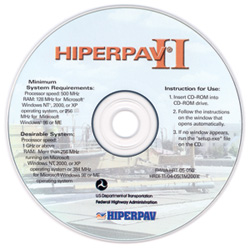 HIPERPAV II software—available on CD and downloadable from the FHWA Web site: www.fhwa.dot.gov/pavement/pccp/hipemain.cfm.
HIPERPAV II Wins ACPA Recognition
The American Concrete Pavement Association awarded its 2005 Marlin J. Knutson Award for Technical Achievement to the Federal Highway Administration and The Transtec Group for their "contributions in developing this unprecedented software," HIPERPAV II (HIgh PERformance PAVing software).
HIPERPAV, a one-of-a-kind tool capable of predicting the early-age behavior of concrete pavements, successfully integrates construction materials, pavement design, construction operations, and environmental conditions into an easy-to-use, Windows-based, software package. Using a systems approach, the software considers all factors influencing concrete pavements to predict a pavement's strength and stresses during the first 72 hours after construction.
An updated and expanded version of HIPERPAV was released in 2005. As in the first edition, HIPERPAV II provides guidance on the design and construction of concrete pavements and helps users anticipate and prevent pavement performance problems. HIPERPAV II also incorporates guidelines for the proper selection of design and construction variables to minimize early-age damage to jointed plain concrete pavement (JPCP) and continuously reinforced concrete pavement. In addition, the software can be used to determine the effect of early-age behavior factors on the long-term performance of JPCP. The new version also provides the capability to optimize concrete mix designs to meet specific performance criteria and predict early-age behavior of dowel bars in rigid pavements. The software, the accompanying three-volume documentation (project summary, user's manual, and technical appendices), and HIPERPAV II workshops are available through FHWA (see sidebar).
Free Training on HIPERPAV II
Highway agencies can schedule a one-day workshop on HIPERPAV II through the FHWA Resource Center. The training provides an overview of the HIPERPAV II project and software, as well as hands-on experience using HIPERPAV II to solve realistic case studies that demonstrate the software's capabilities.
The hosting agency is asked to supply a copy of the presentations for each participant and a training room with enough computers for the participants to work the case studies.
To schedule a HIPERPAV II workshop, contact Angel Correa (404-562-3907; angel.correa@fhwa.dot.gov) or Gary Crawford (202-366-1286; gary.crawford@fhwa.dot.gov).
HIPERPAV II is used by pavement planners, designers, and contractors in the public and private sectors across the United States and around the world for a wide variety of functions. Planners can develop quality control specifications for projects based on available materials and regional climatic conditions, and designers can optimize pavement designs so that a better pavement is constructed with improved long-term pavement performance.
Contractors can use the software package to increase pavement performance and to prevent expensive pavement repairs. For example, unexpected changes in the weather can have a dramatic influence on strength development and stresses within the pavement. Using HIPERPAV II, the impact of these changes can be quantified, and an alternative construction time or curing method can be implemented to reduce or prevent pavement damage. In addition to its use in planning and developing projects, HIPERPAV II is also being used as a forensic tool to analyze pavement damage and poor pavement performance.
As HIPERPAV's success has grown, some State highway departments are beginning to require its use in projects. For example, the Ohio Department of Transportation (ODOT) specifications (Section 451.08) require contractors to use HIPERPAV prior to construction operations to prevent early-age cracking of concrete. For more information please refer to ODOT's Web site.
For more information, contact Fred Faridazar at FHWA (202-493-3076; fred.faridazar@fhwa.dot.gov) or Mauricio Ruiz at The Transtec Group (512-451-6233; mauricio@thetranstecgroup.com).
HIPERPAV II Documentation
Computer-Based Guidelines for Concrete Pavements
Volume I ( FHWA-HRT-04-121), Project Summary.
Volume II (FHWA-HRT-04-122), User's Manual.
Volume III (FHWA-04-127), Technical Appendices, which document investigation, modeling, validation, and software.
Maturity Documentation
The CPTP TechBrief, Maturity Testing for Concrete Pavement Applications (FHWA-IF-06-004), describes a maturity method for predicting concrete strength at early ages, basic maturity concepts, expected benefits, needed equipment, and guidelines for use on a concrete pavement project.