Concrete Pavement Technology Update
January 2006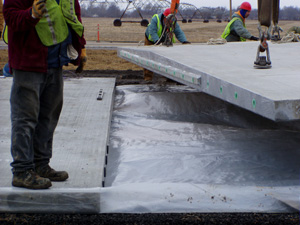 In the Missouri project, the precast panel depth at the crown is 280 mm (11.0 in.) tapering to a 200-mm (8.0-in.) minimum at either side of the 7.3-m (24-ft) roadway. The integral concrete shoulders taper from the edges of the roadway to 190 mm (7.5 in.) on the inside lane and 150 mm (5.75 in.) on the outside lane.
Precast Prestressed Concrete Pavement - CPTP Project Update
Precast prestressed concrete pavements offer a number of potential benefits to justify their higher initial cost in comparison to conventional slipformed and cast-in-place concrete. The principal benefits of precast pavement construction and rehabilitation include reduced lane closure times and longer pavement life. A section of precast pavement can be placed quickly overnight or during a weekend and can carry traffic immediately. Reduced lane closures and longer pavement life result in lower user costs, reducing the life cycle cost of the pavement.
A pilot project in Texas was constructed on the northbound frontage road of I-35 just north of Georgetown. The project length was 701.5 m (2300 ft) post-tensioned in four equal sections. Individual panels measured 3.1 m (10 ft) in the direction of traffic and had a transverse dimension of 11.0 m (36 ft) including two traffic lanes and pavement shoulders. The project also utilized partial-width panels and transverse post-tensioning at certain locations. The base was a leveling course of asphalt with a thickness of 50 mm (2 in.). The installation rate averaged 25 panels/6 hours; 339 panels were installed.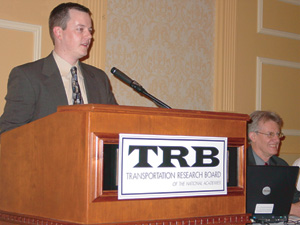 Dave Merritt, The Transtec Group, presenting "Precast Concrete Pavement Applications" at the January 2006 Transportation Research Board meeting.
In California, a demonstration project was constructed on eastbound I-10 in El Monte, just before the Meeker Road overpass. The project length was 75.6 m (248 ft) post-tensioned in two sections of equal length. This project utilized 8-ft panels with a width of 11.3 m (37 ft) and a variable slab thickness of 250 to 330 mm (10 to 13 in.). The installation rate averaged 15 panels/3 hours; 31 panels were installed.
The Missouri DOT completed a demonstration project in December 2005 on I-57 near Sikeston. The 305-m (1000-ft) installation included three expansion joints for the four equal-length post-tensioned pavement sections. The pre-tensioned panels included a keyway (and matching slot on the opposing face), 18 post-tensioning ducts, a crowned pavement surface, and integral shoulders (see figure at top right). Unlike earlier designs in Texas and California, the keyway in the Missouri design does not continue into the shoulders; however, one of the post-tensioning strands runs through the inside shoulder, and four strands are in the outside shoulder.
A 2006 rehabilitation project in Indiana will use the precast prestressed system to increase clearance at a bridge underpass on Route 13 below I-69 northeast of Indianapolis near Fortville. To improve safety the existing jointed concrete pavement will be removed and replaced with a precast section that is about 100 mm (4 in.) thinner than the jointed design—with a load capacity and long-term performance that exceed that of a typical jointed concrete pavement design.
An innovative use of the precast prestressed pavement system in Texas will incorporate special panels for the installation of weigh-in-motion (WIM) scales. Scheduled for construction during 2006 on the east- and west-bound lanes of Route 175 near Kaufman, the precast design for two lanes in each direction includes panels for 153-m (500-ft) approach sections followed by the special panels that will receive the WIM scales. These panels will be precast with blockouts and fittings to accommodate installation of the WIM scales later. At the precast plant the blockouts will be filled with a low-strength concrete that can carry traffic temporarily and be easily removed when the WIM scales are installed. The Texas DOT anticipates installing WIM scales at some 19 locations, and nationwide there will be several hundred installations during the next few years. Thus the potential for the use of precast panels for this important application continues.
In Iowa, bridge approach slabs will be constructed using precast prestressed pavement. The precast approaches will be attached on a skew to the integral abutments of two newly constructed bridges on Route 60 over the Floyd River near Sheldon. The panels will extend approximately 24 m (80 ft) from the abutment, where an expansion joint will accommodate expansion and contraction of the pavement and the bridge deck.
For more information on CPTP's precast demonstration projects, contact Sam Tyson, FHWA (sam.tyson@fhwa.dot.gov).