Concrete Pavement Technology Update
CPTP Presentations to AASHTO Subcommittees
Presentations on the Concrete Pavement Technology Program were featured at several recent AASHTO committee and subcommittee meetings. These presentations were designed to help raise awareness of CPTP and to help disseminate information on products and innovations that are being promoted under the CPTP Task 65 Implementation Contract.
On May 5, 2006, Malcolm Kerley, chief engineer of the Virginia Department of Transportation and a member of the CPTP Task 65 Executive Expert Task Group (ETG), made a presentation to the AASHTO Standing Committee on Highways at the group's technical meeting held in Jekyll Island, Georgia. Kerley focused on the technology transfer components of the program and highlighted two technologies that have generated considerable interest in the pavement community: the MIT Scan device (for measuring the alignment of dowel bars) and precast, prestressed concrete slabs. Under the CPTP program, the MIT Scan device has been loaned to several States for investigation, and the precast, prestressed concrete pavement technology has been demonstrated in three States, with perhaps as many as eight additional demonstrations anticipated over the next 3 years.
At the Subcommittee on Construction's Annual Meeting held in San Juan, Puerto Rico, July 30 - August 3, Tommy Beatty, director of the FHWA's Office of Pavement Technology and a member of the CPTP Executive ETG, included an update on CPTP activities and technology transfer activities related to CPTP in this presentation.
Joe Denault, HNTB Corporation and formerly the chief engineer of the West Virginia Department of Transportation, made a presentation on the CPTP program to the AASHTO Subcommittee on Materials at its annual meeting, August 6 - 11 in Overland Park, Kansas. In his presentation, Denault, who is Chair of the CPTP Task 65 Executive ETG, described the product implementation and technology transfer activities being carried out under CPTP.
Precast Prestressed Pavement Demos Continue
As reported in earlier CPTP Updates, FHWA is providing engineering support and funding to State DOTs in a series of demonstration projects that will advance the use of precast prestressed concrete pavement (PPCP) for pavement construction and rehabilitation. The principal benefits of this innovative technology include reduced lane closure times and longer pavement life. Each project has required different design elements, demonstrating the flexibility of the PPCP concept. Since the Texas, California, and Missouri projects reported earlier, a bridge approach application has been completed.
PPCP workshop demo in Sikeston, Missouri. Following completion of the Missouri PPCP project in December 2005, FHWA and MoDOT co-sponsored a national rollout workshop and field demo during August 2006.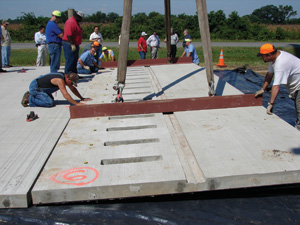 In Iowa, where the DOT is considering the use of PPCP panels to permit rapid replacement of failed bridge approach slabs during short construction windows, a trial bridge approach project was completed on a new bridge on Route 60 near Sheldon. The trial will be monitored during the next few months, and if it is deemed successful, Iowa will adopt the PPCP concept for bridge approaches on heavily trafficked highways. The Iowa bridge and pavement segments meet at a skewed angle, which is typical in many if not most situations. Also, the Iowa DOT elected to place precast panels in each lane separately, thus requiring transverse as well as longitudinal posttensioning onsite. The single-lane panel placement, with subsequent panel placement of the adjacent lane, will be the construction procedure needed in most traffic situations for rehabilitation in existing bridge approach slabs.
Precast bridge approach demo in Sheldon, Iowa.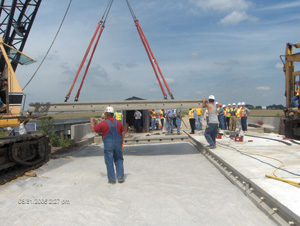 To advance the implementation of precast concrete pavement, AASHTO's Technical Implementation Group (TIG) has formed a Lead States Team on Precast Concrete Pavement Panels. The team met recently to outline a work plan and estimated budget, and, pending TIG Oversight Committee approval and funding, execution of the plan will start late in 2006 and continue into 2007. The TIG team has identified several types of precast concrete paving systems that are at various stages of adoption by the transportation community. The team is identifying the uniqueness of each of these systems as well as their commonalities, exploring applications, outlining the benefits that precast panels offer, identifying barriers to implementation, and developing strategies to expedite the adoption process.
For information on FHWA's PPCP demonstration projects, contact Sam Tyson, Office of Pavement Technology: sam.tyson@dot.gov
For information on the new AASHTO TIG for implementation of precast technology, contact Timothy J. LaCoss, FHWA New York Division: Timothy.LaCoss@dot.gov
ETGs Hold Joint Meeting
A first for CPTP Task 65, Technology Transfer, Deployment, and Delivery, occurred on March 1, 2006, with a joint meeting of the Executive and Engineering Expert Task Groups in Dallas. Sixteen members of the Executive ETG, 17 of the Engineering ETG, 4 guests, and 3 of the Task 65 team attended. Executive ETG Chair Joe Deneault presided. An exchange of technical and management ideas resulted. The ETGs also held separate meetings while in Dallas.
Presentations
Tommy Beatty, Director, FHWA Office of Pavement Technology, reviewed the FHWA pavement program with a focus on CPTP. He described recent activities and reviewed funding under the SAFETEA-LU initiative, where $4.1 million per year is provided for portland cement concrete pavement research over the next 4 years.
Gary Henderson, Director, FHWA Office of Infrastructure Research and Development, described Turner-Fairbank Highway Research Center activities with special attention to the Concrete Pavement Roadmap for which a management structure is being established.
Sam Tyson, FHWA Office of Pavement Technology, described the CPTP vision and accomplishments with slides and a handout.
Tom Cackler, Director of the National Center for Concrete Pavement Technology (NCCPT), gave an overview of the new Center, its mission and goals, advisory boards, and focus areas: mix analysis, surface characteristics, long-life pavements, concrete overlays, and equipment innovation.
Engineering ETG Action Items
Develop Techbriefs on concrete consolidation, fast-track rehabilitation, and other CPTP subjects as needed.
Decide how to target the contractor industry for implementation of new technologies.
Encourage support of State attendance at the International Conference on Long-Life Pavements conference in Chicago in October 2006.
Executive ETG Action Items
Prepare interim guidance on dowel bar alignment tolerances and measurement.
Prepare a CPTP presentation for the next meeting of the AASHTO Standing Committee on Highways.
Add an "Implementation Issues" section to all future technical briefs.