Concrete Pavement Technology Update
COMPASS: Optimizing Concrete Paving Mixtures
Concrete mixture design is more challenging and complex than ever before. The demand for long-lasting, high-performing, quickly constructible pavements challenges highway agencies. To build highways that satisfy these high standards, designers are choosing from a wide array of ingredients—a variety of aggregate sources, cement types, chemical admixtures, supplementary cementitious materials, and recycled materials—while considering how ingredient interactions, environmental conditions, and construction practices will affect the end product. The industry needs a tool that can isolate and minimize the approach to the mixture design and proportioning process based on job-specific conditions.
In response to the industry's need, FHWA, in partnership with the National Institute of Standards and Technology, developed a Web-based application tool termed Concrete Optimization Software Tool (COST). Following successful trials with COST, the FHWA decided to develop a version that is more user-friendly.
The Concrete Mixture Performance Analysis System (COMPASS) is undergoing extensive testing before its release in early 2008. COMPASS is a Windows-based application system for obtaining optimized paving mixtures.
COMPASS has two key components, a knowledge base and a set of four computer modules. The knowledge base supplies information on concrete properties, testing methods, and material characteristics and compatibilities. The computer modules allow the user to define inputs such as importance of the project, type of pavement, climatic conditions, construction constraints, environmental exposures, and criteria, such as strength, cost, and permeability, that are specific to the project.
There are four computer modules: Performance Criteria and Materials Selection, Gradation, Proportioning, and Optimization. Each module has the ability to be used independently as a stand-alone tool, or the user can build upon each consecutive module's analysis.
For more information, contact Peter Kopac, FHWA Highway Research Engineer (peter.kopac@dot.gov), or Mauricio Ruiz, Project Manager, The Transtec Group, Inc. (mauricio@thetranstecgroup.com).
CPTP Expert Task Groups Meet
The Engineering and Executive ETGs gathered recently to discuss issues involving technology and management.
Topics at the Engineering ETG meeting in October 2006 included CPTP meetings with State DOT management, a Task 65 update, a report from the previous executive ETG meeting, a presentation on the European Scan of Long-Life Concrete Pavements, and general member concerns. Several action items were identified:
Continue technology transfer activities.
Ensure that CPTP products and findings are available with appropriate draft specification texts to facilitate consideration by agencies.
Involve more contractor and consultant staff in Best Practices workshops.
Organize the next CPTP conference (Optimizing Concrete and Processes for Accelerated Concrete Pavement Construction and Rehabilitation).
At the Executive ETG meeting in March 2007, topics included the Concrete Pavement Road Map; Canadian and European Scan of Long-Life Concrete Pavements; State Long-Life Concrete Pavement Practices and Directions; prestress–precast pavement activities; and FHWA's Alkali–Silica Reactivity Development and Deployment, Pavement Surface Characteristics, and Highways for Life programs. Action items included the following:
The 2006 presentations to the AASHTO Standing Committee on Highways and to the Materials and Construction subcommittees should be followed with brief written updates.
WASHTO and SASHTO management should be invited to sponsor proposed CPTP regional workshops.
FHWA will review its policies on the procurement of proprietary products.
Alkali-Silica Reactivity—Update on FHWA's Development and Deployment Program
The Alkali–Silica Reactivity (ASR) Develop­ment and Deployment Program is a result of SAFETEA-LU legislation that provided funding for projects and programs that further development and deployment of methods and techniques to prevent and mitigate ASR. The legislation also requires that assistance be provided to States for inventorying their structures for ASR. The program is fully integrated to consist of deployment and applied research tasks to include pavement, bridges, and other highway structures. It was developed with the following goals:
Increase durability, performance, and reduced life-cycle costs through prevention and mitigation of ASR in concrete pavements, bridges, and other highway structures.
More effectively deploy current technologies to prevent and mitigate ASR in the field.
The ASR Program has identified seven tasks:
Understanding the ASR mechanism process for prevention (applied research)
Develop testing and evaluation protocols (deployment and applied research)
Selection, implementation, and maintenance of field application and demonstration projects (deployment and applied research)
Assisting States in inventorying existing structures for ASR (deployment and applied research)
Development of an ASR data center and facilitation of adopting testing procedures (deployment and applied research)
Technology transfer of findings (deployment)
Organization and facilitation of the ASR Technical Working Group (deployment)
An ASR Development and Deployment Program Technical Working Group (ASR TWG) was established to provide feedback to FHWA program managers to help them meet the goals established for the ASR program. The group is composed of members from FHWA and other federal agencies, State DOTs, academia, and industry. The ASR TWG met in Washington, DC, for its kick-off meeting in April 2007. Opening remarks were given by King Gee, FHWA's Associate Administrator for Infrastructure.
The task to develop ASR testing and evaluation protocols is underway. The protocols will provide guidance on rapid testing and evaluation methods to prevent ASR in new concrete, mitigation of ASR in existing concrete, and the determination of future deterioration of ASR-affected structures. This task is scheduled for completion in early 2008. Work has also begun on the development of standard operating procedures for the field application and demonstration projects portion of the program.
To learn more about the ASR program or to host a field evaluation or demonstration project in your State, contact Gina Ahlstrom at FHWA, 202-366-4612; gina.ahlstrom@dot.gov.
To learn more about the applied research portion of the program, contact Paul Virmani at FHWA, 202-493-3052; paul.virmani@dot.gov.
Updates on the ASR Development and Deployment Program are posted at http://www.fhwa.dot.gov/pavement/concrete/asr.cfm.
Peter Stephanos Takes Key FHWA Assignment
FHWA Administrator Richard Capka announced the selection of Peter Stephanos for the Senior Executive Service position of Director of the Office of Pavement Technology in the Office of Infrastructure, effective March 4, 2007.
Peter Stephanos, Director, Office of Pavement Technology (peter.stephanos@dot.gov)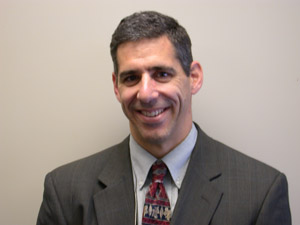 Stephanos brings to FHWA 20 years of quality experience in the highway pavement area at the State level. Most recently, as the Director of Materials and Technology for the Maryland State Highway Administration, he was responsible for the design and acceptance of materials used on highway projects. Additionally, he managed four material laboratory testing facilities, geotechnical drilling operations, pavement and bridge testing operations, and engineering design. In the past, he delivered geotechnical engineering services for 7 years with MACTEC, a leader in the engineering, environmental, and remedial construction industries. He earned a bachelor's degree in civil engineering and a master's degree in both civil engineering and geotechnical engineering from the University of Maryland. Stephanos will be a key member of the FHWA team, providing national leadership in pavement technology.
New CPTP TechBriefs Show the Way
Four new CPTP TechBriefs have been released during 2007. They provide guidance on best practices related to dowel bar placement, joint sawing, whitetopping, and long-life concrete pavements.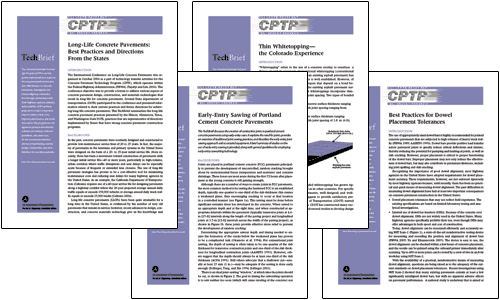 Best Practices for Dowel Placement Tolerances—The use of appropriately sized dowel bars is highly recommended for jointed concrete pavements that are subjected to high volumes of heavy truck traffic. Dowel bars provide positive load transfer across joints to greatly reduce critical deflections and stresses, thereby reducing the potential for pumping and faulting at joints, as well as slab cracking. However, proper placement of the bars is critical to their proper functioning. Recognizing this, most highway agencies in the United States have adopted requirements for dowel placement accuracy. Today, dowel alignment can be measured efficiently and accurately using MIT Scan-2, a state-of-the-art, non­destructive testing device for measuring and recording the position and alignment of dowel bars. The device is easy to use, and the alignment can be checked within a few hours of concrete placement. A comprehensive study is underway (NCHRP Project 10-69, Guidelines for Dowel Alignment in Concrete Pavements) to develop improved guidelines for dowel placement tolerances needed to ensure good pavement performance. In the interim, the information in this TechBrief may be used to develop practical interim specifications. (FHWA-IF-07-021, 2007)
Thin Whitetopping – the Colorado Experience—"Whitetopping" refers to the use of a concrete overlay to resurface a distressed asphalt pavement. Of recent origin are whitetopping techniques that depend on a bond between the concrete resurfacing and the existing asphalt pavement surface (typically milled). These bonded overlays incorporate thinner concrete resurfacing and shorter joint spacing. This TechBrief provides details of the Colorado CDOT's successful experience with thin whitetoppings (TWTs), which dates back to 1990. Also provided are CDOT's guidelines for TWT, which are based on lessons learned from extensive field trials, as well as research findings. (FHWA-IF-07-025, 2007)
Early-Entry Sawing of Portland Cement Concrete Pavements—This Technical Brief discusses the creation of contraction joints in portland cement concrete (PCC) pavements using early-entry saws. It explains the need for joints, provides an overview of traditional joint sawing practices, and describes the early-entry joint sawing approach and associated equipment. Although a relatively new development, early-entry sawing technology holds the potential for increased productivity, reduced costs, and reduced manpower requirements, making it a viable alternative to conventional joint sawing operations. A number of States allow the use of early-entry sawing equipment, and several have developed separate specifications governing its use. The TechBrief includes a brief summary of studies on the use of early-entry sawing, along with general guidelines for employing early-entry sawcutting technology. (FHWA-IF-07-031, 2007)
Long-Life Concrete Pavements: Best Practices and Directions From the States—In the past, the majority of pavements in the interstate and primary systems in the United States were designed for an initial service life of 20 to 25 years. More recently, there has been a movement toward construction of pavements with a longer initial service life—40 or more years, particularly in high-volume, urban corridors where traffic disruptions and user delays due to lane closures can be especially acute. Long-life concrete pavements have been quite attainable for a long time in the United States, as evidenced by the number of very old pavements that remain in service; however, recent advances in design, construction, and concrete materials technology give us the knowledge and technology needed to consistently achieve what is clearly attainable. Several State DOTs participated in the International Conference on Long-Life Concrete Pavements, held in Chicago, Illinois, in 2006, and presented information related to their current practices and future directions for achieving long-life concrete pavements. This TechBrief summarizes practices presented by the Illinois, Minnesota, Texas, and Washington State DOTs, practices that are representative of directions implemented by States that have strong concrete pavement construction programs. (FHWA-IF-07-030, 2007)
CPTP TechBriefs and related publications can be downloaded at CPTP TechBriefs and related publications can be downloaded at http://www.fhwa.dot.gov/pavement/pub_listing.cfm.
FHWA Sponsors International Best Practices Conference
Optimizing Concrete Mixtures / Accelerating Concrete Construction
Concrete specialists are gathering in Atlanta this fall to exchange the latest information on issues of importance in constructing and maintaining long-life concrete pavements. Highlights of the conference will be case studies from U.S. highway agencies, industry, and international practices. The program will offer peer-reviewed papers as well as invited presentations over 2½ days within two subject areas:
Optimizing Concrete Mixtures
Concrete workability, durability, and strength
Using locally available material resources
Providing for conventional as well as accelerated construction
Mitigating materials-related distresses
Assessing economic tradeoffs
Accelerated Construction and Rehabilitation
Evaluating potential strategies and contracting issues
Mitigating congestion and user costs
Using shorter versus full closures
Contractor and equipment concerns
Concrete requirements, production rates, and testing needs
Agency and contractor training needs
The conference is part of CPTP's technology transfer activities. Updated information related to the conference and online registration are available at http://www.fhwa.dot.gov/pavement/concrete/2007CPTPconf.cfm.
For information on the availability of the conference proceedings (CD and print), contact Shiraz Tayabji: stayabji@CTLGroup.com.
November 7 to 9, 2007
Atlanta, Georgia—Westin Atlanta Airport Hotel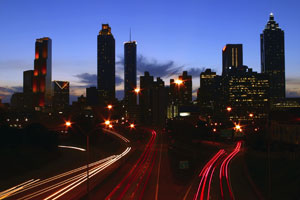 Conference Co-sponsors—American Association of State Highway and Transportation Officials, American Concrete Pavement Association, Cement Association of Canada, Concrete Reinforcing Steel Institute, Georgia Department of Transportation, International Society for Concrete Pavements, Portland Cement Association, Southeast Chapter–ACPA, Transportation Research Board