Concrete Pavement Technology Update
August 2008
Precast Pavement Technology—Moving Forward Fast
Precast pavement technology is a new and innovative construction method that can be used to meet the need for rapid pavement repair and construction. Precast pavement systems are fabricated or assembled off-site, transported to the project site, and installed on a prepared foundation (existing pavement or regraded foundation). The system components require minimal field curing time to achieve strength before opening to traffic. These systems are primarily used for rapid repair, rehabilitation, and reconstruction of asphalt and portland cement concrete (PCC) pavements in high-volume-traffic roadways. The precast technology can be used for intermittent repairs or full-scale, continuous rehabilitation.
In intermittent repair of PCC pavement, isolated full-depth repairs at joints and cracks or full-panel replacements are conducted using precast concrete slab panels. The repairs are typically full-lane width. The process is similar for full-depth repairs and full-panel replacement. Key features of this application are slab panel seating and load transfer at joints.
In continuous applications, full-scale, project-level rehabilitation (resurfacing) or reconstruction of asphalt concrete and PCC pavements is performed using precast concrete panels.
This article provides a summary of current initiatives related to precast pavement technology.
FHWA CPTP Initiative. Recognizing the need for effective, rapid rehabilitation methods, the Federal Highway Administration (FHWA), through its Concrete Pavement Technology Program (CPTP), and the Texas Department of Transportation (TxDOT), sponsored a study during the late 1990s that investigated the feasibility of using precast concrete for pavement rehabilitation. At the conclusion of the study, performed by the Center for Transportation Research (CTR) at The University of Texas at Austin, a concept for precast concrete pavement was developed. In March 2002, using this innovative concept, TxDOT completed the first pilot project that incorporated the use of post-tensioned precast concrete pavement along a frontage road near Georgetown, Texas. Since then, FHWA has actively promoted the concept of precast pavement systems to State departments of transportation (DOTs), and demonstration projects have been constructed in California, Missouri, and Iowa to develop field experience with this technology.
FHWA's CPTP also sponsored the development of precast pavement technology for full-depth repair of concrete pavements. This work was conducted at Michigan State University and has resulted in several field trials of this technology in Michigan and Ontario, Canada.
For information, contact Sam Tyson, FHWA (sam.tyson@dot.gov).
Demonstration of the precast post-tensioned concrete pavement system in Sikeston, Missouri.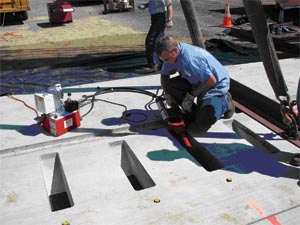 FHWA Highways for Life Program Initiatives. The purpose of the Highways for LIFE (HfL) program is to accelerate the adoption of innovations and new technologies, thereby improving safety and highway quality while reducing congestion caused by construction. Since about 2006, the HfL program has identified precast concrete pavement technology as a high-priority, innovative technology to produce major benefits for the Nation's highways. In May 2008, the HfL program sponsored a web-based conference that attracted a large audience. The conference provided an update on precast concrete pavement technology and alerted participants to the HfL program's initiative to consider support for funding of several demonstration projects over next few years.
For information, contact Byron Lord, FHWA (byron.lord@dot.gov); www.fhwa.dot.gov/hfl.
Industry Initiatives. Parallel to FHWA's efforts, several organizations in the United States initiated independent development activities to refine precast concrete pavement technologies. These technologies have certain proprietary features and require licensing for product use. Privately developed technologies include the following:
The Fort Miller Super Slab system. For information, contact Peter J. Smith (psmith@fmgroup.com) or Michael Quaid (mquaid@fmgroup.com).
The Uretek Stitch-in-Time system. For information, contact Mike Vinton (mike.vinton@uretekusa.com).
The Kwik Slab system. For information, contact Malcolm Yee (info@kwikslab.com).
Since about 2001, the Fort Miller system has been used on several production projects (continuous and intermittent) for repair and rehabilitation applications. In continuous application, this system simulates conventional jointed plain concrete pavement sections. The Uretek system has also been widely used, according to the developer for intermittent repairs. The Kwik Slab system has been used on a limited basis in Hawaii. This system simulates long jointed reinforced concrete pavement sections. In addition to the proprietary precast concrete pavement systems, generic systems have also been used and are under development. The Port Authority of New York and New Jersey (PANY/NJ) installed generically developed precast concrete pavement test sections at La Guardia International Airport in New York to investigate the feasibility of rapid rehabilitation of a primary taxiway.
Highway Agency Initiatives. In the last few years, several agencies have developed specifications that allow the use of precast concrete pavement systems. These agencies include the departments of transportation (DOTs) of New York State, Minnesota, Michigan, and Virginia, as well as the Ontario Ministry of Transport and PANY/NJ. Also, several agencies have installed test sections to demonstrate the feasibility of the precast concrete pavement systems. Accelerated testing of the Fort Miller precast concrete pavement system performed in California indicates that the system tested is capable of long-life service.
For information on agency initiatives, contact the following:
AASHTO Technology Implementation Group Activities. Recognizing the increasing interest in precast concrete pavement technologies, AASHTO established a Technology Implementation Group (TIG) during 2006 to support technology transfer activities related to precast concrete pavements. The mission of this AASHTO TIG is to promote the use of precast concrete panels for paving, pavement rehabilitation, and pavement repairs to transportation agencies and owners nationwide and to present an unbiased representation to the transportation community on the technical and economic aspects of the precast paving systems currently available in the market place. In June 2008, the AASHTO TIG completed work on the following documents:
Generic Specification for Precast Concrete Pavement System Approval.
Guidance and Considerations for the Design of Precast Concrete Pavement Systems.
Generic Specification for Fabricating and Constructing Precast Concrete Pavement Systems
The AASHTO TIG, in cooperation with the FHWA HfL Program, is planning to conduct several technology outreach activities. Roadshows are planned in Delaware, New Jersey, and Illinois (Illinois Tollway Authority), and at other locations during late 2008 and in 2009.
For information, contact Tim LaCoss (timothy.lacoss@fhwa.dot.gov).
Intermittent repairs along a section of I-295 in New Jersey using the Fort Miller Super-Slab system (May 2008).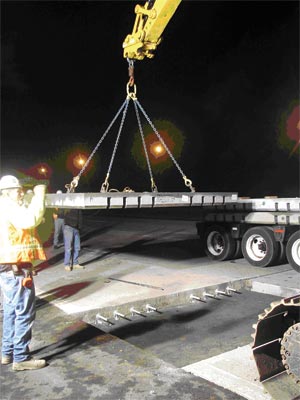 Strategic Highway Research Program 2 (SHRP 2) Project R05, Modular Pavement Technology. The objective of SHRP 2 activities is to achieve highway renewal that is performed rapidly, causes minimum traffic disruption, and produces long-lived facilities. A related objective is to achieve such renewal not just on isolated, high-profile projects, but consistently.
The focus of Project R05 is to develop tools that public agencies can use for the design, construction, installation, maintenance, and evaluation of modular pavement systems. By necessity, the primary focus of this study will be precast concrete pavements. Project funding was established at $1 million. Phase I of the study, to be completed by December 2008, includes a review of modular pavement systems, review of highway agency and industry experience, and identification of successful strategies, promising technologies, and future needs related to modular pavement systems.
For information, contact James Bryant (jbryant@nas.edu; www.trb.org/shrp2/SHRPII_ETG.asp).
Technical Society Activities. Recognizing the high level of interest in precast concrete pavement technologies and to support their members' need for technical information, the following technical organizations have formed task forces to develop technical information on precast concrete pavement technologies:
American Concrete Institute—ACI's Committee 325 established the Subcommittee on Precast Concrete Pavements. The subcommittee is developing a document summarizing current technologies and providing case studies. For information, contact Shiraz Tayabji, Fugro Consultants, Inc. (stayabji@aol.com; 410-997-9020).
Precast/Prestressed Concrete Institute— PCI has established a Pavement Committee to develop interest in pavement applications by the precast industry and to develop guidelines for use of precast concrete pavements. For information, contact David Merritt, the Transtec Group (dmerritt@thetranstecgroup.com).
National Precast Concrete Association—NPCA has established a Pavement Committee to develop interest in pavement applications by the precast industry and to develop guidelines for use of precast concrete pavements. For information, contact Peter Smith, The Fort Miller Group (psmith@fmgroup.com).
Plan for the precast system approach for a Highway 60 bridge near Sheldon, Iowa.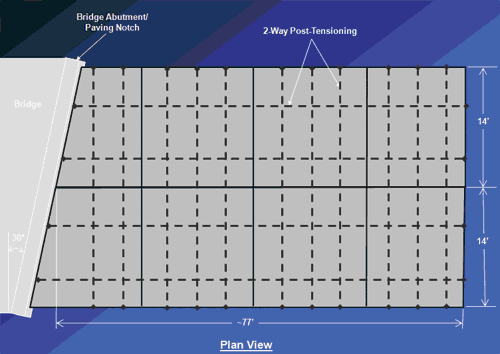 The integrally tied approach using precast post-tensioned concrete slabs on the Sheldon bridge.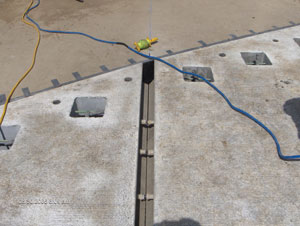 Developments Outside the U.S.A. Recently, several European countries have started to investigate the use of precast concrete and other precast concrete systems for rapid repair and rehabilitation of pavements. The Dutch have developed the ModieSlab system. The Japanese have used precast concrete slab systems for high-speed slab track applications, tunnel roadways, and airports.
Summary
Precast concrete pavement technologies have come of age and are ready to be implemented. There is still room for innovations to optimize system components and to reduce costs. Current systems have higher initial costs compared to conventional procedures. However, the rapid process (fewer traffic control issues and shorter lane closure times) and better pavement durability can easily offset current higher initial costs. Properly engineered and well-constructed precast concrete pavement systems are capable of providing long service life.
Article prepared by Shiraz Tayabji, FHWA CPTP Implementation Team (stayabji@aol.com; 410-997-9020).