High Performance Concrete Pavements Project Summary
Chapter 4. COLORADO 2 (I-25, Loveland) and MICHIGAN 2 (M25, Port Austin, and I-675, Zilwaukee)
Introduction
An alternative to conventional cast-in-place concrete repairs is the use of precast concrete patches to address issues related to joint and slab deterioration. The use of precast panels has the potential to reduce construction time, increase long-term pavement performance, and reduce user delays. However, there are limited laboratory or field data on the construction and performance of full-depth precast concrete patches. In 2003, Michigan State University, in conjunction with the Michigan and Colorado Departments of Transportation (DOTs), initiated an FHWA-sponsored project to study the feasibility of precast panels as an alternative to cast-in-place concrete repairs. Sites in both Colorado (Figure 2) and Michigan were selected.
Figure 2. Location of CO 2 project.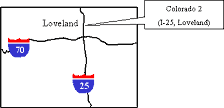 Study Objectives
The objectives of this project are (Buch 2002):
Review the literature and document the known practices.
Conceptualize various construction alternatives as they relate to precast concrete patches.
Identify potential concrete pavement restoration projects along in-service concrete pavements in Colorado and Michigan and install precast concrete patches. For the purposes of comparison, control cast-in place full-depth patches will also be installed.
Investigate the effectiveness and efficiency of precast panels through the development of maintenance performance guidelines.
Recommend strategies for monitoring the "newly" installed precast patches.
Produce step-by-step guidelines for the construction of precast concrete panels.
Project Design and Layout
Hundreds of precast panels will be installed and monitored for performance along interstate highways in Michigan and Colorado. The construction in Michigan will include the installation of 20 precast panels, 12 along M25 (Port Austin) and 8 along I-675 (Zilwaukee). These 20 panels were slated for installation during the summer of 2003. The remaining panels will be installed on I-25 in Colorado beginning summer of 2003 and concluding in 2005. Nearly 450 panels will be installed on I-25 in Colorado.
The means of anchoring the precast panels is different between the Michigan studies and the Colorado studies. Details of each method are described in the following sections.
Michigan Concept
The concept being used in Michigan is illustrated in Figure 3 and is completed by using the following techniques:
Mark and saw cut the perimeter (full depth) of the existing deteriorated concrete pavement area and allow time for the rest of the slab to "relax" and relieve stresses. The width of the patch should be the same as one of the standard widths for precast concrete patches.
Cut dowel and tie bar slots in the adjoining concrete slabs.
Remove the existing concrete and compact the exposed base.
Place a bedding of aggregate or mortar (rapid setting) to adjust slab elevation if needed.
Lower the precast concrete panel fitted with dowels and tie bars into the prepared opening. Adjust the elevation and grout the dowel bar slots. The lift holes in the precast concrete slab should also be grouted and finished.
Seal all construction joints.
Diamond grind when needed to restore ride quality.
Figure 3. Precast panel design for Michigan.

Colorado Concept
The Colorado DOT is using a proprietary technology that was developed by URETEK USA, Inc. for tying the slabs. URETEK USA, Inc. has developed the Stitch-In-Time™ technology, which is a repair system for restoring load transfer to jointed, cracked, spalled or otherwise damaged concrete pavement. URETEK's Stitch-In-Time™ System uses a series of 13-mm (0.5-in.) saw-cut slots to position a 6-mm (0.25-in) thick composite insert. The slots and inserts are easily filled with sand and bonded into place with a hybrid high-density polymer. Rapid curing characteristics allow almost immediate traffic restoration. The Stitch-In-Time™ system is being used to tie the precast panels to the existing concrete pavement. (URETEK 2004). Figure 4 shows a precast panel installation in Colorado.
State Monitoring Activities
The research team will collect preconstruction information such as pavement conditions, traffic, and inventory data for the panels to be replaced (Buch 2002). The entire construction process will be documented. After panel placement, continued performance monitoring, consisting of deflection measurements (load carrying capacity and load transfer), visual distress surveys, and ride measurements will be completed for a minimum of 3 years.
Preliminary Results/Findings
Preliminary results are not available at this time, however an installation report and information video should be available by summer 2004.
Figure 4. Precast panel installation in Colorado.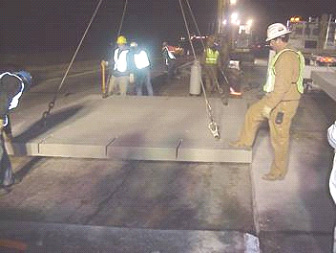 Points of Contact
Ahmad Ardani, P.E.
Research Engineer
Colorado Department of Transportation
4201 E Arkansas
Denver, CO 80222
Ph: (303) 757-9978
Fax: (303) 757-9974
ahmad.ardani@dot.state.co.us
Neeraj Buch, Ph.D.
Assistant Professor
3546 Engineering Building
Department of Civil and Environmental Engineering
Michigan State University
East Lansing, MI 48821
Ph: (517) 432-0012
Fax: (517) 432-1827
buch@egr.msu.edu
References
Buch, N. 2002. Field Trials of Concrete Pavement Product and Process Technology - Precast Panel System for Full Depth Pavement Repairs, Technical Proposal. Michigan State University, East Lansing.
URETEK. 2004.