High Performance Concrete Pavements Project Summary
Chapter 29. PENNSYLVANIA 1 (SR 22, Murrysville)
Introduction
Pennsylvania's first project to be funded, in part, under the TE-30 program will be on Section B01 on SR 22 in Murrysville just east of Pittsburgh (see Figure 84). This project is unique in that is a cooperative effort with the public (Pennsylvania Department of Transportation [PENNDOT] and FHWA) and private sector (Mascaro Construction), as well as academia (University of Pittsburgh). The project will be constructed in the fall of 2004.
Figure 84. Location of PA 1 project.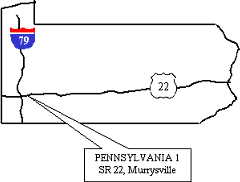 Study Objectives
One of the primary objectives for this project is to evaluate HIPERPAV, a computer program that can be used to evaluate the early-age behavior of concrete pavements. This study will evaluate the ability of HIPERPAV to predict strength gain and to model early-age stress development. Other objectives of particular interest to PENNDOT include addressing needs for the new mechanistic-empirical pavement design guide. Six additional objectives will be addressed in this study:
Characterize thermal gradients throughout the pavement structure.
Characterize moisture gradients throughout the pavement structure.
Quantify construction curling and seasonal and diurnal curling.
Develop suitable strength correlations.
Monitor slab performance over time.
Characterize slab response to environmental and applied loads.
Project Design and Layout
Four test cells will be constructed on a four-lane divided highway. The project layout is provided in Figure 84 and a summary of the design features for each cell is provided in Table 45.
The types of instrumentation to be installed on this pavement project include the following:
Environmental sensors

Moisture gauges
Thermocouples
Time domain reflectometers

Static sensors

Static strain gauges
Static pressure cells

Dynamic sensors

Dynamic strain gauges
Dynamic pressure cells
Environmental and static data collection will be automated and collected every 15 minutes. Dynamic data will be collected manually. All data will be stored in a database housed at the University of Pittsburgh.
State Monitoring Activities
The test sections will be monitored seasonally by the University of Pittsburgh. This will include making Dipstick measurements, performing distress surveys and collecting dynamic strain data from various truck types, weights and axle configurations. Ride data and FWD testing will be performed by PENNDOT. Seasonal monitoring will be performed for 4 years.
Preliminary Results/Findings
No preliminary results are available.
Table 45. Design Features for the PA 1 Project

| DESIGN FEATURE | CELL 1 | CELL 2 | CELL 3 | CELL 4 |
| --- | --- | --- | --- | --- |
| Pavement type | JPCP | JPCP | JPCP | JPCP |
| Tie bars | Yes | No | No | Yes |
| Dowel bars | 1.25 in. | No | No | 1.25 in. |
| Slab thickness | 12 in. | 12 in. | 12 in. | 12 in. |
| Base type | Asphalt treated | Asphalt treated | Asphalt treated | Asphalt treated |
| Lane width | 12 ft | 12 ft | 12 ft | 12 ft |
| Dynamic sensors | Yes | Yes | No | No |
| Static and environmental sensors | No | No | Yes | Yes |
JPCP = jointed plain concrete pavement
Point of Contact
Julie M. Vandenbossche
University of Pittsburgh
934 Benedum Hall
3700 Ohara St.
Pittsburgh, PA 15261
(412) 624-9879
jmv@engr.pitt.edu