High Performance Concrete Pavements Project Summary
Chapter 33. VIRGINIA 2 (Route 288, Richmond) and VIRGINIA 3 (US 29, Madison Heights)
Introduction
VDOT constructed two additional high-performance concrete pavements under the TE-30 program. Virginia 2 is located on Route 288 near Richmond, and Virginia 3 is located on US 29 near Madison Heights (see Figure 91). These pavements are both continuously reinforced concrete pavement (CRCP) designs that are incorporating concrete mixtures expected to provide high flexural strengths and low shrinkage.
Figure 91. Location of VA 2 and VA 3 projects.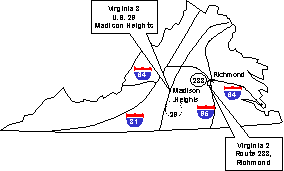 Study Objectives
These two pavement projects share the following objectives:
Develop concrete mixes that have low shrinkage and high flexural strength.
Assess aggregate particle shape using a video grader.
Determine the material properties of high performance concrete, including compressive strength, flexural strength, elastic modulus, coefficient of thermal expansion, permeability, and drying shrinkage.
Continuously monitor the speed of the paver and the frequency of the vibrators during the construction of the pavement.
Investigate the effect of longitudinal steel content on the development of cracking.
Curing of the sections (curing compound vs. burlap wet cure) may also be investigated as part of the investigation.
Project Design and Layout
The project on Route 288 was paved in mid-December 2003. Samples and data were gathered during the construction. The paving materials will be tested as per the AASHTO 2002 guidelines. No specific information regarding the actual pavement construction or the results from any followup testing is currently available.
The Madison Heights project (located on US Route 29) has not yet been constructed; consequently, no information is currently available.
State Monitoring Activities
Once these projects are constructed, the State will monitor the performance of the sections for 5 years.
Preliminary Results/Findings
No preliminary results or findings are available.
Point of Contact
Celik Ozyildirim
Virginia Transportation Research Council
530 Edgemont Road
Charlottesville, VA 22903
(434) 293-1977
elik@vdot.state.va.us