Precast Concrete Panel Systems for Full-Depth Pavement Repairs: Field Trials
Chapter 4 Colorado Field Study
Site Selection
Along the I-25 corridor north of Denver, 143 concrete slabs were replaced at 18 separate locations between Mead and Loveland (mileposts 244 to 270). The candidate sections were selected by the Colorado Department of Transportation (CDOT) maintenance crews. Due to large volumes of traffic, single-lane closures were permitted for construction for an 8-hour period between 9 p.m. and 5 a.m. Additionally, the construction areas were required to be open to unimpeded traffic during the higher volume times. Table 10 summarizes the locations of the 143 panels along I-25 between Mead and Loveland.
Table 10. Panel Location Summary Along the I-25 Corridor
LOCATION
LOCATION NO.
MILEPOST AND (DIRECTION)
NO. OF PANELS INSTALLED
PANEL THICKNESS MM (IN.)
Mead
1
244.41 (NB)
12
185 (7.25)
2
244.83 (SB)
8
160 (6.25)
3
244.90 (SB)
10
185 (7.25)
4
244.96 (SB)
2
185 (7.25)
5
245.19 (SB)
4
160 (6.25)
6
245.45 (NB)
3
185 (7.25)
7
245.46 (NB)
3
185 (7.25)
8
247.46 (SB)
4
160 (6.25)
9
247.68 (NB)
13
160 (6.25)
10
249.41 (SB)
4
160 (6.25)
Loveland
1
256.41 (SB)
13
140 (5.5)
2
256.49 (SB)
8
160 (6.25)
3
257.46 (SB)
16
160 (6.25)
4
257.99 (SB)
15
160 (6.25)
5
258.02 (NB)
5
160 (6.25)
6
258.12 (NB)
5
160 (6.25)
7
258.14 (SB)
14
140 (5.5)
8
269.84 (NB)
5
Cast-in-place
Added work
258.72 (SB)
13
160 (6.25)
The average annual average daily traffic (AADT) and percentage of trucks along the construction corridor were 45,886 and 14 percent respectively based on year 2002 data. The contractor was responsible for making all the measurements prior to the fabrication of the panels. The measurements were made along the four sides and diagonals to account for any joint skewing. Multiple pavement cores were extracted at each location to determine variations in thickness from end to end as well as near the shoulder and centerline. The dimensional information was used in customizing the precast panel fabrication.
Precast Panel Mixture Design and Fabrication Details
The precast PCC panels were fabricated by the contractor and transported to the project site. The typical structural details of the precast panels are illustrated in Figure 20. The tie bar slots, which were formed during the panel fabrication process, were placed at 0.91 m (3 ft) on center. The panel also consists of #4 or #5 steel depending on the panel thickness. The panel lengths were variable so as to match the contraction joint spacing. The typical PCC mixture designs for this study are summarized in Table 11, and the compressive strength data for the Mead and Loveland sites are summarized in Table 12.
Figure 20. Structural details of the precast panel.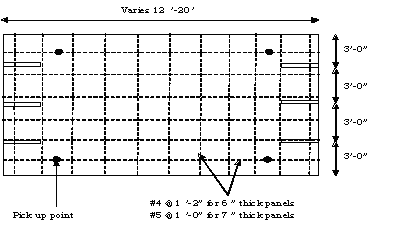 Table 11. Portland Cement Concrete Mixture Designs for the Precast Panels

| MIX INGREDIENTS | DESIGN, LBS/YD³ |
| --- | --- |
| Cement | 390.4 kg/m³ (658 lbs/yd³) |
| Water | 128.7 kg/m³ (217 lbs/yd³) |
| Fine aggregate | 811.6 kg/m³ (1,368 lbs/yd³) |
| Coarse aggregate | 933.8 kg/m³ (1,574 lbs/yd³) |
| Air-entraining admixture | 38.7 ml/m³ (1.0 fl.oz/yd³) |
| Water-reducing admixture | 8.158 kg/m³ (220 oz/yd³) |
| High-range water reducer | 1.854 kg/m³ (50 oz/yd³) |
| Nonchloride accelerator | 10.753 kg/m³ (290 oz/yd³) |
Table 12. Compressive Strength of Concrete From the Mead and Loveland Sites
LOCATION
Average Compressive Strength Data, MPa (lbf/in²)
<24 HOURS
7 DAYS
28 DAYS
1 (Loveland)
19.3
(2,805)
28.5
(4,135)
-
-
3 (Loveland)
20.4
(2,960)
29.2
(4,240)
35.6
(5,160)
7 (Loveland)
18.4
(2,665)
29.4
(4,265)
-
-
1 (Mead)
24.7
(3,585)
32.4
(4,705)
37.9
(5,490)
3 (Mead)
24.9
(3,615)
29.4
(4,270)
35.2
(5,100)
7 (Mead)
21.4
(3,105)
35.1
(5,085)
43.0
(6,240)
9 (Mead, slabs 1-3)
20.9
((3,025)
34.2
(4,965)
40.3
(5,840)
9 (Mead, slabs 4-6)
23.9
(3,450)
38.2
(5,545)
46.2
(6,700)
9 (Mead, slabs 7-9)
23.4
(3,395)
37.6
(5,450)
42.5
(6,170)
Construction Sequence
Prior to the removal of the candidate panels a distress survey was conducted. Typical distresses observed during the survey included midpanel transverse cracks with associated spalling; joint sealant damage, spalling, and asphalt patch deterioration; and corner cracking. Some examples of distresses are shown in Figure 21.
Figure 21. Examples of distresses.
The sequences of operation for offsite and onsite activities in the Colorado field study are listed below:
Offsite Activities
Fabrication of the precast panels.
Storage of the fabricated precast panels.
Onsite Activities
The onsite activities were divided into four construction operations:
Slab removal and base preparation:

Sawcutting of panel boundaries.
Demolition of distressed panels.
Removal of the distressed panels.
Cleaning of the exposed base.
Heat-lancing the exposed concrete faces to remove traces of moisture.

Precast panel placement and alignment:

Transporting precast panels from the storage yard.
Placement of the precast panels into the prepared excavation.

Precast panel elevation adjustment:

Drilling of injection portholes.
Injection of HDP foam to adjust slab elevation.
Filling of voids (if any) with HDP foam to ensure uniform support under the panel.

Joint preparation:

Sawcutting of tie slots in the existing end panels to match with the slots in the precast panels.
Removal of all extra foam that surfaced during the slab stabilization and void filling process.
Air-cleaning and sandblasting all tie slots to ensure good bonding.
Heat lance the tie slots to remove all traces of moisture.
Insert the fiberglass tie bars.
Backfill tie slots with prewashed dried aggregate.
Apply the polyurethane joint bonding material.
Seal injection ports using nonshrink grout.
The steps in a typical precast panel installation process in the field include are described below.
Slab Demolition and Removal
The perimeter of each of the distressed panel was sawcut. Additional transverse cuts were made to expedite the panel-breaking operation. The initial breaking of the concrete was done using a standard backhoe fitted with a jackhammer. An additional track-hoe was used to excavate and remove the demolished concrete. Figure 22 illustrates the slab demolition and removal process.
Base Cleaning and Preparation
The exposed base was swept and cleaned using compressed air. In addtion to the cleaning, the base and joint edges were dried (to remove any traces of moisture) using a hot-air lance. A secondary effect of using the hot-air lance was to expedite the curing of the slab-jacking foam. Figure 23 illustrates the base preparation activities.
Figure 22. Slab demolition process.
| a) Slab demolition. | b) Removal of debris. |
| --- | --- |
| | |
Figure 23. Base preparation activities.
Panel Placement and Alignment
Panel Placement
The panels were brought to the site on a flatbed truck and lowered into the excavation using a 133-kN (30-kip), truck-mounted crane. Figure 24 illustrates the panel placement process.
Figure 24. Panel placement process.
| a) Panel moved from flatbed truck. | b) Panel lowered into excavation. |
| --- | --- |
| | |
c) Alignment of panel.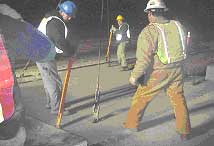 Panel Alignment
The precast panel elevations prior to jacking ranged from 0 to 75 mm (0-3 in.) below the passing lane or shoulder. A two-part polymer (486 Star) was mixed and simultaneously injected through the portholes 16 mm (0.625 in.) in diameter to lift the precast panel. The polyurethane foam has a free-rise density of 48.1-51.3 kg/m³ (3.0-3.2 lbs/ft³), with a minimum compressive strength of 6.89 kPa (40 lbf/in²) (ASTM 1621). According to the manufacturer specification the foam is expected to reach 90 percent of full compressive strength within 15 minutes. Dial indicators were mounted on the panel surface to monitor the change in the slab elevation relative to the adjacent pavement. The panel jacking commenced by lifting at the two corners on one side of the panel, followed by lifting of the slab at the other end, until the elevation was matched with the existing roadway. In addition, the foam also served to fill in voids under the panel after the slab jacking was completed. Uniform support under the panel is essential for good long-term performance.
Joint Stitching and Bonding
A good bonding surface was obtained by removing all the excess foam from the joint faces and formed stitch slots. This was accomplished by using a pavement saw to cut the foam on both sides of the construction joints. The joint faces were then sandblasted to ensure clean bonding surfaces. In addition to this the surfaces were hot-air-lanced to remove all traces of moisture. Stitch slots were saw cut in the existing approach and departure slabs. The entire sawcutting was done in the absence of water to prevent reaction with the slab-jacking foam and joint-bonding material (URETEK 600).
The fiberglass stitches were placed into the 19-mm (0.75-in.) slot using two guide wire spacers, one at each end. The fiberglass ties are 0.9 m long, 127 mm wide, and 6 mm thick (36 in. long, 5 in. wide, and 0.25 in. thick). A picture of the tie bar is shown in Figure 25.
Figure 25. Fiberglass stitches.
Table 13 summarizes the mechanical properties of the fiberglass stitches. This information was obtained from URETEK USA. The mechanical properties characterization was conducted by Wiss Janney and Elstner Associates, Inc.
Table 13. Mechanical Properties of the Fiberglass Stitch

| TEST PROPERTY | MEASURED DATA |
| --- | --- |
| Ultimate load | 9.689 kg (21,360 lb) |
| Relative joint displacement (at ultimate load) | (0.17 in. [0.01 in. at 8,000 lb]) |
| Load at first softening | 5.669 kg (12,500 lb) |
| Ultimate average stiffness | 56,925.842 kg (125,500 lb/in.) |
Dried aggregate (3-6 mm [0.125-0.25 in.]) was used to backfill the stitch slots, and polyurethane foam was applied to bind the aggregates together.
The contractor also recommended that expansion joints be placed at intervals of 13.7-18.3 m (45-60 ft). The expansion joints were 19 mm (0.75 in.) wide and stitched together using the fiberglass ties. The joint consisted of a backer rod placed vertically at the longitudinal joint and stitches to isolate the polyurethane foam. The joint was then filled to approximately 50 mm (2 in.) from the top of the pavement with ground rubber, followed by a 13 mm (0.5 in.) bead of self-leveling silicone joint sealant.
The injection ports were sealed using a nonshrink grout. The procedure included drilling out leftover jacking foam; cleaning the surface of the concrete for proper adhesion; and placing the grout. Figure 26 illustrates a cluster of completed panels.
Figure 26. Completed cluster of panels.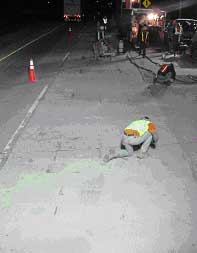 Construction Productivity
The construction productivity metrics include documentation of the following:
Time to complete the installation of one cluster of panels.
List of possible concurrent activities.
Panel installation equipment used.
Panel installation crew size.
Table 14 lists the equipment needed to successfully install the precast panels. The approximate construction completion time for all the panel clusters is provided in Table 15.
Table 14. Equipment Used for Panel Installation

| EQUIPMENT TYPE | APPLICATION IN THE INSTALLATION PROCESS |
| --- | --- |
| Ingersoll L6 light plant | Work area lighting during night closures |
| CAT 416 back-hoe with jackhammer | Initial break up of concrete to be removed |
| CAT 325B track-hoe | Excavation of concrete to be removed |
| Two haul trucks | Haul concrete debris |
| Ingersoll 185 compressor | To remove debris from work area. Clean joints and stitch slots |
| Two pavement saws | To cut stitch slots in adjacent pavement slabs |
| Sandblasting equipment | To prepare joints and stitch slots |
| Hot-air lance | To prepare joints prior to bonding |
| Propane weed burner | To dry and heat aggregates used in the joint bonding operation |
| Portable concrete mixture | For aggregate mixing. Also used for mixing cement mortar for backfilling |
Table 15. Approximate Installation Time for Patches (hours:minutes)
DAY
LOCATION/PANEL NO.
NUMBER OF PANELS
PANEL EXCAVATION
PANEL PLACEMENT
PANEL JACKING
JOINT-STITCH PREP.
JOINT BONDING
13
M6, 1~3
3
1:39
1:12
1:27
1:29
1:15
14
M7, 1~3
3
1:42
0:49
1:38
1:55
1:18
15
M3, 18~16
3
1:02
0:23
1:59
1:40
1:05
16
M3, 11~10
2
1:49
0:08
0:40
1:35
1:10
17
M9, 1~4
4
1:18
0:37
0:53
2:20
2:38
18
M9, 5~8
4
1:26
0:25
1:15
1:31
1:39
19
M9, 9~13
5
1:32
0:19
1:18
0:53
3:12
20
M3, 15~12
4
1:31
0:21
0:54
2:28
2:22
21
M2, 8~5
4
1:06
1:12
2:34
N/A
2:29
22
M4, 20~19
2
1:02
0:11
N/A
N/A
N/A
22
M3, 9
1
N/A
N/A
0:20
N/A
N/A
23
Night of saw cutting only
24
M5, 24~21
4
1:31
0:25
N/A
N/A
2:30
25
M2, 4~1
4
1:20
0:57
1:47
N/A
2:14
26
M1, 9~12
4
1:38
0:28
N/A
3:02
2:20
27
M1, 5~8
4
1:36
0:19
1:42
N/A
1:26
28
M1, 1~4
4
1:38
0:45
N/A
N/A
1:10
29
L5, 1~5
5
1:28
0:32
1:43
N/A
1:55
30
L6, 1~5
5
1:34
0:39
1:20
N/A
2:35
31
M10, 1~4
4
2:19
N/A
N/A
N/A
N/A
32
M8, 1~4
4
1:50
0:38
1:41
N/A
2:21
33
L4, 10~14
6
N/A
0:51
1:58
N/A
2:15
34
L4, 9~2
8
N/A
2:00
2:35
N/A
2:25
35
L4,1
1
0:37
0:10
N/A
N/A
N/A
35
L3
4
N/A
N/A
3:30
N/A
N/A
36
L3, 5~10
6
2:03
0:44
1:56
N/A
2:20
37
L3, 11~16
6
N/A
N/A
2:03
N/A
1:40
38
L2, 1~8
8
2:15
1:30
N/A
N/A
2:10
39
Surface grinding and repairs only
40
Surface grinding and repairs only
41
L7, 1~7
7
N/A
N/A
N/A
N/A
N/A
42
L7, 8~14
6
N/A
N/A
3:57
N/A
3:12
43
L1, 1~6
6
N/A
N/A
3:03
N/A
N/A
44
L1, 7~13
7
N/A
1:00
N/A
N/A
N/A
50
L7, 14
1
N/A
0:05
N/A
N/A
0:33
51
E.P., 1~5
5
1:40
0:39
1:15
N/A
2:38
52
E.P., 6~9
4
N/A
0:41
1:13
N/A
1:03
53
E.P., 10~13
4
2:02
0:48
1:15
N/A
1:04
Figure 27 shows the relationship between average elapsed time (start to finish) per panel (within a cluster) and number of panels in a given cluster. From this plot it can be surmised that as the cluster size increases the installation productivity improves. Figure 28 highlights the contractor's improving comfort level (in terms of production efficiency) with project progression. During the initial stages of the project the contractor was installing clusters with only one to two precast panels over a 9-hour construction window. After day 20, the production rate increased to four to eight precast panels per cluster. The increased productivity was a result of multitasking activities. Specific changes in the mode of operation made by the contractor included reduction in panel demolition time for the entire cluster of slabs; concurrence in the panel demolition, base preparation activity, and installation of new panels; and providing an additional applicator for joint bonding operations. The advantages of incorporating concurrent activities in the construction regime are illustrated in Figure 29. As the percentage (based on overall time per panel) of multitasking increases, the number of panels that can be installed within the allowable construction window increases.
Figure 27. Relationship between average elapsed time per panel and the number of panels.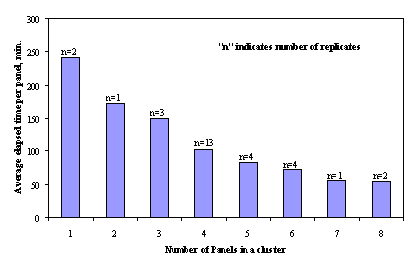 Figure 28. Illustration of improvement in operators' comfort level.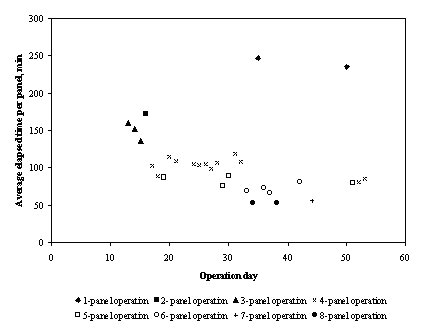 Figure 29. Illustration of advantages of incorporating concurrent activities.

Repair Effectiveness of the Precast Panels
One cycle of performance evaluation has been conducted at the Colorado sites since the inception of the project. The performance evaluation consisted of falling-weight deflectometer (FWD) testing and documenting the initiation (if any) of distresses. During June 2004, 81 precast panels along I-25 between Loveland and Mead were tested. Testing was conducted between 9 p.m. and 5 a.m. Data from positions 1 and 3 were collected to monitor joint deflection. Position 2 deflection data were used to monitor edge support, whereas deflection data from position 4 provided information about midpanel support. The FWD testing and distress surveys were done concurrently. The FWD testing pattern is summarized in Figure 30.
Figure 30. Falling-weight deflectometer testing pattern.

Performance Evaluation at I-25 Test Site
Figure 31 illustrates the peak (midslab) average deflections measured at location 4 for 81 panels. The thickness ranges from 140 to 184 mm (5.5 to 7.25 in.). The peak (average) deflections range from 0.14 to 0.30 mm (5.6 to 12.1 mils). On average the thinner panel sections experience higher deflections than thicker panels. Figure 32 illustrates the peak (edge) average deflections measured at location 2 on the precast panels. The relationship between the deflection magnitude and slab thickness is similar to the one observed in Figure 31. Figures 33 and 34 illustrate the peak joint deflections. The error bars indicate the scatter in the measured deflection data. This scatter can be attributed to the possible variability in support under the panel in the vicinity of the joint. Based on the data presented in Figures 31 through 33, the following observations can be made:
On average, the peak deflections at the joints for thinner slabs are higher than the thicker slab joint deflections.
Irrespective of slab thickness, joints between the precast panels and the existing slab (approach or departure) deflect less than the joint between two new precast panels.
The deflection data scatter (as seen in the error plots) is more for joints between two new precast panels than for joints between the existing slab and the precast panel. It is premature to speculate on the reasons for this differential behavior.
Figure 31. Average midslab deflections as a function of slab thickness.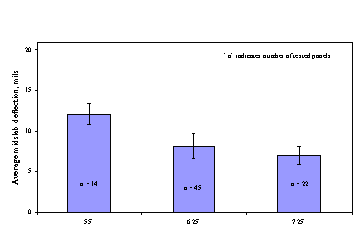 Figure 32. Average edge deflections as a function of slab thickness.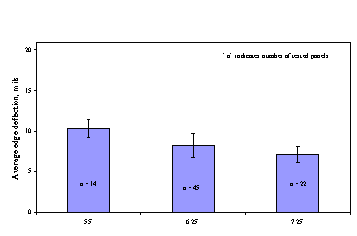 Figure 33. Average joint deflections (approach) as a function of slab thickness.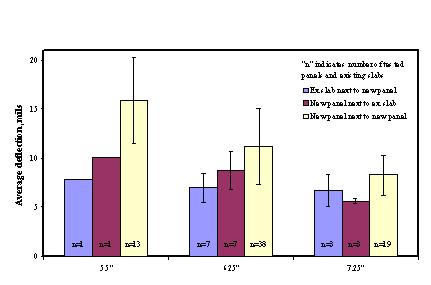 Figure 34. Average joint deflections (leave) as a function of slab thickness.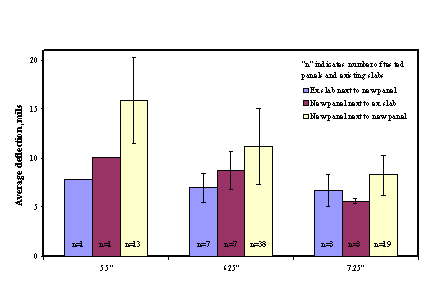 Multiple performance evaluation surveys were conducted by CDOT personnel. The panel distresses as classified by the CDOT inspectors are as follows:
TYPE I: Corner or tab of panel has a full-depth crack, however, the slab is still stable and on grade.
TYPE II: Corner or tab of panel has a full-depth crack, and is experiencing minimal vertical movement under load.
TYPE III: Corner or tab of panel has one or more working cracks and is experiencing vertical movement under load.
The distribution of distress as reported by CDOT is as follows:
85 percent (23 out of 27) of the panels that are 140 mm (5.5 in.) thick have at least one tab that has failed or exhibits some level of distress.
24 percent (23 out of 97) of the panels that are 160 mm (6.25 in.) thick have at least one tab that has failed or exhibits some level of distress.
3 percent (1 out of 30) of the panels that are 185 mm (7.25 in.) thick have at least one tab that has failed or exhibits some level of distress.
The majority of these cracks were in the vicinity of the fiberglass stitches. A typical crack pattern is illustrated in Figure 35.
Figure 35. Typical crack patterns.
a)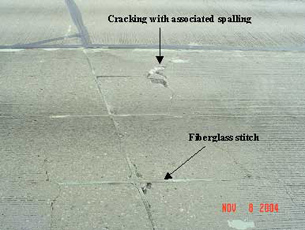 b)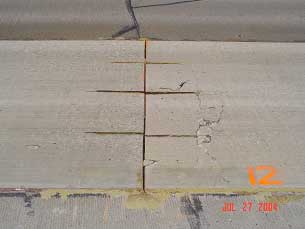 The possible reasons for this premature failure include nonuniform support in the vicinity of the stitches resulting in tensile stresses at the top fibers of the panel; inadequate slab thickness to carry the axle loads; and longer effective slab lengths due to joint ties.
Recommendations for Precast Panel Installation
Based on this experience the following recommendations are suggested for future precast panel installations for full-depth repair of jointed concrete pavements:
Reduce the slab length.
Slab thicknesses less than 200 mm (8 in.) should not be used.
The precast panel should be connected to the existing panels through dowels to ensure joint flexibility and load transfer.
Whenever possible, multi-tasking during the installation process should be encouraged to reduce construction time. Construction and installation time can be positively impacted if the repair locations are in close proximity of each other, allowing for the installation of multiple panels under one traffic control setup.