CPTP Status Report - Task 65 Engineering ETG Review Copy
Chapter 2 - CPTP Focus Areas
CPTP Focus Area 3: Improved Construction Processes

CPTP Focus Area 3: Improved Construction Processes
Traffic Management Studies for Reconstructing High-Volume Roadways (Task 1-original).
Traffic Management Optimization Pilot Studies for Reconstructing Urban Freeways (Task 1-new).
Fast Track Construction with Portland Cement Concrete Pavement (PCCP) at Urban Intersections (Task 7B).
Implementation of TEMP System (Task 7E).
Computer-Based Guidelines for Concrete Pavements (HIPERPAV II) (Task 57).
Evaluation of Performance-Related Specifications (PRS) in Tennessee (Tasks 7H).
Evaluation of Initial PCC Performance-Related Specification Systems (Task 61).
Use of Magnetic Tomography to Evaluate Dowel Bar Placement (Task 7F).
Mobile Concrete Laboratory (Task 51).
Curing of Portland Cement Concrete Pavements (Task 60).
Potential Adverse Effects of High-Smoothness Specifications on Concrete Pavement Performance (Task 62).
In this focus area, CPTP projects are exploring the use of new or innovative equipment and technologies for improving all aspects of concrete pavement construction. This includes projects on improved construction processes, improved monitoring of in situ conditions, and evaluation and testing of new construction specifications. Highlighted projects within this focus area are described below.
Traffic Management During Construction
The need for well-planned traffic management and control plans are becoming increasingly important, particularly on high-volume freeways in urban areas, because of the need to minimize traffic disruptions and travel delays associated with lane closures during pavement rehabilitation or reconstruction. The feasibility of rehabilitating an urban freeway and an urban intersection "fast and under traffic" was demonstrated under two CPTP projects (Tasks 1 [original contract] and 7B); a new study (Task 1 [new contract]) is now being conducted to demonstrate traffic-management optimization principles on pilot projects, and includes the development of a decision-making tool that can be used to guide decisions on public involvement approaches.
Paving and Materials Management During Construction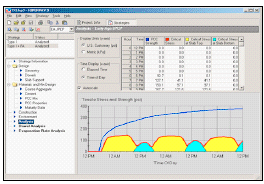 Two CPTP projects are advancing the capabilities of monitoring concrete properties during concrete paving. Under CPTP Task 57, enhancements are being made to the HIPERPAV computer software program, which was originally developed in the late 1990s as a tool to predict concrete strength gain and internal stress conditions as a function of specific mix design parameters and site-specific environmental inputs during the first 72 hours after placement. The enhanced version of the program expands the performance modeling beyond the initial 72 hours after paving and also incorporates the ability to model the early-age behavior of continuously reinforced concrete pavements (CRCP).
Closely tied to the HIPERPAV program is the development of the Total Environmental Management for Paving (TEMP) software under CPTP Task 7E. The TEMP system involves on-site or remote monitoring of pavement temperatures to monitor concrete strength development and can also be used as a means of getting accurate and instantaneous feedback on curing conditions. The TEMP feedback can be used to determine appropriate times for joint sawing or opening the pavement to traffic.
Specification Development and Evaluation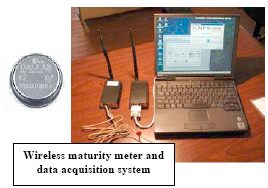 Construction specifications are continually evolving in response to new technologies and new developments. Under the CPTP some of these new specifications are being investigated. For example, recent years have seen a growing interest in performance-related specifications (PRS), which are unique in that they allow the selection of quality levels commensurate with desired performance, use in situ measurements of pavement quality characteristics, and have a rational basis for the determination of appropriate incentive/disincentive factors. A model PRS has been developed by FHWA, and under CPTP Tasks 7H and 61 pilot projects are being constructed using the performance-related specification to evaluate its suitability for use in an actual construction project.
In another CPTP study (Task 62), the potential adverse effects of specifying higher and higher levels of initial smoothness are being studied. The objective is to assess whether any activities carried out during the paving process to achieve some specified level of smoothness could have detrimental effects on concrete properties and pavement performance.
Mobile Concrete Laboratory
Under CPTP Task 51, the mobile concrete laboratory introduces Federal, State and local transportation personnel to the state-of-the-art of concrete technology in materials selection and mixture design, as well as in field and laboratory testing. In addition, the mobile concrete laboratory provides materials testing support to many of the CPTP field trials and demonstration projects.
The mobile concrete laboratory is essentially a state-of-the-art concrete testing facility on wheels. The laboratory is fully equipped with conventional concrete testing equipment (for measurement of air, slump, strength, and elastic modulus) as well as other new and innovative testing technologies, such as maturity meters (for monitoring pavement temperatures to determine appropriate opening times), the vibrating slope apparatus (for measuring concrete workability), the air void analyzer (for rapid measurement of air void contents and air void spacing), and the impact echo device (for measurement of concrete pavement thickness).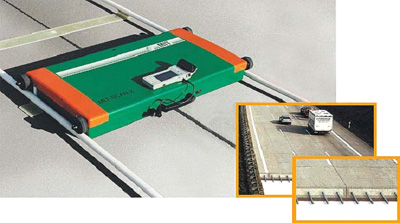 Construction Processes
Two CPTP projects are contributing to the overall construction process and control. Under CPTP Task 7F, field trials of a new device for evaluating dowel placement conditions. The magnetic tomography device is a new piece of equipment (German-made) that can be used to evaluate the vertical and horizontal location of dowel bars. In one measurement, the device scans the entire length of a joint and determines the location and alignment of all dowels, providing preliminary results immediately after the measurements. The device is capable of being used on fresh concrete and can measure up to 200 joints in an 8-hour shift. Preliminary analyses indicate an accuracy of +2 mm.
Under CPTP Task 60, guidelines are being developed for selecting appropriate curing materials and curing procedures given specific concrete mix properties and environmental conditions at the time of paving. This is in recognition of the large number of products available for curing (some of which may not be effective in preventing moisture loss) and the wide range of conditions under which concrete paving is conducted.

Products and Contributions of CPTP Focus Area 3
Summary of urban reconstruction in California.

Urban Concrete Pavement on Interstate 10 (IPRF Special Report 1) (available now).
Case Study of Urban Concrete Pavement Reconstruction and Traffic Management for the I-10 (Pomona, CA) Project (available now).

Weekend intersection reconstruction in Washington State.

Accelerated Construction of Urban Intersections with Portland Cement Concrete Pavement (PCCP), Final Report (available now).
Video tape on urban intersection construction (available now).

Guidelines for traffic management (in development).
Enhanced software programs for monitoring concrete properties during paving (HIPERPAV II and TEMP) (available Summer 2004).
Field evaluations of performance-related specifications.

Appendix II: Performance-Related Specification for Use in Determining Pay Factor Adjustments. Prepared for: R-25175, I-66, Clarksville, IN, March 18, 2002.
Appendix II: Performance-Related Specification Design and AQC Values as Determined for Use in Determining Pay Factor Adjustments Prepared for Project R-24432, Marion County, IN.
Chini, A.R., L.C. Muszynski, and J.K. Hicks, 2003, Determination of Acceptance Permeability Characteristics for Performance-Related Specifications for Portland Cement Concrete. Final Report. University of Florida, Gainesville, FL.

Summary of the effect of high initial smoothness on concrete properties and performance (in development).
Field demonstrations of new testing equipment and technologies.

Mobile Concrete Laboratory Project Reports - 9902 CA - Use of Fast-Setting Hydraulic Cement Concrete for Interstate Concrete Pavement Rehabilitation, I-10, Pomona, California Revised Field Test Report, date unknown (available now).
Mobile Concrete Laboratory Project Reports - 9903 SD - I-94 Pavement Replacement - Richardton, North Dakota, Summer, 1999, Summary Report, date unknown (available now).
Mobile Concrete Laboratory Project Reports - 9904 SD - Tensile Bond Strength of a High Performance Concrete Bridge Deck Overlay - I-90, Sturgis, South Dakota, Summer, 1999, date unknown (available now).
Mobile Concrete Laboratory Project Reports - 0005 NE - Summary report 0005, US 275, Valley, Nebraska, Fall 2000, date unknown (available now).
Mobile Concrete Laboratory Project Reports - 0202 - Woodrow Wilson Bridge Foundation Concrete Thermal Modeling, date unknown (available now).
Mobile Concrete Laboratory Project Reports - 0204 - Summary Report, Kernville Viaduct HPC Deck Concrete, Johnstown, PA, Summer 2002, date unknown (available now).
Mobile Concrete Laboratory Project Reports - 0205 - US 23, Future I-26 New Interstate Concrete Paving Madison County, North Carolina, Summer, 2002, date unknown (available now).
Mobile Concrete Laboratory Project Reports - 0207 AZ - LTPP Impact-Echo Thickness Determinations I-10, Maricopa County, Arizona, Summary Report, December 2002 (available now).
Dowel bar alignment testing protocol and test equipment

Guidelines for concrete curing (in development).