Moving from Goal to Reality
by Tom Deddens
Make your pavement preservation goals a reality with help from new resources available from the Federal Highway Administration (FHWA), the National Center for Pavement Preservation (NCPP), and the Foundation for Pavement Preservation.
Pavement preservation is a network-level, long-term strategy that enhances pavement performance by using a variety of cost-effective surface treatments that extend pavement life. These treatments must be carefully selected and must be applied before the pavement sustains structural damage.
The benefits of a pavement-preservation program include improved pavement performance, increased roadway safety, higher customer satisfaction and reduced overall life-cycle costs.
State and local highway agencies can gain a comprehensive understanding of pavement preservation through a new two-day course offered by NCPP, "Pavement Preservation: Applied Asset Management." The course covers the components of preservation, benefits of undertaking a pavement preservation program and asset management principles and how they can be used to manage highway pavements. Also covered are data inventories, pavement distress identification and analysis, network and project level management and pavement preservation strategies. The course features hands-on group exercises as well, where participants can develop network-level preservation strategies and select treatments to complement the preferred overall strategy.
A new course from FHWA's National Highway Institute, meanwhile, offers strategies for incorporating a pavement preservation program into an overall pavement-management system so that work is coordinated and cost effective. The two-day course, "Pavement Preservation: Integrating Pavement Preservation Practices and Pavement Management" (Course No. 131104A), demonstrates how pavement-management tools can be used to support project-, network-, and strategic-level decision making and details the benefits of including pavement-preservation strategies in the pavement-management process. These benefits include being able to better assess the cost effectiveness of preventive maintenance activities and determine if pavement preservation goals can be met with existing funding levels.
The course is designed for pavement and maintenance engineers who manage pavement preservation programs, as well as planning and programming personnel.
Additional pavement-preservation courses available from NHI are:
The Preventive Maintenance Concept (No. 131054A);
Selecting Pavements for Preventive Maintenance (No. 131058A); and
Design and Construction of Quality Preventive Maintenance Treatments (No. 131103A).
For states who would like assistance in developing or expanding their pavement-preservation programs, FHWA's Office of Asset Management has launched a Pavement Preservation Technical Assistance Program. The NCPP will work with the individual state department of transportation and the local FHWA division office to conduct interviews with key personnel and assess pavement-preservation procedures and policies.
A closeout meeting will be held with the participants from each state to discuss the assessment and any recommendations or suggested improvements for the future.
To learn more, visit the FHWA Office of Infrastructure and click on "Pavement Preservation Technical Assistance Review and Evaluation."
Information gathered during the assessments will also be used to create a database that can track pavement preservation practices and trends across the country.
Collecting this data nationally will provide information on the expected service life of various preservation treatments and on variables that can adversely affect treatments, such as application timing, environmental factors, and traffic loads. These state evaluations will establish a much needed baseline and will serve as a sound benchmark for states seeking improvement.
Pavement preservation treatments must be carefully selected and must be applied before the pavement sustains structural damage.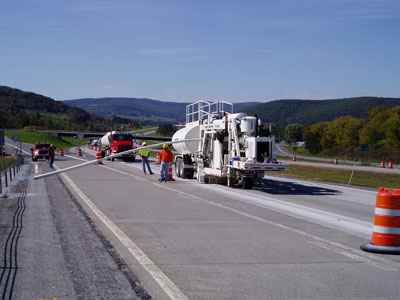 Deddens is a system preservation engineer for FHWA's Construction and System Preservation Team.
Reprinted from Roads & Bridges, August 2005.
*The FHWA contact for current information on this topic is Joe Gregory, 202-366-1557 (email: joseph.gregory@dot.gov).