A Giant Leap Forward for Pavement Preservation
In October 2003, the National Center for Pavement Preservation (NCPP) in Okemos, Michigan, was dedicated with the goal of taking pavement preservation to a higher level across the United States. More than a year later, the center's initiatives in support of that goal range from developing new training courses to launching State pooled-fund consortiums to providing one-on-one outreach services to highway agencies. "NCPP's establishment was the culmination of a lot of hard work by several organizations and is a milestone signifying a high level of cooperation between government and industry to benefit the taxpayer," says Larry Galehouse, NCPP Director. "It will lead to better performing roads at lower cost."
The Midwest Pavement Preservation Partnership met November 30-December 1, 2004, in East Lansing, MI.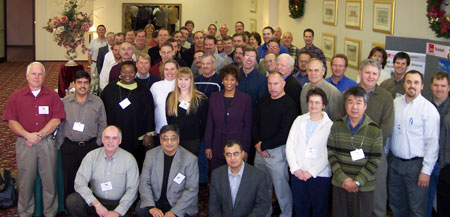 "For pavement preservation, it's been a giant leap forward," says King Gee, Associate Administrator for Infrastructure at the Federal Highway Administration (FHWA).
The center was founded by Michigan State University, the Foundation for Pavement Preservation, and FHWA to lead and coordinate collaborative efforts among government, industry, and academia to advance pavement preservation. Pavement preservation is a program employing a network level, long-term strategy that enhances pavement performance by using a set of cost-effective practices that extend pavement life. Practices must be carefully selected and must be applied before the pavement sustains structural damage. "Keeping good roads in good condition has been the philosophy that gives a high rate of return for the preservation investment," says Jim Sorenson of FHWA.
To bolster training efforts nationwide, NCPP is offering a new 2-day course for State and local agencies, "Pavement Preservation: Applied Asset Management." This course is designed to provide transportation officials, managers, and practitioners with a comprehensive understanding of pavement preservation. The course covers the components of preservation, benefits of undertaking a pavement preservation program, and asset management principles and how they can be used to manage highway pavements. Also covered are data inventories, pavement distress identification and analysis, network and project level management, and pavement preservation strategies. The workshop also features hands-on group exercises, where attendees can develop network level preservation strategies and select treatments to complement the preferred overall strategy.
A pilot for the course was held in Lansing, Michigan, in December 2004. "The pilot was very successful, with a lot of interest expressed by participants and a lot of positive feedback," says John O'Doherty of NCPP. The Michigan Asset Management Council has already scheduled three more sessions of the course.
Additional courses being developed include ones on chip seals and ultra-thin hot-mix asphalt overlays for practitioners. NCPP also intends to develop a course on a variety of treatment activities and one on network management for planners and managers. "Education on pavement preservation is needed on several different levels," notes O'Doherty. "You need it for both those in the field doing the work and those planning strategies at the network level."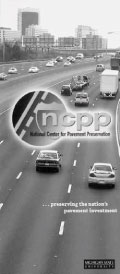 Outreach is another important part of NCPP's work. "At the invitation of a State or local agency that wants to start a pavement preservation program, we can visit their agency, do a detailed assessment of their pavement practices, and advise them on ways to initiate or improve their pavement preservation efforts," says O'Doherty. The center is currently working with several State departments of transportation to develop preventive maintenance guidelines for their agencies and help establish or refine pavement preservation programs.
NCPP is also facilitating State partnerships to address pavement preservation issues. With NCPP's help, Midwestern States have formed the new Midwest Pavement Preservation Partnership. This is a pooled-fund effort to bring together local and State highway agency representatives, contractors, suppliers, and members of academia to share their pavement preservation knowledge and identify and sponsor needed research. Additional partnerships for the Southeastern, Northeastern, and Western States are now being planned. States may join a regional partnership through the NCPP at a cost of $5,000 per year.
For more information on NCPP's resources, scheduling the 2-day pavement preservation course for your State or region, or joining a regional Pavement Preservation Partnership, contact Larry Galehouse at 517-432-8220 (fax: 517-432-8223; email: galehou3@msu.edu), or visit the National Center for Pavement Preservation. For additional information on pavement preservation or technical support, contact Tom Deddens of FHWA's Construction and System Preservation Team, 202-366-1557 (fax: 202-366-9981; email: tom.deddens@fhwa.dot.gov).*
Reprinted from Focus, March 2005.
*The FHWA contact for current information on this topic is Joe Gregory, 202-366-1557 (email: joseph.gregory@dot.gov).