Contract Administration Core Curriculum
Participant's Manual and Reference Guide 2006
I. General
This course has been prepared by the Federal Highway Administration (FHWA), Contract Administration Group. This Group is located within the Office of Program Administration (HIPA) office, which is a part of the Office of Infrastructure.
The Contract Administration Group has responsibility, on a national level, for construction contract administration matters as contained in the following sections of the Code of Federal Regulations (CFR):
23 CFR 230 A & B
23 CFR 633 A
23 CFR 635 A, B, C & D
As part of its nationwide oversight role, the Group maintains the following Orders, Technical Advisories, and guides:
Order 2000.2A - FHWA Non-procurement Suspension and Debarment Process,
TA T 5080.10 Incentive/Disincentive (I/D) for Early Completion,
Guide on Internet Bidding for Highway Construction Projects, and
Guide on Preparing Engineer's Estimate, Bid Reviews and Evaluation
A. Course Objectives
This course is designed to discuss contract provisions, administrative procedures, and applicable policies related to Federal-aid design and construction contracts. Discussions will include those contract procedures, policies, and requirements prescribed in 23 CFR Sections 230, 633, and 635; and their applicability to construction contracts. There will also be discussion about the reporting of fraud to the Office of the Inspector General (OIG), U.S. Department of Transportation (USDOT), and detecting of fraud in all phases of the contract award process for highway construction projects.
Upon completion of the course, the participants should be able to:
review construction contract provisions and contracting procedures for conformance with Federal aid requirements,
show an improved ability to discuss construction contract administration issues,
research FHWA policy via statutes, regulations, and directives in a systematic manner, and
use fraud indicators to detect the possibility of fraud and refer any matters involving fraud, bribery, kickbacks, gratuities, etc. to the USDOT/OIG.
B. FHWA Structure
FHWA is an agency within the United States Department of Transportation. Its fellow agencies include the Bureau of Transportation Statistics (BTS), Federal Aviation Administration (FAA), Federal Railroad Administration (FRA), Federal Transit Administration (FTA), Maritime Administration (MARAD), National Highway Traffic Safety Administration (NHTSA), Federal Motor Carrier Safety Administration, St. Lawrence Seaway Development Corporation and the Surface Transportation Board. Public Law 108-426, the Norman Y. Mineta Research and Special Programs Improvement Act of 2004, disestablishes the Department of Transportation's Research and Special Programs Administration (RSPA). In its place, two new Federal agencies have been established - the Research and Innovative Technology Administration (RITA) and the Pipeline and Hazardous Materials Safety Administration (PHMSA).
From its small beginning as the Office of Road Inquiry in 1893, FHWA grew substantially during the 1950s, 1960s, and 1970s at the start of the Interstate construction era. Outside of its headquarters in Washington, D.C., the agency maintains a field office, commonly referred to as a Division, in every State (typically in the State capitol), the District of Columbia and in the Commonwealth of Puerto Rico; and a resource center with offices in Baltimore, Atlanta, Chicago and San Francisco. The resource center was founded to provide FHWA's customers with technical expertise is such areas as in a wide variety of areas, including contract administration, innovative contracting, quality assurance, and specifications. The Divisions work closely with the State Transportation Agency (STA) in their state to carry out the Federal-aid highway program while ensuring that Federal requirements for the program are met.
Beyond the Federal-aid highway program, FHWA provides project development and construction services to Federal land-managing agencies, such as the National Park Service (NPS) the U.S. Forest Service (USFS), and the Bureau of Indian Affairs (BIA). These services are provided by the Federal Lands Highway Office and its three Divisions. This program may also be referred to as the Direct Federal program. The Federal Lands Highway Divisions must comply with the Federal Acquisition Regulations (FAR) because they directly procure design and construction activities. The FAR requirements differ somewhat from the requirements used in the Federal-aid highway program which is the primary focus of this manual.
C. The Federal-aid Highway Program
In order to understand the reasons behind some of the regulations, it is helpful to know something about the operating environment of the Federal-aid highway program. First, the "Federal-aid highway program" is a term which encompasses all the activities funded through the FHWA and administered by the STAs. However, the word "program" may also refer to one of the component activities such as the Surface Transportation Program (STP), Bridge Program, or Congestion Mitigation and Air Quality Improvement Program (CMAQ).
The Federal role in the Federal-aid highway program has primarily been to set minimum national standards, ensure system compatibility, and to provide capital assistance and oversight for highway construction. Prior to 1991, four Federal-aid (FA) systems existed: the Interstate, Primary, Secondary and Urban. These systems included 22% (1 363 000 km (847,000 miles)) of the total road network in the U.S. but carried over 80% of the Nation's travel.
Following the passage of the Intermodal Surface Transportation Efficiency Act of 1991 (Pub. L. 102-240) (ISTEA), only the National Highway System (NHS) exists as a Federal-aid system. This system of roads was formally approved through the National Highway System Designation Act of 1995 (Pub. L.104-59). The total NHS system includes approximately 258 000 kilometers (160,000 miles) of the Nation's nearly 6 million kilometers (4 million miles) of public roads. The NHS, which includes the Interstate system, carries 42% of the Nation's total travel on 4% of the Nation's total road network. The NHS includes the routes that carry and will continue to carry a large percentage of the Nation's highway travel as well as those routes that serve strategic priorities. It also emphasizes connections to major military installations, border crossings, airports, ports, and rail-highway transfer facilities.
D. System Management
Nearly 6 440 000 kilometers (4,000,000 miles) of roads and streets are open to public travel in the United States. The Federal Government, through a variety of land-managing agencies, owns 4.6%, or 291 000 km (181,000 miles) of the Nation's roadways, mostly through national parks, forests, Indian reservations, military bases, and other Federal properties. All other roads are under State or local control. Therefore, the responsibility for planning, construction, operation and maintenance of the Nation's highways rests primarily with State and local governments.
State governments manage roughly 1 300 000 km (800,000 miles) of highways. Although 88% (1 114 000 km (692,000 miles)) are through rural areas, State routes are heavily traveled and therefore are typically classified as arterial or collector roads. Minor arterial roads and collector streets are typically under local government control, except in States that manage most or their entire road network such as North Carolina and Virginia.
Local Government Agencies (LGAs) administer the largest percentage of roads (69% or 4.3 million km (2.7 million miles)), with the majority of these roads being property access routes functionally classified as local roads which are generally ineligible for Federal-aid funding.
E. Program Administration
The Federal-aid highway program is a Federally-funded, State-administered program. Therefore, the Federal-State partnership is the basic element of the successful administration of the Federal-aid highway program. For a State to be eligible for Federal-aid funding, it must have a transportation department capable of carrying out the duties required by law (23 U.S.C. 302). The FHWA provides funding, guidance and technical assistance to the STAs. Local agencies may receive Federal funding through the STA. While a local agency, through an agreement with its STA, may administer its own Federally-funded highway projects, the STA remains responsible for ensuring that all Federal requirements are met for these projects. Figure 1 shows a simplified process diagram for the Federal-aid highway program.
Figure 1: Federal-aid Process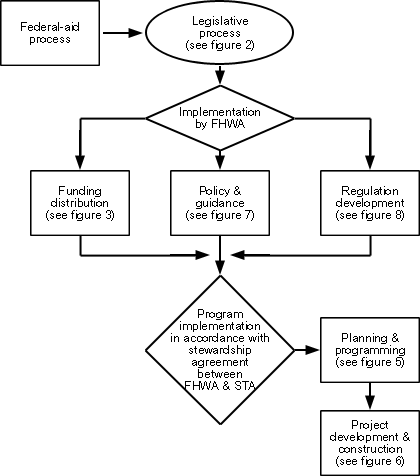 Figure 2: Legislative Process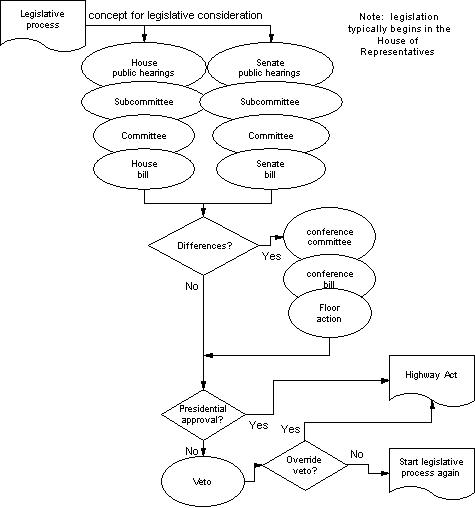 F. Legislation
Unlike other federal assistance programs, the Federal-aid highway program does not require the passage of an appropriations bill before projects can be approved. FHWA through periodic authorization legislation receives contract authority which allows obligation of funds in advance of appropriations. Signed on August 10, 2005, the Safe, Accountable, Flexible, Efficient Transportation Equity Act: A Legacy for Users (SAFETEA-LU) (Pub. L. 109-59) is the most recent authorization act for the Federal-aid highway program. Figure 2 shows the simplified legislative process.
The authorization act, which typically covers several years, will establish maximum program authorization levels, funding distribution formulas, and may establish, modify, or abolish the various components of the Federal-aid highway program. The act may also "earmark" or set aside funding for specific activities, including demonstration projects, studies, or for specific component activities. For example, some funds may only be expended for construction or safety-related activities on NHS or Interstate routes. All other roads, which have been functionally classified higher than a local road or rural minor collector, are eligible for Federal-aid funding under the Surface Transportation Program (STP).
The appropriation act covers one Federal fiscal year (October 1 through September 30). This act provides funds to liquidate prior obligations and may provide a limit on the amount of new obligations during the fiscal year. The appropriation act may also include modifications to the highway laws, program activities, etc.
Once both acts are in place, FHWA distributes the funding within the various program categories to the STAs. Note: with few exceptions, almost all authorized funds are apportioned or allocated; it is the obligation authority that is limited by the appropriation act. Figure 3 shows the funding distribution process. A good reference on Highway Account of the Highway Trust Fund is the Trust Fund Primer. This report can be found in hard copy or on the Internet (see http://www.fhwa.dot.gov/aap/primer98.pdf (.pdf)).
Historically, Federal-aid funding has been focused on capital construction activities, most prominently the Interstate construction program. While some funding could be used for resurfacing, rehabilitation, or restoration (3R), the emphasis was on new or major reconstruction efforts. With construction of the Interstate system essentially complete, and recognition that resources at all levels of government are shrinking, the Federal emphasis has shifted to 3R, preventive maintenance, and management/operations efforts.
Figure 3: Funding Distribution Process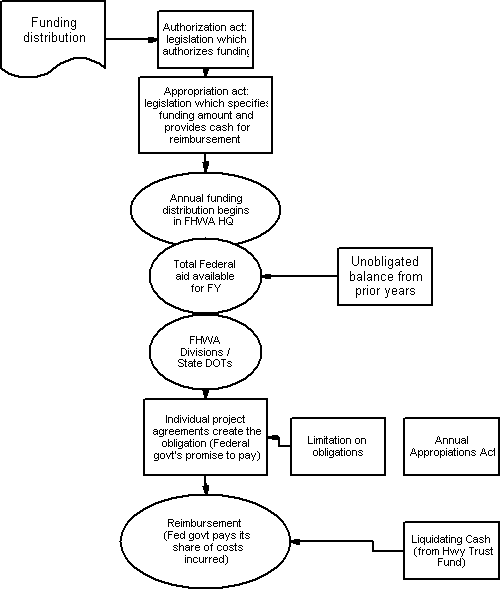 Most of the costs for non-construction activities (referred to as non-capital costs) are the responsibility of the State and local governments. Non-capital costs include routine maintenance, administration, law enforcement, and debt service on highway bonds and notes. Routine maintenance includes those activities required to keep the highway open for public travel such as snow removal, mowing, sign replacement, and pothole patching. The following summary table shows the distribution of all costs for all levels of government in 2004 (the latest year for which final numbers are available) - Highway Statistics, Total Disbursements for Highways, By Governmental Units.
| 2004 for all units of Government | $ (billion) | % |
| --- | --- | --- |
| Capital Outlay | 70.3 | 47.6 |
| Maintenance | 36.3 | 24.6 |
| Administration and Research | 12.7 | 8.6 |
| Highway Law Enforcement and Safety | 14.3 | 9.7 |
| Interest on Debt | 5.8 | 4.1 |
| Bond Retirement | 8.0 | 5.4 |
| Total | 147.5 | 100.0 |
Although highway capital improvements attract most of the public and political attention, they represent only about half of the total outlay for highways. In most States, non-capital expenses have first claim on available revenue.
In 2004, the most recent year for which data is available, the $28.5 billion available in Federal-aid funding accounted for about 40 percent of all capital outlays by all units over government but only 19 percent of total disbursements.
State highway programs in many States must share some percentage of their road-user tax revenues with local governments. Although the local agencies carry out the same basic functions, spending patterns vary between localities. At the national level, capital spending by local governments represents 34 percent of their total highway spending. Of all functional classifications, local roads require the highest level of spending per unit of travel.
The national highway expenditure database does not include private sector contributions. Most new roadways added to the inventory are property access roads and streets built by private land developers. In addition, several States require private developers to pay for any capital improvements required by their development activities adjacent to existing roads. The construction costs for these roads or improvements are then absorbed by the purchasers of homes and offices within the developments. Following construction, these roads are turned over to the State or local government for operation and maintenance.
G. Project funding
The Federal-aid highway program was designed to be a jointly administered and funded program. With few exceptions, FHWA does not provide full funding. Each funding category has an established funding ratio which defines the Federal share of the project cost. The remaining funding comes from the State or local agency. State and local funds may come from a variety of sources including toll credits, private donations, fair market value of any donated right-of-way for the project, and in some cases, may include Federal funds from another agency when permitted by that agency.
While the legal term for the Federal-aid highway program is a "grant program," no cash is actually disbursed at the time of project authorization. Federal-aid construction projects are authorized, funds are obligated, and then the FHWA makes payments to the States for actual costs as they are incurred. (See figure 4). Typically the billing and reimbursement are done electronically. Usually the U.S. Treasury credits the State's account within three days after the State submits a voucher. The apportionments discussed earlier are actually lines of credit against which the STA may draw as it administers the Federal-aid highway program.
Figure 4: Reimbursement Process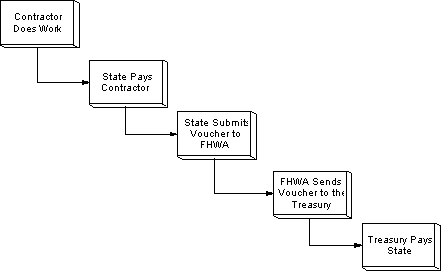 Prior to TEA-21, FHWA reimbursed the STA the Federal share of project costs for each progress payment. Section 1302 of TEA-21 amended 23 U.S.C. 121 such that FHWA may reimburse the STA for 100% of the eligible project costs on each progress payment up to the participation limit in the project agreement and adjust the amount when the final costs are known. STAs interested in evaluating the tapered match financing provisions should review the eligibility criteria in Mr. Wright's July 7, 1999 memo.
H. Standards and Program Oversight
For many years, FHWA approved certain standards and had direct stewardship responsibilities for the Federal-aid program. However, the 1991 ISTEA and the 1998 TEA-21 provided significant changes in these areas. Section 1016 of the ISTEA defined certain standards for NHS and non-NHS projects. It also provided for State approval of plans, specification and estimates (PS&E) for certain projects in-lieu-of FHWA's approval. TEA-21 further expanded the STA's role in project administration in-lieu-of FHWA approval.
Applicability of Standards
ISTEA Section 1016 modified Title 23 U.S.C. Section 109-Standards. This revision required state-developed / FHWA-approved standards for NHS projects. It also specified that non-NHS projects be designed, constructed, operated and maintained in accordance with State laws, regulations and directives. FHWA interpreted this section to mean that States would follow their own laws and procedures for the design, construction and maintenance of non-NHS projects as they would for State-funded projects. Mr. Carlson's March 11, 1992 memo (Appendix A-129), provided further guidance on this subject. Certain Federal-aid requirements would continue to apply to all Federal-aid projects. These requirements include non-Title 23 requirements (NEPA, Uniform Act, etc.) and general Title 23 requirements pertaining to contracts and procurement procedures (competitive bidding, bid proposal content, Davis-Bacon, Disadvantaged Business Enterprise, Brooks Act, etc.).
The applicability of various FHWA requirements depends on the specific statutory language for each requirement. The following applicability terms will be used in this manual:
applicable to all Federal-aid construction projects means the requirement applies to all construction projects funded under Title 23 U.S.C. This includes any construction project funded under 23 U.S.C. such as a highway, rail, transit, vertical building, offices, parking lots, bicycle paths, pedestrian trails, etc. (examples: Buy America, DBE program requirements, etc.)
applicable to all Federal-aid highway construction projects means the requirement applies to all Federal-aid highway construction projects regardless of location (examples: competitive bidding requirements in 23 USC 112 and all related implementing regulatory requirements in 23 CFR 635).
applicable to all Federal-aid highway construction projects on the National Highway System means the requirement applies to all Federal-aid highway construction projects located on the National Highway System. These requirements are not applicable to: a) Federal-aid highway construction projects on non-NHS routes or b) Federal-aid non-highway construction such as trail projects not located within the highway right-of-way (examples: FHWA policies for claims, warranties, incentive / disincentives).
For all projects, FHWA Headquarters' approval is necessary for any construction contracting technique which falls within the competitive bidding framework of 23 U.S.C. 112 but does not fully comply with the law. Any construction contract that utilizes a basis for award other than the lowest responsive bid shall be evaluated under FHWA's Special Experimental Project No 14 (SEP 14) - Innovative Contracting (Headquarter's approval required with the exception of the A+B bidding, lane rental, warranty and design-build concepts which are operational).
Most sections in this manual contain a subheading titled "Applicability" which provides more specific guidance for the policy discussed.
FHWA Project Oversight
ISTEA Section 1016(b)(1) allowed States to approve PS&E's for certain NHS projects (in-lieu-of FHWA's approval) if certain standards are met. Section 1016(b)(2) allowed States to approve PS&E's on non-NHS and certain low-cost NHS projects in-lieu-of FHWA's approval. Note that ISTEA only provided for the State's approval of PS&E documents in-lieu-of FHWA's approval. For the purposes of this manual, projects which were formerly labeled as "exempt projects" or "State-approved" are now labeled as "delegated".
The 1998 TEA-21 provided additional changes in FHWA's project oversight role in the Federal-aid program. TEA-21 Section 1601 replaced existing Title 23-Section 117 - Certification Acceptance (CA) with the High Priority Project Program, thus eliminating CA. TEA-21 Section 1305 provided further modifications to 23 U.S.C. Section 106. It provided that the States may assume FHWA's responsibilities for non-Interstate NHS projects for design, PS&E approval, contract award and inspection unless the State or the Secretary determines that such assumption is not appropriate. For non-NHS projects, the State shall assume FHWA's responsibilities unless the State determines that such assumption is not appropriate.
TEA-21 also requires that FHWA and the State to enter into an agreement documenting the types and classifications of projects for which the State will assume the responsibilities under Title 23 (Appendix A-141). This State-specific agreement, generally referred to as the 'stewardship' or 'oversight' agreement, forms the basis for FHWA's project level and program level oversight activities.
While the ISTEA and TEA-21 provided for changes in the applicability of certain standards and approval responsibilities, Title 23 U.S.C. Section 114(a) continues to require that Federal-aid highway construction projects are "... subject to the inspection and approval of the FHWA." When project approval authority has been delegated to the STA, any deviations from FHWA policy or regulations must be documented in the project file. Deviations from statutory requirements are not permitted.
Since the FHWA continues to have oversight and stewardship responsibilities for all FHWA programs, the changes to 23 U.S.C. Section 106 do not preclude FHWA from reviewing any Federal-aid highway project under State responsibility. FHWA will be conducting program level oversight of all FHWA programs regardless of which agency has project approval authority. Randomly selected projects administered by the STA will be included in program reviews.
Full project level review requires FHWA participation in all major decisions, from project initiation to design and construction, and to FHWA final acceptance and voucher payment. Unless the STA/FHWA agreement differs, full FHWA involvement projects will tend to be new construction or reconstruction projects on Interstate routes with an estimated value greater than $1 million.
I. The Planning Process
Figures 5 and 6 illustrate the typical planning and project development processes. Individual STAs may vary in the details of this process, but all should include these steps in their process. For a more detailed explanation of the special contract administration planning process and procedures for planning and research projects, please refer to the FHWA "Planning and Research Administration" course manual.
Figure 5: Planning Process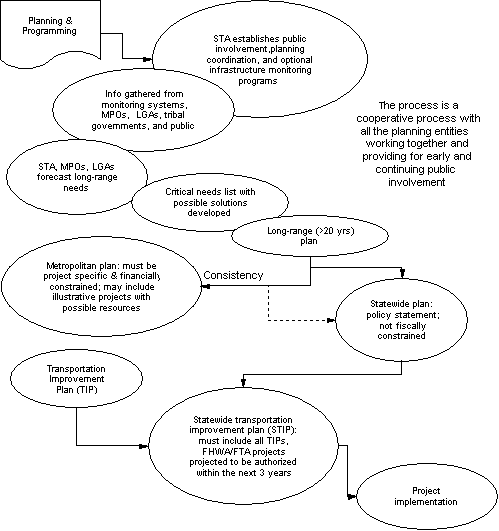 Figure 6: Project Development Process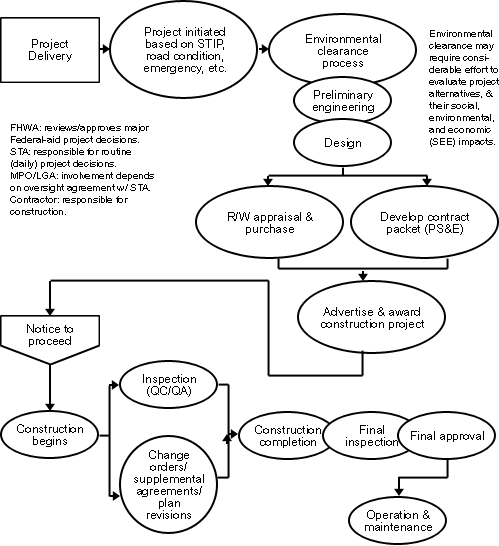 J. Project Authorization / Project Agreement
Title 23 U.S.C. 106 requires that the STA enter into an agreement with FHWA for each Federal-aid highway project. This agreement, normally referred to as the "project agreement", is a formal contract between the State and the Federal government defining the scope of work and other project-related commitments. The project agreement assures FHWA that the project will be constructed by the State in accordance with Federal requirements. More important, the project agreement is the document which constitutes the Federal governments obligation to pay its share of the project costs. The amount of Federal funds obligated on a project should reflect the current cost estimate, and ensure that funds no longer needed are de-obligated in a timely manner. This requirement is consistent with Federal appropriation law principles requiring Federal obligations to be based on a documented cost estimate, and revised if the estimate changes. States must monitor all projects and (1) de-obligate Federal funds when the amount obligated exceeds the current cost estimate by $250,000 or more, and (2) re-evaluate cost estimates on inactive projects and release unneeded funds. The FHWA will revise the Federal obligation amount if the State fails to take action as required by the regulation.
Prior to 1997, the project agreement was the PR-2 form. However, the FHWA's current regulations for Project Authorization and Agreements in 23 CFR 630A provide more flexibility and allow the States to use their own format for this purpose. The regulations allow electronic submission of the project agreement and modifications, provided the format is compatible with the FHWA's Fiscal Management Information System (FMIS).
The STA must still prepare a modification to the project agreement as changes occur in the project development phase. As with the project agreement, the STA may use its own format for providing the required information about the modification.
In a continuing effort to improve FHWA's management of the Federal Highway Trust Fund, FHWA recently revised its regulations related to project authorizations and agreements (contained in 23 CFR 630A). The revised regulations require STA to monitor on-going Federal-aid projects with the goal of insuring that the actual Federal funds obligated for any given project reflect the current estimated cost of the project. When a project becomes 'inactive' as defined in the new regulations, the STA is required to de-obligate any funds no longer needed for that project in a timely manner. The de-obligated funds will then be available for other projects to the extent permitted by law.
K. Federal Funding for Construction - Applicability of Requirements
Title 23 U.S.C. Section 145 provides the statutory authority that allows STAs to select projects for the Federal-aid highway program. If a STA uses Federal funds for early phases of project development (preliminary engineering, environmental documentation, right-of-way, etc.) there is no requirement to use Federal funds for construction. If the STA chooses to use only State funds for construction, Federal requirements such as the use of form "FHWA-1273 Required Contract Provisions Federal-aid Construction Contracts" would not be required.
The court cases on de-federalizing a project have focused primarily on the relationship between the environmental clearance process and Federal funding. In one case a State had proceeded through preliminary engineering using Federal funds, and was beginning right-of-way acquisition when a suit was brought against the State for failure to prepare an Environmental Impact Statement. At that point the State decided to de-federalize the project and pay back all Federal funds used in the preliminary engineering phase, but the court ruled that the State's seeking and receiving Federal approval at various stages of the project made the project a Federal project that required compliance with Federal environmental laws.
If the STA has used federal funds for preliminary engineering or environmental phases of the project development, and now wants to use State funds for construction, this would not free them from compliance with federal environmental requirements, such as NEPA & 4(f). However, if the STA was in compliance with federal environmental law and was choosing to use State funds for construction for another reason, that is their right under 23 U.S.C. 145, and, if they do so, compliance with Federal requirements for construction projects, such as the form FHWA-1273 requirements would not be required.
If, conversely, the STA used state funds for preliminary engineering, environmental reviews and right-of-way acquisition but now chooses to use Federal-aid funds for the actual construction, it is not precluded from doing so provided that all the Federal requirements have been met.
If federal funds have been obligated for construction and the STA, for whatever reason, wants the project to revert to a state-funded only project, the issue of de-obligation / re-obligation under Federal appropriation law comes into play. Under the Principles of Federal Appropriations Law, "a proper and unliquidated obligation should not be de-obligated unless there is a valid reason for doing so." Absent a valid reason (reduction of costs, correction of recorded estimates, initial obligation determined to be invalid, cancellation of project) funds cannot be de-obligated to free the funds up to be used for new obligations. To avoid Federal requirements for construction projects is not a valid reason for de-obligating the funds. If the STA decides not to use federal funds for construction, that decision should be made before authorizing the construction project.
On occasion an STA or local agency will want to tie two or more construction projects into one contract with the goal of creating a single construction contract that is either more attractive to the contracting community due to its size or because it simplifies traffic control. This can be problematic if one of the construction projects contains Federal-aid funds but the other projects are purely state or locally funded. Since some federal requirements apply on the "contract" rather than "project" level, tying a Federal-aid project to a state- or locally-funded project will cause those federal requirements, such as Davis-Bacon wage rates, to apply to the contract as a whole.
In summary, generally speaking, FHWA's construction contract requirements will apply when the Division authorizes any type of Federal-aid funding - traditional, loan or credit assistance - for a specific construction contract. The requirements will apply to that specific contract regardless of the level of Federal investment, and may apply to any non-Federal work that is tied to that contract. See Mr. Gribbin's August 3, 2004 memorandum for additional discussion.
L. Office of the Inspector General
The Office of Inspector General works within the Department of Transportation to promote effectiveness and head off, or stop, waste, fraud and abuse in departmental programs. The OIG Office of Investigations is responsible for investigating fraudulent activities involving federal funds. Between October 2000 and June 2005, the USDOT/OIG's investigations resulted in 298 indictments, 242 convictions, $ 138.3 million in fines and restitution, and judicial sentences of 1204 years jail, probation and community service. Appendix A-1 to A-4 provides a list of potential fraud indicators as published by the USDOT/OIG and a list of USDOT/OIG Regional Office locations.
When any fraudulent activities are suspected, either based on suspicion or actual evidence, they should be reported to the nearest USDOT/OIG Regional Investigative Office and the local FHWA Division Office. Individuals concerned about reprisals from their employers should know that there are five separate laws which protect "whistle blowers" from reprisals such as removal or reassignment: the Civil Service Reform Act of 1978, the Military Whistleblower Protection Act of 1984, the Whistleblower Protection Act of 1989, the Federal Acquisition Streamlining Act of 1994 and the IG Act. Also, phone or letter inquiries can be anonymous, or confidential with contact information not divulged.
The USDOT/OIG may be contacted by:
calling the local FHWA Division Office for the contact information of the nearest regional USDOT/OIG Investigative Office - also available at http://www.oig.dot.gov/contact.jsp;
calling a nationwide, toll free, hotline for reporting suspected fraud: 1-800-424-9071 (or 202-366-1461 for individuals in the Washington, DC area);
writing to the USDOT/OIG at Inspector General, P.O. Box 23178, Washington, D.C. 20026-0178; or
sending an E-Mail to hotline@oig.dot.gov.
M. Development of Directives
The Directives System Handbook, which was originally issued in 1980 and has been subsequently revised, is the primary source document for information contained in this section. The handbook was furnished to the field offices under (FHWA) Order H1321.1A, dated December 5, 1980. The latest revision came with Order H1321.1A, Change No. 3, dated December 9, 1991. All Division Offices should have this document and its subsequent revisions.
The directives system is used to prescribe or establish policy, organizational makeup, methods, procedures, requirements, guidelines, and delegations of authority.
Directives convey information essential to the administration or operation of the FHWA. Directives are not intended for FHWA personnel only, but also for personnel working for the STAs, the Governors' Highway Safety Representatives (GHSR), metropolitan planning organizations (MPOs) and other collaborating agencies. Figure 7 illustrates how non-regulatory directives are developed.
The objectives of directives are to:
provide instruction that is necessary, current, complete, readily accessible, easily understood and consistent with FHWA policy,
ensure adequate public participation in the development of both policies and procedures, and
clarify and improve organizational relationships by coordinating instructions, thereby eliminating conflicts and duplications.
Figure 7: Policy Development Process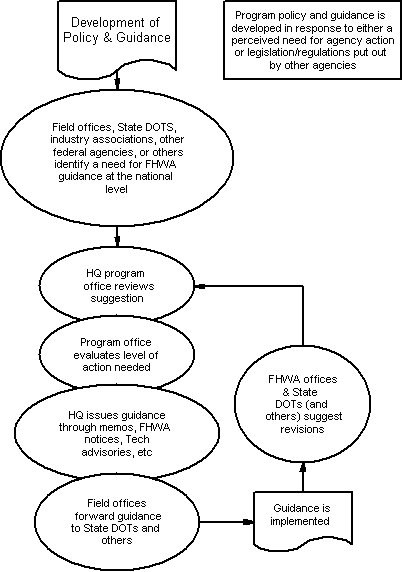 Directives are produced in several formats:
Regulations are issued to implement and carry out the provisions of:

Title 23 U.S.C., relating to administration of both the Federal aid and the Federal Lands Highway Programs, and
other applicable laws and programs under the jurisdiction of the FHWA.

The Federal-aid Policy Guide (FAPG) is our primary means of issuing material that establishes, modifies or supplements policies, requirements, standards, procedures, or guidelines relating to the Federal-aid highway program. The FAPG parallels the 23 CFR in the document's organization. The FAPG may be found on the FHWA Internet web site.
Orders are internal directives that contain permanent or long-lasting policy, instructions, and procedures.
Policy Memoranda are interim documents used to issue policy interpretations to the field offices. The memoranda are valid until superceded by new policy.
Technical Advisories (TA) contain permanent or long lasting technical information that is advisory in nature. They are not to be used to impose requirements or issue policy. TAs are directed to the STAs, the GHSRs, and local governments, as well as the FHWA.
Notices are temporary directives that are used to furnish either one-time or short-term instructions that are expected to remain in effect for a period of less than one year. An example would be the annual notice of funding distribution to the States.
N. The Rulemaking Process
Simply put, the rulemaking process is the process all Federal agencies must use to adopt, revise or clarify regulations; or adopt emergency procedures. It is not unusual for the process to take a year or more for a low priority issue. Issues that are highly controversial may take several years to complete the process. Figure 8 shows the typical rulemaking process.
The primary objective of the rulemaking process is to ensure adequate public participation in the development of new or modified regulations. To accomplish this, a Federal agency publishes notices of its rulemaking actions in the Federal Register. As the daily publication of Government proceedings, the Federal Register is an integral component of the rulemaking process. The Federal Register is available through the Government Printing Office (GPO), by subscription, through Federal depository libraries around the country, or on the Internet at http://www.gpoaccess.gov/nara/.
Figure 8: Regulatory Development Process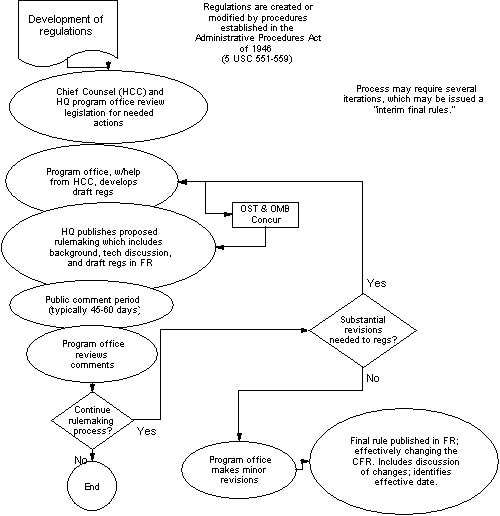 Regulations are the only directives subject to the rulemaking process. Codified in the CFR, regulations are the rules, policies, procedures, and other requirements needed to carry out Federal programs. These regulations apply to Federal, State, and local agencies, as well as the public. Regulations have the force of law. Detailed technical or housekeeping procedures for carrying out specific actions, unless they affect the substantive rights of grant recipients or the public, are not normally included in the CFR.
The FHWA is primarily involved with 23 CFR and 49 CFR, which contain regulations issued by the FHWA and the Department of Transportation (DOT), respectively. Other CFR sections which may affect the Federal-aid highway program are 28 CFR (Judicial Administration), 29 CFR (Labor), 40 CFR (Protection of Environment), and 41 CFR (Public Contracts and Property Management).
The CFR includes:
requirements and conditions that must be followed to qualify the project or work in question for Federal participation,
material which confers a right or benefit, imposes an obligation, or otherwise affects the substantive rights of grant recipients or the public relative to FHWA programs, and
material which contains statements of general policy or interpretations of general applicability.
Classification of Regulations:
Regulations are classified based on their economic or operational impact.
A significant regulation is one that may result in a significant impact and consequently requires a regulatory analysis. A significant regulation is one that:
concerns a matter for which there is substantial public interest or controversy,
has a major impact on the operating administrations within the DOT or other Federal agencies,
has a substantial effect on State or local governments,
has a substantial impact on a major transportation safety problem,
initiates a substantial regulatory program or change in policy,
is substantially different from international requirements and standards, or
otherwise involves important DOT policy.
EXAMPLE: DBE regulations are significant regulations because they affect everyone who procures goods or services with Federal funds. When implemented, the regulations caused a substantial change in current policy and consequently had a substantial effect on state and local governments.
An emergency regulation is one that would ordinarily be published for comment, but circumstances warrant that it be issued without notice and opportunity for comment. Frequently an agency will issue emergency regulations in response to a change in law.
EXAMPLE: The 1984 Highway Act eliminated "cement" from the Buy America provisions of the 1982 Surface Transportation Assistance Act (STAA). The regulations were changed very rapidly to correct the CFR using the emergency regulation procedures. The revision was simply published as a final rule because the change was required to comply with the new law.
Lastly, a nonsignificant regulation is simply one that does not fit into the significant or emergency classes.
EXAMPLE: Form FHWA 1273 was deleted from the regulations but kept by reference. Nothing really changed since the requirements remained in force.
The Regulatory Development/Adoption Mechanism:
The process has six basic phases:
An internal decision that some regulatory action is needed. The needed action may be that an existing regulation needs to be modified, or there is a new legislative requirement. This phase includes in-house coordination to avoid conflicts and duplications. The proposed regulation is classified as a significant regulation, an emergency regulation, or a non-significant regulation.
A "regulatory analysis" is required for each proposed regulation that will:
result in an annual effect on the economy of $100 million or more,
result in a major effect on the general economy in terms of cost, consumer prices, and production,
result in major price or cost increases for individual industries, levels of government, or geographic areas,
have a substantial impact on the balance of trade, or
be determined by the Secretary of Transportation or the Federal Highway Administrator to deserve such an analysis.
Following internal review and coordination, the proposed rule is subjected to "external" coordination. By this time the proposed regulation has cleared the FHWA; however, it has not yet been released to the public. Other Federal agencies that have an interest or concern with the proposed regulation are given the opportunity to review and comment.
With the concurrence of the Office of the Secretary of Transportation (OST), the proposed rule is submitted to the Office of Management and Budget (OMB). Upon OMB clearance, it is published in the Federal Register.
Except for emergency regulations, as discussed earlier, the proposed regulation is normally first issued as a Notice of Proposed Rulemaking (NPRM). The public is generally provided 60 days to comment on a proposed significant regulation and 45 days for one classified as nonsignificant. The Federal Highway Administrator has the authority to extend the comment period in response to extension requests.
In some cases, the first public notification may be in the form of an Advanced Notice of Proposed Rulemaking (ANPRM). Rather than a proposed rule, an ANPRM describes a problem and solicits recommendations or proposals. In either case, the public is given the opportunity to participate and comment early in the process.
Comments from the docket as well as those received internally from the field offices are analyzed after the comment period closes. This action forms the basis for decisionmaking.
Depending upon the issues raised in the comments, the decision may be to cycle through the process with a revised proposal. The cycle may be repeated several times before development of the final regulation.
The final rulemaking (FRM) is drafted by the originating program office, and is assembled in the required format of a preamble and final regulation. The preamble summarizes the contents of the proposed and final rule, identifies the major issues involved, and summarizes principal differences between the proposed and adopted regulations. The preamble also summarizes the significant docket comments and their disposition.
After internal coordination and concurrence by the Federal Highway Administrator the Notice of FRM is transmitted to the OST and the OMB for clearance.
The final rule is published in the Federal Register to announce to the public that the CFR has been amended. The final rule becomes effective on the date indicated in the Notice of FRM. Typically, the effective date is 30 days after publication of the Notice of FRM. Normally, this 30-day period provides affected agencies sufficient time to transition to the new rules.
O. Information Resources
The Internet now hosts a variety of Web sites with useful information. The following sites are just a sampling:
| | |
| --- | --- |
| http://www.fhwa.dot.gov/ | FHWA's home page contains general information such as the organizational chart, field office info, and a breakdown of the major program areas; and specific information about pertinent legislation, regulations, policy, publications and statistics. Also hotlinks to other transportation-related sites such as AASHTO and STAs. |
| http://www.fhwa.dot.gov/programadmin/contracts/ | FHWA Contract Administration homepage includes information on Buy America, innovative contracting, etc. |
| http://thomas.loc.gov/ | Library of Congress search engine for legislation. This site includes information about members of Congress; the Congressional Record; and hot links to other government sites. |
| http://www.access.gpo.gov/ | Government Printing Office Searchable database for Federal Registers back to 1994, and some other government documents. W/hotlink to the Superintendent of Documents for purchasing government publications. |
| http://www.epls.gov/ | General Services Administration's list of excluded parties. This site allows you to search the suspended and debarred parties, or to download the most current listing for reference. Free service. |
| http://www.dol.gov/esa/whd/ | Department of Labor's Wage and Hour Division homepage |
| http://www.asce.org/ | American Society of Civil Engineers. Has links to a variety of resources, and copies of all policy statements |
| http://www.cerf.org/hitec/ | Highway Innovative Technology Evaluation Center |
| http://www.transportation.org/ | American Association of State Highway and Transportation Officials; includes the AASHTO Metric Clearinghouse |
| http://www.artba.org/ | American Road & Transportation Builders Association. Headquarters |
| http://www.ite.org/ | Institute of Transportation Engineers |
| http://www.nas.edu/trb/ | Transportation Research Board |
| http://www.itsa.org/ | ITS America |
| http://epw.senate.gov/ | Senate Environment & Public Works Committee; contains the committee membership; legislative calendar; and copies of some legislation |
| http://www.house.gov/transportation/ | House Transportation & Infrastructure Committee; contains the committee membership; legislative calendar; and agenda |
| http://wzsafety.tamu.edu/ | Work zone safety information clearinghouse developed by FHWA and ARTBA; maintained by TTI. Information includes design guidance, research reports, public awareness campaigns, laws, enforcement campaigns, and safety products. |
| http://www.nibs.org/projcmc.html | Construction Metrication Council, includes copies of all their newsletters and hot-links to other metric sites. |
| http://trisonline.bts.gov/search.cfm | Transportation Research Information Services is an online transportation research library. |
| http://www.ic.usu.edu/ | Utah State University, Technology Transfer Center, Innovative Contracting Web Site |