EHEI Category: Encouraging Nonmotorized Transportation
New Jersey: Route 36 Highlands Bridge Bicycle & Pedestrian Enhancements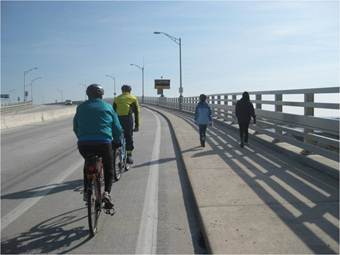 The new bridge better accommodates both bicycles and pedestrians.
(Courtesy of NJDOT)
The New Jersey Department of Transportation (NJDOT) completed construction of the Route 36 Highlands Bridge in December 2010. This structure serves as a critical connection from the New Jersey Highlands to Sea Bright, a nearby borough, and Sandy Hook National Park over the Shrewsbury River. The project is one of NJDOT's first Complete Streets projects and looks to promote multimodal travel. The new Route 36 Highlands Bridge accommodates all users by encouraging nonmotorized transportation and increasing access for pedestrians and bicyclists to Sandy Hook National Park and its many amenities, including beaches, trails, and opportunities for fishing.
The previous Route 36 bridge, built in 1932, had limited and unsafe bicycle and pedestrian accommodations and had reached the end of its useful life. The new Route 36 Highlands Bridge carries four lanes of traffic and features eight-foot-wide pedestrian sidewalks and bicycle lanes in both directions. In addition, the project includes two new pedestrian bridges, both linking to multi-use trails.
With the accommodations for nonmotorized bridge users, residents and vacationers can now bicycle and walk to the beach area and other parts of Sandy Hook National Park rather than drive. Since the Route 36 Highlands Bridge has opened, nonmotorized traffic levels along the corridor and beach have increased, as more people use the newly-created pedestrian and bicycle features. Ultimately, the bridge will connect to Twin Lights, a national landmark, and to the Henry Hudson Trail, a 24-mile rail trail that is nearly finished.
For more information, contact Pankesh Patel, New Jersey Department of Transportation, at Pankesh.Patel@dot.state.nj.us.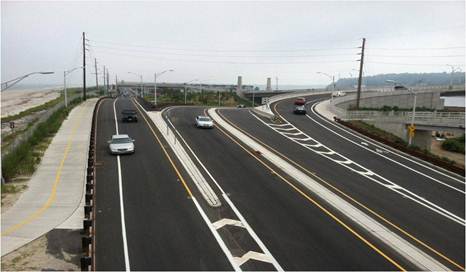 The Route 36 Bridge is an integral connection between the New Jersey Highlands, Sea Bright, and Sandy Hook National Park.
(Courtesy of NJDOT)