Joint EEI/EHEI: EHEI Category: Product Development
Oregon: The West Coast Electric Highway - Electric Vehicle Corridor Connectivity Charging Network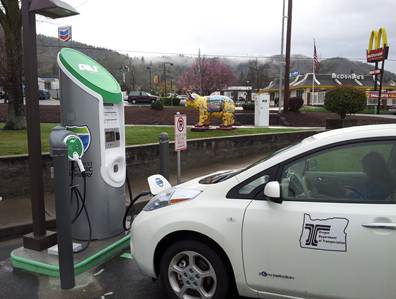 ODOT and WSDOT expect to have installed 100 EV chargers by the end of 2012.
(Courtesy of ODOT)
In recent years, Oregon has been one of the nation's leaders in promoting and advancing the use of electric vehicles (EV) and alternative energy. In 2010, Oregon became a partner in the West Coast Green Highway initiative, which aims to lower greenhouse gas (GHG) emissions through the adoption and use of electric and alternative fuel vehicles along the Interstate 5 (I-5) corridor in California, Oregon, Washington, and British Columbia. As one third of Oregon's GHG emissions come from transportation sources, the State is pursuing electric transportation options to mitigate the impact of oil on its environment, health, and economy. Oregon Department of Transportation (ODOT) has taken a proactive leadership role in applying for funding to install EV infrastructure in order to induce a movement towards electric transportation.
As part of its efforts to support sustainable transportation, ODOT is working with the Washington Department of Transportation (WSDOT) to develop the "West Coast Electric Highway," a broad EV charging network along I-5 that will span across both of these States. The I-5 corridor is a critical piece of transportation infrastructure and is the main transportation artery connecting the West Coast States. ODOT completed the first stage of the West Coast Electric Highway in March 2012, installing ten EV charging stations along 200 miles of I-5 between Salem, Oregon, and the California border. Since then, ten more stations have been added in Oregon with TIGER II funding. Together, ODOT and WSDOT are on track to have over 100 EV chargers in their States by the end of 2012.
By the end of 2012, ODOT plans to have its statewide network of 22 charging stations fully established and operating. These stations will connect to the other I-5 installations, creating one of the most robust EV charging networks in the nation. To encourage use of electric transportation throughout Oregon, ODOT is working with local organizations like Travel Oregon, Travel Salem, Association of Oregon Counties, League of Oregon Cities, and various chambers of commerce. In addition, ODOT's efforts continue to involve other stakeholder groups, including the State's Department of Environmental Quality and Building Codes Division, statewide utility providers, the Oregon Business Development Department, and local universities. The West Coast Electric Highway and related EV projects demonstrate a multi-agency commitment to alternative energy use and serve as strong examples of sustainable transportation infrastructure that will provide long-term economic and environmental benefits.
For more information, contact Ashley Horvat, Oregon Department of Transportation, at Ashley.N.Horvat@odot.state.or.us.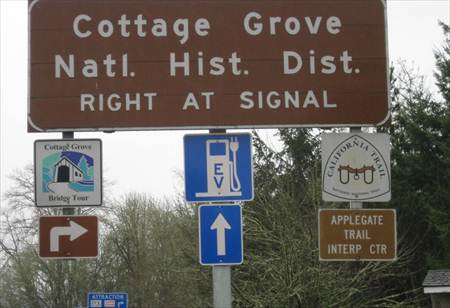 ODOT installed FHWA-approved signage on I-5, signaling to EV drivers where they can refuel.
(Courtesy of ODOT)