EHEI Category: Education and Training Programs
Washington: Milepost 31, Alaskan Way Viaduct Replacement Program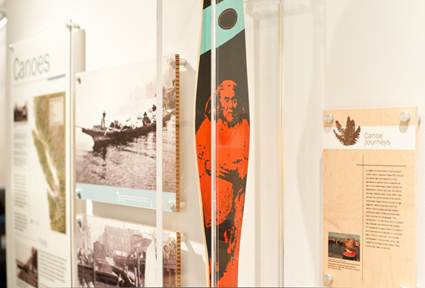 Milepost 31 presents historical and archaeological aspects of the SR 99 Tunnel Project.
(Courtesy of WSDOT)
In December 2011, the Washington State Department of Transportation's (WSDOT) Alaskan Way Viaduct Replacement Program opened Milepost 31, an information and history center in Seattle's Pioneer Square Historic District. The first of its kind for WSDOT, Milepost 31 is a unique outlet that puts the viaduct replacement work, particularly the State Route 99 (SR 99) Tunnel Project, in context with the robust past of the Pioneer Square neighborhood.
WSDOT developed the Milepost 31 information center as part of a Section 106 Memorandum of Agreement (MOA) with the City of Seattle, the State Department of Archeology and Historic Preservation, the Alliance for Pioneer Square, national and local preservation groups, and local Tribes. The MOA outlines that the center should educate visitors to the Pioneer Square Historic District about the unique historical, archaeological, and engineering aspects of the SR 99 Tunnel Project as well as the past, present, and future of the historic district. WSDOT collaborated with the MOA's participating agencies to design and develop content for the Milepost 31 exhibits.
Over the next several years, the Pioneer Square neighborhood, which is recognized as both a national and local historic district, will be exposed to much construction-related activity as WSDOT replaces the Alaskan Way Viaduct. The Milepost 31 information center provides exhibits that establish the connection between the natural and cultural history of Seattle's built environment and the role that people have had in shaping the Pioneer Square neighborhood. The exhibits reflect the diversity of local historical experiences by showcasing the histories of women, Native Americans, African Americans, and Jewish Americans, who have traditionally been left out of Seattle's historical memory. With these educational tools, the Milepost 31 information center aims to bring more people into the district and to help promote the economic viability of a neighborhood comprised of many locally-owned small businesses.
Since its opening, more than 5,600 visitors have come to the Milepost 31 information center. WSDOT will use Milepost 31's attendance numbers to gauge success in drawing people into the neighborhood during viaduct replacement construction. In addition, WSDOT is planning new outreach efforts to target audiences who live and work in Pioneer Square, residents of other city neighborhoods, and local tourism offices in order to grow attendance levels.
For more information, contact Kevin Bartoy, Washington State Department of Transportation, at bartoyk@wsdot.wa.gov.