1894
In Washington, DC, General Roy Stone of the ORI completes the preface to his book, New Roads and Road Laws in the United States, published by the D. Van Nostrand Company later that year. In the preface, Stone notes that the book is largely based on material compiled before the start of the road inquiry, adding, "it is hoped that this book may still further stimulate public interest in the subject, and thus promote the success of the official inquiry."
1992
Administrator Thomas Larson joins State and local government officials and fourth graders from Page Elementary School in Arlington, VA, to launch America's TreeWays, a national highway tree-planting effort. The group planted 100 seedlings at Chain Bridge Road and Georgetown Pike. (See May 12, 1992.) Thousands of trees donated by private companies will be planted statewide under the program, including 1,000 in northern Virginia.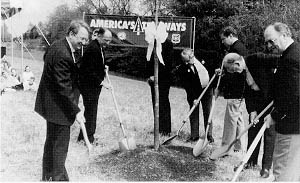 Virginia Secretary of Transportation John G. Milliken (left) and Administrator Thomas D. Larson (second from left) join in the kickoff for America's TreeWays, a national tree-planting effort.