1909
In Jamaica Heights, Long Island, NY, Director Logan Page and a committee of Army engineers begin tests (with AAA cooperation) on the effect of the automobile on macadam roads. In 37 events, automobiles, motorcycles, and horses are used, with 12 photographers taking instantaneous pictures to measure the effects.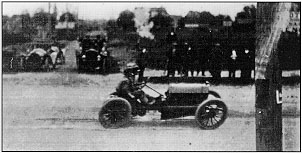 Government road tests, Jamaica Heights, NY: 60 m.p.h.!
1986
Nearly 500 transportation construction executives and ARTBA members gather at the Washington Hilton Hotel in Washington, DC, for "Interstate Nite," a celebration of the Interstate's 30th anniversary. Administrator Ray Barnhart and five of his predecessors attend (Volpe, Turner, Tiemann, Bowers, and Hassell).