1980
Groundbreaking ceremonies take place for the I-95 Fort McHenry Tunnel in Baltimore, MD. Initial plans for a bridge over the Patapsco River were abandoned because of local opposition. The completed $750 million tunnel is dedicated November 23, 1985--on time and $100 million under budget--with Executive Director Lester Lamm representing FHWA during the dedication. The tunnel is the largest underwater highway tunnel and the widest vehicular tunnel ever built by the immersed tube method.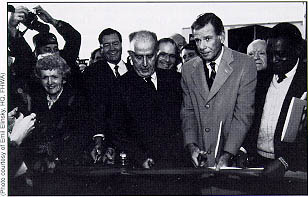 I-95 Fort McHenry Tunnel opens on November 23, 1985. Clipping the ribbon, from left to right: Representative Helen Delich Bentley, FHWA Executive Director Lester P. Lamm, Baltimore Mayor William D. Schaefer, Governor Harry Hughes, and Baltimore City Councilman Clarence "Du" Burnes.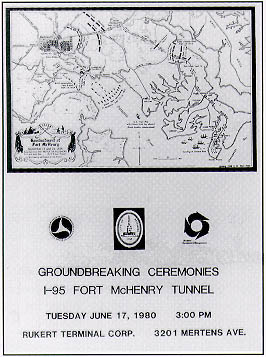 Program from groundbreaking ceremony for the Fort McHenry Tunnel.