1919
After a ceremony dedicating the temporary Zero Milestone marker on the Ellipse in Washington, DC (See June 4, 1923), the first U.S. Army transcontinental truck convoy, under Lt. Col. C. D. McClure, gets underway. It crosses the country on the Lincoln Highway, which it reaches at Gettysburg, PA, and arrives in San Francisco, CA, on September 5, with future President Dwight D. Eisenhower participating as an observer. The experience contributes to his support for the Interstate System after becoming President.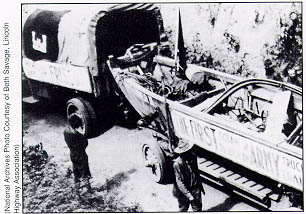 This truck, hauling a heavy wooden boat, broke down on a sandy detour west of Sterling, Illinois.
1993
FHWA launches its 100th anniversary celebration with a gala kickoff in the USDOT Headquarters (the Nassif Building) plaza featuring distinguished guests, a courtyard full of exhibits, and an oversized commemorative "birthday card." The temperature reaches 100 degrees during the formal ceremony featuring Secretary of Transportation Federico Pea, Administrator Rodney Slater, Deputy Administrator Jane Garvey, Executive Director E. Dean Carlson, former Administrators Robert Farris, John Hassell, and Frank Turner, former Executive Director and Deputy Administrator Lester Lamm, former Executive Director R. D. Morgan, and Chairman Nick Rahall of the House Subcommittee on Surface Transportation.