1991
President George Bush signs the Intermodal Surface Transportation Efficiency Act, the most significant restructuring of surface transportation programs since 1956. Known as ISTEA ("ICE TEA"), the act authorizes $121 billion for Federal-aid highways, $1.6 billion for safety, and $31.5 billion for transit, but through its statewide and metropolitan planning requirements, gives unprecedented flexibility to State and local officials to develop the best mix of projects, whatever the mode. While eliminating the Federal-aid systems, ISTEA broadens eligibility to cover all public roads except local roads and rural minor collectors, authorizes designation of the National Highway System, stresses choices that will help attain National Ambient Air Quality Standards, funds a National Scenic Byways Program, and renews emphasis on alternatives such as bicycling and walking.

"It's summed up by three words--jobs, jobs, jobs."
President George Bush
On Signing ISTEA
December 18, 1991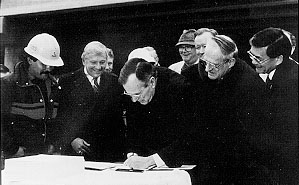 President George Bush signs ISTEA at site of highway project in Texas. From left to right: Texas construction worker Arnold Martinez, Representative Bud Shuster (PA), President George Bush, Senator Daniel Patrick Moynihan (NY, in hat), Representative John Paul Hammerschmidt (AR), Representative Robert A. Roe (NJ), and Representative Norman Y. Mineta (CA).