1940
Governor Culbert Olson dedicates California's first freeway, the Arroyo Seco Parkway (renamed the Pasadena Freeway in 1954), built with funding from the Works Progress Administration, the Public Works Administration, and over $500,000 from the PRA, as well as State and local agencies. "It is proper and timely," he says, "for us to pause a few moments to ceremonialize and celebrate an achievement so extraordinary as the completion of this, the Arroyo Seco Parkway . . . . Now that we have it, and it all looks so rather simple, so obviously necessary, so wholly practical, some will ask, 'What is there so wonderful, or so bold about it?' Oh yes--but it takes courage to do a thing the FIRST time, no matter how simple and obvious it may appear AFTER it is done. And this, fellow citizens, is the first Freeway in the West. It is ONLY the first. And THAT is its great promise to the future--the promise of many more freeways to come." The ceremony concludes with the cutting of a "Chain of Roses" by Governor Olson, assisted by the Queen of the 1941 Tournament of Roses, her six Maids of Honor, and State and local officials. The official dedicatory booklet includes thanks to many local, State, and Federal officials, including PRA's Dr. L. I. Hewes and C. H. Sweetzer, who "joined hands to make a dream come true. These men today present to the public this 'Highway of Tomorrow.'" Dr. Hewes contributes remarks to the ceremony on PRA's behalf.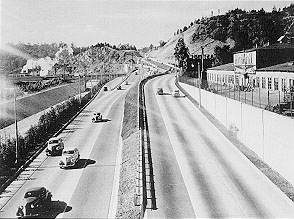 Original caption: On this section of the Arroyo Seco Parkway, opposing traffic proceeds on different levels seperated by railing and planted slopes.
"Thousands of years ago Mother Nature started work on the Arroyo Seco Parkway by carving out a beautiful canyon from the mountains to the sea. It became a natural trail for Man and for centuries and even up to fairly recent times it was used by the Indians as a direct route to the sea . . . So it is not unusual that when men turned to vehicles for their transportation they should attempt to adapt this ancient trailway to their needs."
Amerigo Bozzani
California State Highway Commissioner
(On Opening of the Arroyo Seco Parkway)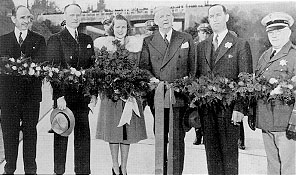 Official party at the ribbon cutting ceremony for the Arroyo Seco Parkway. From left to right: Amerigo Bozzani, Highway Commissioner and Chairman or the Celebration Committee; Director of Public Works Frank W. Clark; Sally Stanton, Queen of the 1941 Rose Festival; Governor Culvert L. Olson; Larry Barrett, Chairman, Highway Commission; and Ray Cato, Chief, State Highway Patrol.