Category 1-The Urban Highway
Excellence Award Winners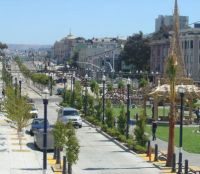 Octavia Boulevard, San Francisco, CA
Octavia Boulevard/Central Freeway Project, San Francisco Department of Public Works and California Department of Transportation (Caltrans)
Damaged during the 1989 Loma Prieta earthquake, San Francisco's double deck Central Freeway has been replaced with an attractive tree-lined boulevard that not only carries auto traffic efficiently, but is neighborhood, bike, and pedestrian friendly. Completed in 2005, Octavia Boulevard has revitalized the neighborhood and reunited two areas of the city. Contact: Frank Lee, San Francisco Department of Public Works, 415-437-7018 (email: frank.w.lee@sfdpw.org).
Merit Award Winners
Central Freeway, Caltrans
The replacement of San Francisco's Central Freeway, which was badly damaged in the 1989 Loma Prieta earthquake, included construction of Octavia Boulevard and a new ramp connecting the Freeway to the Boulevard. Working with the City of San Francisco and a Citizens Advisory Committee, Caltrans built a less imposing, single deck steel structure that complements the surrounding urban environment. Contact: Nidal Tuqan, Caltrans, 510-286-5542 (email: nidal_tuqan@dot.ca.gov).
Trunk Highway 23 Reconstruction Project, Mn/DOT, District 8
Mn/DOT reconstructed and expanded an 18.5km (11.5-mi) section of Trunk Highway 23. The project included building an extensive storm water management system and reconstructing part of the Glacial Lakes State Recreational Trail. Collaboration with local communities was crucial to the project's success. Contact: David Larson, Mn/DOT, 651-284-3774 (email: david.larson@dot.state.mn.us).
12300/12600 South Design-Build Project, Utah Department of Transportation (UDOT)
In its first design-build project for a major urban arterial, UDOT widened and reconstructed 9.6 km (6 mi) of roadway through the cities of Draper and Riverton and 1.6 km (1 mi) of I-15. Using context sensitive solutions, the project team built a safe and efficient roadway that is also compatible with the community's history, culture, and natural environment. Contact: Scott Lucas, H.W. Lochner, 801-262-8700 (email: slucas@hwlochner.com).
Honorable Mention
The Big Dig, Massachusetts Turnpike Authority; Highway 100 Reconstruction, Mn/DOT; Piedmont Avenue, Mn/DOT