Category 2-The Rural Highway
Excellence Award Winners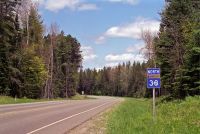 Minnesota Trunk Highway 38
Minnesota Trunk Highway 38 (Edge of the Wilderness National Scenic Byway), Minnesota Department of Transportation (Mn/DOT), District 1
The reconstruction of Trunk Highway 38 has improved safety and efficiency and preserved the route's many natural, scenic, and recreational resources. Accidents have been reduced more than 55 percent, while the flexible design has remained sensitive to the multiple users of the roads. Contact: Brian Larson, Mn/DOT, 218-723-4820, ext. 3322 (email: brian.larson@dot.state.mn.us).
Merit Award Winners
Brainerd Lakes Area Welcome Center and Rest Area, Mn/DOT
This public-private venture was built on a collective vision of better serving the public. The welcome center's rustic style architecture serves as a new gateway to the Brainerd Lakes Area, while the accompanying realignment of Trunk Highway 371 has resulted in several traffic improvements. Contact: Carol Reamer, Mn/DOT, 651-2961648 (email: carol.reamer@dot.state.mn.us).
US 84/285 Pojoaque Corridor, NMDOT
US 84/285 between Santa Fe and Espanola is the most heavily traveled roadway in northern New Mexico and a gateway to Santa Fe. To address safety and capacity concerns on the corridor, NMDOT designed and constructed a system of interchanges and frontage roads. The aesthetics of the corridor have also been enhanced by interchange artwork designed by local artists. Contact: Armando M. Armendariz, NMDOT, 505-827-5511 (email: armando. armendariz@state.nm.us).
Honorable Mention
World War II Veterans Memorial Highway, Vermont Agency of Transportation; Mat Su Valley, Alaska Department of Transportation and Public Facilities