Category 3A-Major Highway Structures (Over $15 Million)
Excellence Award Winners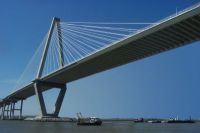 Cooper River Bridge, Charleston, SC.
Cooper River Bridge, South Carolina Department of Transportation (SCDOT)
The new $640 million Ravenel Bridge over the Cooper River in Charleston is North America's longest cable stay span bridge. Completed a year ahead of schedule, the striking bridge features a diamond shaped tower design that was selected by the public. Its innovative structural engineering solutions were matched by an emphasis on environmental stewardship, including special protection of the habitats of Loggerhead Sea Turtles. Contact: Charles Dwyer, SCDOT, 843-534-5000 (email: dwyerct@dot.state.sc.us).
Merit Award Winners
Four Bears Bridge, North Dakota Department of Transportation (NDDOT)
The Four Bears Bridge is the first precast concrete segmental bridge in North Dakota. An important aspect of the bridge design was the inclusion of many design elements that celebrate the history and heritage of the Three Affiliated Tribes of the Fort Berthold Indian Reservation. Contact: Terry Udland, NDDOT, 701-3281969 (email: tudland@state.nd.us).
Noyo River Bridge, Caltrans
The Noyo River Bridge on State Route 1 in the city of Fort Bragg replaced an existing steel bridge that was a landmark in the city. The new bridge minimizes obstruction of the ocean view and blends its architectural features with the site, providing an aesthetically pleasing appearance. Contact: Gudmund Setberg, Caltrans, 916227-8282 (email: gudmund_setberg@dot.ca.gov).
Honorable Mention
James Rumsey Bridge, West Virginia Department of Transportation; Victory Bridge, New Jersey Department of Transportation; 17th Street Bridge, GDOT