Category 3B-Major Highway Structures (Under $15 Million)
Excellence Award Winners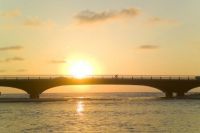 North Torrey Pines Road Bridge, San Diego, CA.
North Torrey Pines Road Bridge at Los Penasquitos Creek, City of San Diego, California
Located at the Torrey Pines State Beach, the North Torrey Pines Road Bridge crosses a coastal lagoon. The new structure provides the region with a state-of-the-art bridge and an architecturally significant landmark whose flowing appearance integrates with the lagoon and ocean setting. Contact: Kris Shackelford, City of San Diego, 619-533-3781 (email: kshackelford@sandiego.gov).
Merit Award Winners
Virgin River Arch Bridges, UDOT
These two arch bridges carry Utah State Route 9 over the Virgin River. The original steel arch bridge, which opened to traffic in 1937, was renovated and strengthened and a new bridge was built that complements the original structure both visually and architecturally. Contact: UDOT, 801-965-4289.
San Diego Freeway, Caltrans
As part of the widening of Interstate 5 north of San Diego, Caltrans designed and constructed a Plantable Geosynthetic Reinforced Wall. The wall blends into the surrounding environment with natural looking contours and provides planting space to sustain native vegetation. Contact: John Peterson, Caltrans, 916-227-8381 (email: john_e_peterson@dot.ca.gov).
I-40, Exits 243 (Milagro), 256 (U.S. 84), and 267 (Colonias), NMDOT
Artwork and design elements used in these three overpass bridges on I-40 resulted in visually appealing structures that welcome motorists to New Mexico, the "Land of Enchantment."
Contact: Christina Romero, NMDOT, 505-454-3600 (email: christina.romero@state.nm.us).
Honorable Mention
Methow River Bridge Replacement, Washington State Department of Transportation