Category 4-Environmental Protection and Enhancement
Excellence Award Winners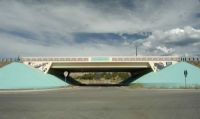 Pojoaque Corridor, NM
Pojoaque Corridor, New Mexico Department of Transportation (NMDOT)
During reconstruction of the heavily traveled US 84/285 corridor in New Mexico, the project team worked to find innovative ways to decrease the impact of construction on the environment and to preserve and protect valuable natural resources, including mature Pinon pine trees. Other steps taken to enhance the aesthetics of the corridor include the installation of interchange artwork designed by local artists. Contact: Rosanne Ruiz, NMDOT, 505-476-4205 (email: rosanne.ruiz@state.nm.us).
Merit Award Winners
Logan Canyon to Garden City, UDOT
This project's goal was to improve the safety, flow, and traffic carrying capacity of US-89 from the Logan Canyon Summit to Garden City, while minimizing environmental disturbance. To lessen the impact from a proposed realignment, an alternate alignment that fit better into the natural surroundings was designed. The project team also worked to minimize impacts to a stand of mature forest known as the Cathedral of Trees. Contact: Randy Jefferies, UDOT, 801-620-1600.
Wilmington Notch, NYSDOT
Six deteriorated stone parapet walls in the Towns of North Elba and Wilmington in upstate New York were replaced with a textured and stained concrete barrier that replicates the original walls, providing a natural-looking appearance that blends in with the surrounding environment. Contact: Robert Fitch, NYSDOT, 518-388-0232 (email: rfitch@dot.state.ny.us).
Honorable Mention
Blue Ball, Delaware Department of Transportation; 66th Street Interchange and Gateway in Richfield, City of Richfield, Minnesota