Category 5-Historic Preservation
Excellence Award Winners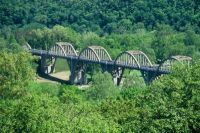 Cotter Bridge, AR
Cotter Bridge, Arkansas State Highway and Transportation Department (AHTD)
Completed in 1930, the Cotter Bridge on U.S. Highway 62B over the White River is an excellent example of the Marsh Rainbow Arch construction technique. After 70 years of continuous use, however, the bridge needed major repairs. Through such measures as requiring that concrete work replicate the original design of the bridge, AHTD was able to preserve the historic integrity of the structure while improving safety. Contact: Ellen Hill, AHTD, 501-569-2571 (email: ellen.hill@arkansashighways.com).
Merit Award Winners
Laurel Street Bridge Emergency Repair Project, Caltrans and the City of San Diego, California
Listed as a National Historic Landmark, the Laurel Street Bridge in Balboa Park was built for the 1915 Panama-California Exposition. After Caltrans determined that spalling concrete and other deterioration necessitated repairs, a consulting historical architect with experience in concrete restoration work was hired to provide guidance throughout the project. The restoration of the bridge ultimately improved safety while retaining the historic appearance of the structure. Contact: Bruce Lambert, Caltrans, 619-688-3313 (email: bruce.lambert@dot.ca.gov).
Market Street, Virgin Islands Department of Public Works
This project restored Market Street, a historic streetscape in Christiansted in the U.S. Virgin Islands. Work included reconstructing the pavement with brick and cobblestone, preserving historic drainage infrastructure, and burying utilities in duct banks. Contact: Aloy Nielsen, Virgin Islands Department of Public Works, 340-773-1290, ext. 224 (email: anielsen@vitelcom.net).
Walker Street, Texas Department of Transportation (TxDOT), Brownwood District
U.S. 180 in Breckenridge is one of the few remaining brick roadways located on the U.S. highway system. With partners ranging from TxDOT to the City of Breckenridge to the Texas Historical Commission, this rehabilitation project provided a much needed upgrade of the roadway while preserving the integrity of the antique brick street. Contact: Gary Ernest, City of Breckenridge, 254-559-8287 (email: gernest@bitstreet.com).
Honorable Mention
Rehabilitation of Thomas Circle NW, DDOT; Wine Country Road Improvements Project, City of Prosser, Washington, Public Works Department; Lester River Bridge Reconstruction, Mn/DOT