Category 6-Highway Related Projects
Excellence Award Winners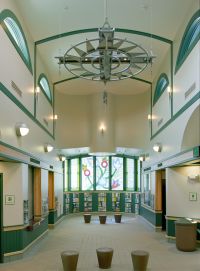 Allegany River Rest Area, NY
Allegany River Rest Area (Southern Tier Expressway), New York State Department of Transportation (NYSDOT)
This rest area facility near the Allegany Indian Reservation reflects a contemporary interpretation of a woodland theme characteristic of the Native American culture of the region. The building's lobby recreates the traditional woodland central gathering area, including mosiac tile, a fire pit, and seating stones. Contact: Dwight Mateer, NYSDOT, 716-847-3757 (email: dmateer@dot.state.ny.us).
Merit Award Winners
Chautauqua Lake Rest Area, Southern Tier Expressway, NYSDOT
Located high above Chautauqua Lake, the rest area offers travelers a panoramic view of the lake and the surrounding region. The building's design creates the illusion of a Victorian hotel, reflecting the architectural style of many of the structures found at the nearby Chautauqua Institute. Contact: Dwight Mateer, NYSDOT, 716847-3757 (email: dmateer@dot.state.ny.us).
I-235 Pedestrian Bridges, Iowa Department of Transportation (DOT)
Serving as gateways to the city of Des Moines, these three pedestrian bridges feature a distinctive blue color and graceful arched appearance, providing a safe and inviting environment for pedestrians. Contact: Nancy J. Richardson, Iowa DOT, 515-239-1111 (email: Nancy.Richardson@dot.iowa.gov).
Honorable Mention
Reedy Creek Greenway, NCDOT; Loring Bikeway and Bridge, Mn/DOT