Category 7-Intelligent Transportation Systems
Excellence Award Winners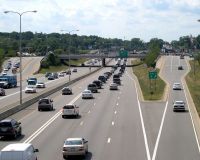 MnPASS system, MN
MnPASS, Mn/DOT
To alleviate congestion and delays on the I-394 corridor in Minneapolis, Mn/DOT converted underutilized high occupancy vehicle lanes to high occupancy toll (HOT) lanes. It is the first HOT lane project to use open-road tolling on a road where there is no barrier separating the HOT lanes from the general purpose traffic lanes. Contact: John Doan, Mn/DOT, 651-634-5309 (email: john.doan@dot.state.mn.us).
Merit Award Winners
Fog Detection System, Pennsylvania Turnpike Commission (PTC)
The Pennsylvania Turnpike has several stretches of roadway that are subject to severe fog. PTC's successful new Fog Warning System monitors conditions and provides early warnings to motorists using variable speed limit and dynamic message signs. Contact: Carl Defebo, PTC, 717-920-7176 (email: cdefebo@paturnpike.com).
Honorable Mention
The Triangle Regional Transportation Management Center, NCDOT