Category 9-Highway Improvements on Publicly Owned Land
Excellence Award Winners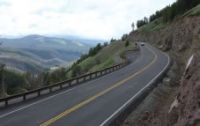 Grand Loop Road, Yellowstone National Park
Grand Loop Road, Canyon to Tower Phase 1, Yellowstone National Park
Constructed in the 1920s and 1930s, the Grand Loop Road is the primary public access to much of Yellowstone National Park. Reconstruction of the Canyon to Tower segment of the road improved the roadway to current Park Road Standards while protecting the historic and natural resources that define its character. Contact: Grant Lindsey, FHWA Western Federal Lands Highway Division, 360-619-7588 (email: grant.lindsey@fhwa.dot.gov).
Merit Award Winners
Highway 190, Caltrans, District 9
After a 2004 flash flood severely damaged California Highway 190 in Death Valley National Park, the road was reconstructed under an emergency contract. The result is a significantly improved highway that blends well with the park's remote terrain and includes design features that increase resistance to washouts during future flooding. Contact: Luis Elias, Caltrans, 760-872-5251 (email: luis_elias@dot.ca.gov).
Natchez Trace Parkway, U.S. Department of the Interior, National Park Service (NPS)
After 67 years, the 714-km (444-mi) Natchez Trace Parkway is now complete. The Parkway's aesthetic features include alignments and roadway slopes that follow the topography of the land and offer spectacular views of the landscape. Contact: Alan Teikari, FHWA, 703-404-6277 (email: alan.teikari@fhwa.dot.gov).
Kate Ireland Parkway, Florida Department of Transportation (FDOT), District 3
The Kate Ireland Parkway was designed to enhance the beauty of the Red Hills Region of Southwest Georgia and North Florida, while addressing safety and drainage issues. Conservation efforts along the scenic corridor included removing invasive species and installing native vegetation. Contact: Steve Benak, FDOT, 850-638-0250.
Honorable Mention
Agness Illahe Road, Curry County, Oregon; Bear Lake Road, NPS, Rocky Mountain National Park