Category 10-Project Development Process
Excellence Award Winners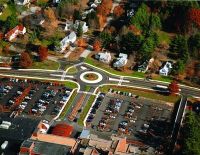 MassHighway's new Project Development and Design Guide features Nationwide best practices
Project Development and Design Guide, Massachusetts Highway Department (MassHighway)
MassHighway's new Project Development and Design Guide is the result of a diverse 28-member Task Force that worked together to reflect the viewpoint of all transportation stakeholders, resulting in guidelines that encompass Nationwide best practices. Contact: Luisa Paiewonsky, MassHighway 617-973-7800 (email: Luisa.Paiewonsky@state.ma.us).
Merit Award Winners
17th Street Bridge, Georgia Department of Transportation (GDOT)
GDOT's proactive efforts to obtain public support for the 17th Street Bridge resulted in a fast track project that is a model of value engineering, innovation, and context sensitive design. Contact: Lillian Jackson, GDOT, 404-4636451 (email: lillian.jackson@dot.state.ga.us).
Visual Quality Management (VQM) for Highway Corridor Development, Mn/DOT
VQM is a formalized process that Mn/DOT integrates with the highway development process to achieve context sensitive solutions and resolve design issues that impact visual quality. Contact: Scott Bradley, Mn/DOT, 651-2843758 (email: Scott.Bradley@dot.state.mn.us).
Honorable Mention
Blue Ball Properties, Delaware Department of Transportation; Intercounty Connector, Maryland State Highway Administration (SHA); SR-163 Median Guardrail, Caltrans