Category 11-Project Management
Excellence Award Winners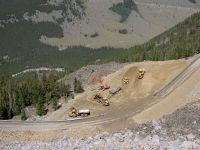 Beartooth Highway, MT
Beartooth Highway Emergency Repairs, Montana Department of Transportation (MDT)
The Beartooth Highway begins at the northeast entrance to Yellowstone National Park and links the communities of Cooke City and Red Lodge, Beartooth Highway, MT. Montana. After major mud and debris slides severely damaged the road in May 2005, a unique design-build approach and significant partnering efforts resulted in the road being reopened in less than 5 months. Contact: Lori Ryan, MDT, 406-444-6821 (email: lryan@mt.gov).
Merit Award Winners
Pennsylvania Avenue, District Department of Transportation (DDOT)
Effective project management, partnering, and innovative contracting all played important roles in reconstructing Pennsylvania Avenue in front of the White House as an attractive landscaped space closed to traffic. Contact: Michelle Pourciau, DDOT, 202671-2800 (email: michelle.pourciau@dc.gov).
Honorable Mention
York Road, Maryland SHA