Transportation Asset Management Case Studies
Bridge Management Experiences of California, Florida, and South Dakota
State Transportation Agencies and Pontis®
States using the Pontis® Bridge Management System have found its features beneficial in terms of how it supports users in collecting bridge inventory and inspection data; in formulating networkwide preservation and improvement policies for use in evaluating the needs of each bridge in a network; and in developing recommendations for identifying projects to include in an agency's capital plan for deriving the maximum benefits from limited funds. Further benefits are that Pontis® integrates the objectives of public safety and risk reduction; is convenient to use; and aids in the production of budgetary, maintenance, and program policies. Most notably, it provides a systematic procedure for the allocation of resources to the preservation and improvement of the bridges in a network by considering both the costs and benefits of maintenance policies versus investments in improvements or replacements.
Most of the 39 licensing States presently use Pontis® only for collecting bridge inventory and inspection data. This case study, in highlighting the business and decisionmaking processes for State transportation agencies in California, Florida, and South Dakota using Pontis®, hopes to encourage more States to move to the next level in using the software to its full extent.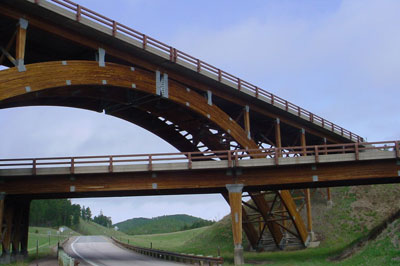 Keystone Wye Bridge on US 16A, SD
Further Information
Michael B. Johnson, P.E.
California Department of Transportation
Division of Maintenance MS9-1/91
1801 30th Street, P.O. Box 168041, Sacramento, CA 95816-8041
916-227-8768 Michael_b_johnson@dot.ca.gov
Richard I. Kerr, P.E.
Florida Department of Transportation
State Maintenance Office
605 Suwannee Street, MS52, Tallahassee, FL 32399-0450
850-410-5757 Richard.kerr@dot.state.fl.us
Todd S. Thompson, P.E.
South Dakota Department of Transportation
Office of Bridge Design
700 E. Broadway Avenue, Pierre, SD 57501
605-773-3285 Todd.thompson@state.sd.us
Raj K. Ailaney, P.E.
Office of Asset Management
Federal Highway Administration
1200 New Jersey Avenue SE, Washington, DC 20590
202-366-1567 Raj.Ailaney@fhwa.dot.gov
Trademarks
AASHTOWare® and BRIDGEWare® are registered trademarks of the American Association of State Highway Transportation Officials (AASHTO).
Pontis® is a registered trademark and proprietary software product of AASHTO.
Citrix® is a registered trademark of Citrix Systems, Inc.
Quality assurance statement:
The Federal Highway Administration (FHWA) provides high-quality information to serve Government, industry, and the public in a manner that promotes public understanding. Standards and policies are used to ensure and maximize the quality, objectivity, utility, and integrity of its information. FHWA periodically reviews quality issues and adjusts its programs and processes to ensure continuous quality improvement.
Photography Credits
Photographs courtesy of California, Florida, and South Dakota State Departments of Transportation
Front cover: Venetian Causeway, Miami, FL