Transportation Asset Management Case Studies
The Arizona Experience
Agency Facts
Arizona's transportation needs are shaped largely by its rapid growth: it is one of the fastest growing States in the country. Population grew from 250,000 in 1950 to more than 5 million in 2000, and is expected to exceed 10 million by 2040. Growth has been supported by strong economic conditions, with more than 70,000 new jobs created annually between 1990 and 2000.
The transportation network supporting this growth consists of these facilities:
58,000 miles of roadway (12 percent owned by ADOT)
6,474 bridges (67 percent owned by ADOT)
4 urban public transportation systems
1,909 route-miles of railroad track
83 public-use airports
More than 2,000 miles of State highways suitable for bicycle travel
10 major highway-to-rail intermodal freight facilities
6 ports of entry from Mexico
Arizona's dry and mild climate has aided ADOT's efforts to maintain the condition of its existing assets. Ninety-nine percent of the interstate system and 79 percent of all state-owned roads are in good or excellent condition. Optimal preservation strategies, such as preventive maintenance, are difficult to sell politically when little deterioration is evident and capacity needs are perceived to be more pressing. Nearly 65 percent of ADOT's annual construction budget of roughly $570 million is allocated to system improvement projects.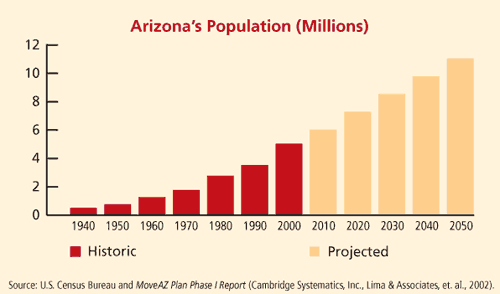 Almost two-thirds of Arizona's population live in metropolitan Phoenix, with more than 70 percent of jobs in the metropolitan area and 15 percent in metropolitan Tucson. This urban concentration creates pressure for ADOT to address "fair share" issues when attempting to consider rural needs and maintain a statewide transportation perspective.