Transportation Asset Management Case Studies
Economics in Asset Management, The Florida Experience
Setting the Stage
The department envisioned a management information system incorporating a comprehensive inventory of all types, locations, and conditions of transportation and stormwater infrastructure assets.
What Did Hillsborough County Have?
During the last decade, Hillsborough County recognized that it needed better coordination of its activities to maintain, operate, and improve roadway and stormwater infrastructure. Accordingly, the county created the Hillsborough County Public Works Department as part of the County Administrator's internal reorganization in the summer of fiscal year 1996. The new department consolidated the functions of the former Engineering and Construction Services Department and the former Road and Street Maintenance Department. A director position was created to head this new department.
The new department inherited several data management systems, including a GIS, a proprietary infrastructure management system that was only partially populated with location and condition data, and other unlinked systems (e.g., a bridge program). These systems were not integrated, making it difficult to plan and coordinate maintenance activities. Moreover, the department had no formal procedures to predict future expenditure requirements, instead reacting to citizen or political demands and relying on corrective maintenance strategies-responding to asset failure- rather than preventive ones. Budgets were based on historic line-item expenditures.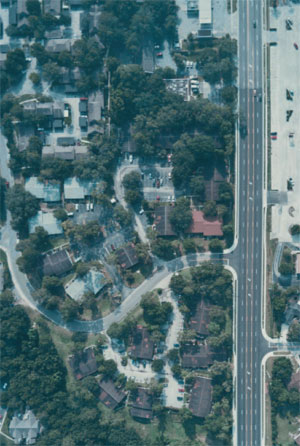 The new department quickly recognized that the pre-existing management systems and procedures would not be adequate to meet the needs to maintain and operate county infrastructure in the future. Among the factors that contributed to or reinforced this recognition were the following:
The failure of the county's transportation networks to deliver expected services, due to insufficient planning and risk management;
Pending changes to financial accounting regulations by GASB 34, issued in June 1999, requiring that all long-lived capital assets (including roads and bridges) be reported in State and local government financial statements;
Growing public expectations for efficient infrastructure and accountability;
Flooding associated with the El Niño event of 1998, when 8 feet of rain fell over a 10-month period, which highlighted the need to maintain and upgrade the stormwater system; and
The availability of new technology and management models with the capability to monitor, evaluate, and optimize Asset Management activities and expenditures.
What Did Hillsborough County Want?
Leadership in the Public Works Department resolved that Hillsborough County needed to replace the pre-existing management approach with one that reflects the objectives of Asset Management, particularly the ability to make cost effective and timely resource allocation decisions. Put another way, the department sought a system that would "make the right choice, at the right time, and in the right place." Officials realized that a centralized Asset Management system, fully populated with data on a comprehensive range of assets, was needed.
The department envisioned a comprehensive inventory of all types, locations, and conditions of transportation and stormwater infrastructure assets, including lane-miles of pavement, markings, sidewalks, and guardrails, and 25 different types of point objects, including bridges, railroad crossings, driveways, intersections, signs, traffic signals, and speed humps. This information would be loaded into a management information system that would be able to model deterioration over the life cycle of infrastructure assets, identify the most economical maintenance actions, and, in time, quantify benefits of different actions to users of the infrastructure.